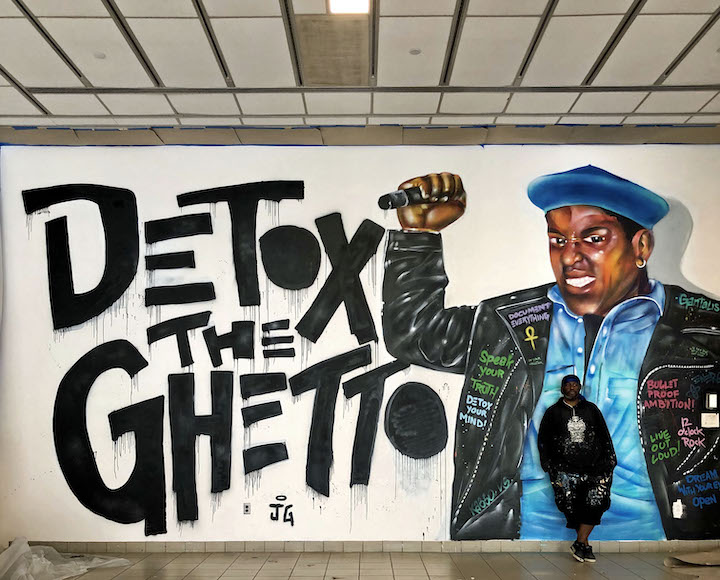 Opening tomorrow, Thursday, September 19, at the elegant Morris Museum in Morristown, NJ is "Aerosol: Graffiti | Street Art | New Jersey | Now,"  the first U.S. museum exhibition to showcase contemporary urban artwork painted directly from floor to ceiling onto a museum's gallery walls. While visiting the exhibition as its installation was near completion, I had the opportunity to speak to the legendary artist, curator and educator, Will "Kasso" Condry, who, along with Morris Museum Director of Exhibitions and Chief Curator Ronald T. Labaco, curated the landmark exhibition.
This is remarkable! It's so great to see a museum as prestigious as the Morris Museum showcase aerosol art. In addition to its global impact, modern graffiti has had a huge influence on contemporary art that isn't often acknowledged. How did you come to co-curate "Aerosol: Graffiti | Street Art | New Jersey | Now?"  It is looking wonderful — a perfect ode to my favorite art form!
The museum's chief curator, Ronald T. Labaco, reached out to me earlier this year. He had been researching graffiti and street art in New Jersey and came upon my work in my native city, Trenton, and beyond. He also read about several of my projects in my current home, Middlebury, Vermont, where I've served as the Alexander Twilight Artist-in-Residence at Middlebury College. My wife, Jennifer Herrera Condry — an administrative genius — has been the perfect link between Ron and me.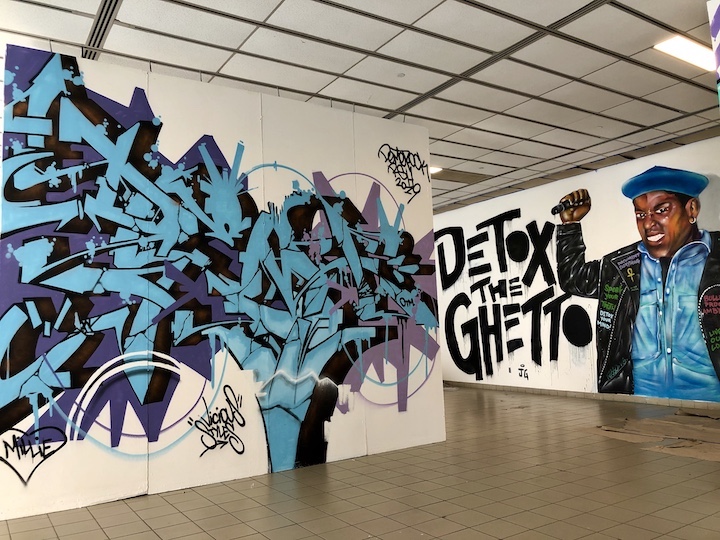 Your artwork often reflects a strong social consciousness, particularly as it relates to community-building. Can you tell us something about the striking mural you chose to paint for "Aerosol: Graffiti | Street Art | New Jersey | Now?" 
Yes! It is a tribute to the late Jerry Gant, a beloved visual artist, poet, performance artist and educator, who strongly impacted his native city, Newark. Gant had worked on murals and sculptures throughout Newark and became identified with his spray-painted message, "Detox the Ghetto." 
I love the way your mural, along with all the murals in this exhibition, seamlessly fuses into its surroundings. And the installation of tags and throw-ups further enhances the exhibition's authentic flavor.
Painting directly onto the gallery walls was Ron's concept, and we've all loved the experience.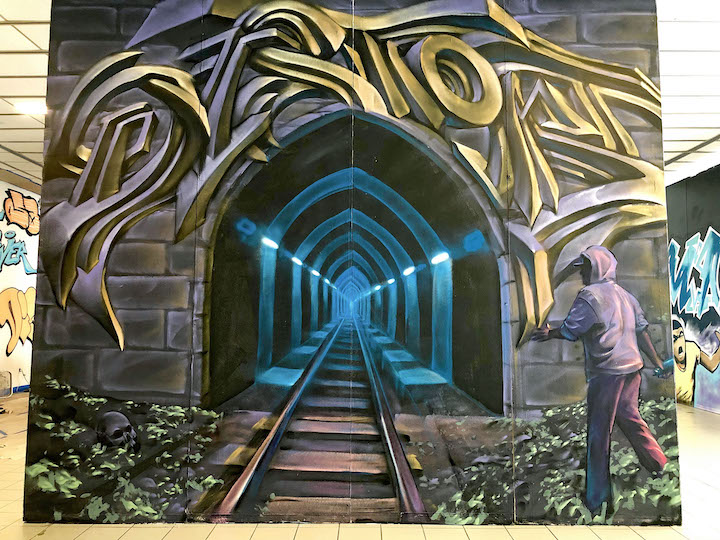 There are so many talented artists in your native state, particularly in Trenton and Newark. How did you go about selecting which artists to feature in this exhibition?
I started with a list of 25 names. I consulted with Leon and then Demer. I was interested in featuring not just "names," but those artists who have put in lots of work, even if they are not all that well-known. Most of the artists I selected I know personally. And I know that they are committed to their art form and are, also, accomplished and reliable.
You then narrowed your list down. Which artists are featured? While most are graffiti masters, there are several muralists, as well.
There is a total of 12 artists. In addition to me, the artists who participated in the exhibit are: 4sakn, Acet TM7, Dave "Mek One" Klama, Dean "Ras" Innocenzi, Demerock, Distort, Elan, Felipe Prox One Rivas, Leon Rainbow, Jonathan Conner aka LANK and Maliq Griffin.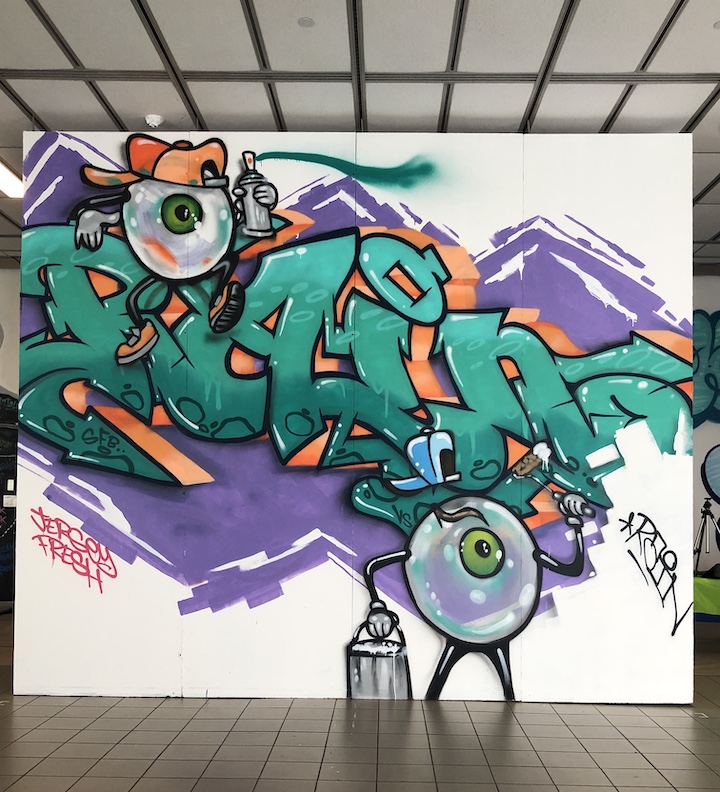 What were some of the challenges you faced in seeing this through?
The biggest challenge was getting the artists to check their email accounts! And, of course, getting everyone scheduled to paint — between their jobs and other commitments — was quite a challenge. Luckily, Ron and the museum staff were very supportive.
How do you feel about it all — now that it's close to completion? 
I'm satisfied! Very happy, in fact! The feedback I've gotten so far has been overwhelmingly positive. And I'm thrilled to have the opportunity to showcase talented artists who are underrepresented and under-appreciated in the "art world."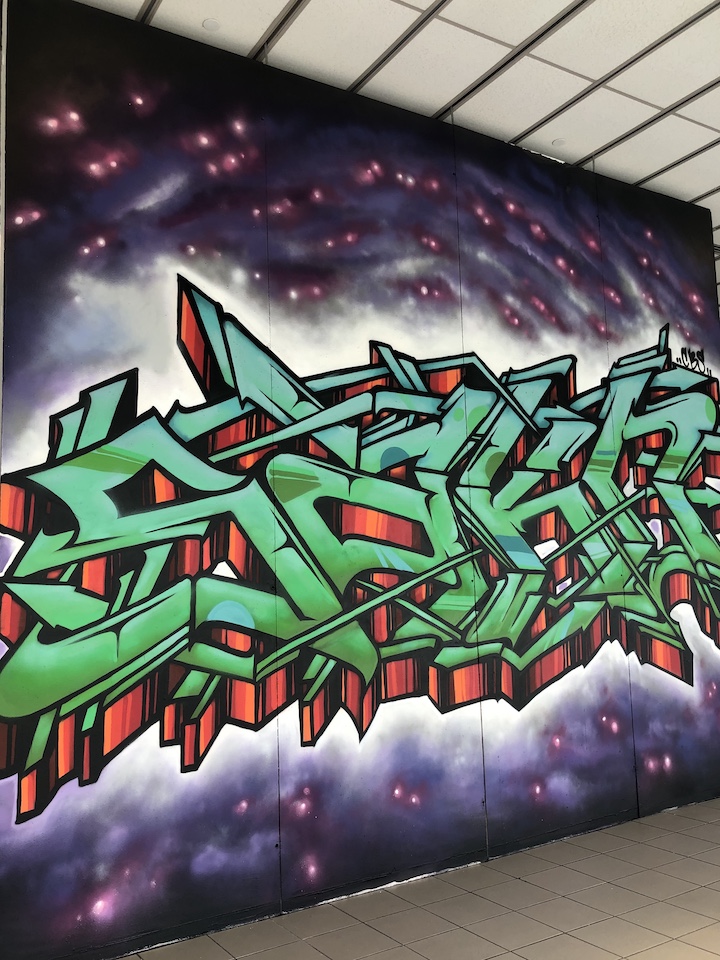 What's ahead?
The exhibition opens to the public on Thursday, September 19, and we will be celebrating its opening on Thursday, October 3.
6:00PM – 7:00PM Aerosol viewing and reception for museum members
7:00PM – 8:00PM A conversation with the Aerosol artists (FREE for Museum Members, FREE with Museum Admission for non-members)
8:00PM – 9:00PM Aerosol remains open
And what about you? What's ahead for you?
I'm about to start a tattoo apprenticeship. I'm continuing to develop my studio practice, and I will be working on a huge label-design project.
That all sounds great and congratulations on "Aerosol: Graffiti | Street Art | New Jersey | Now." 
Featured images:
2. Demer, to the left of Kasso
3. Distort
4. Leon Rainbow
5. 4sakn
Interview conducted and edited for brevity by Lois Stavsky; photos by Lois Stavsky.
Note: The Morris Museum is located at 6 Normandy Heights Road in Morristown, NJ. Check here for travel directions and information regarding hours and admission.
{ 0 comments }