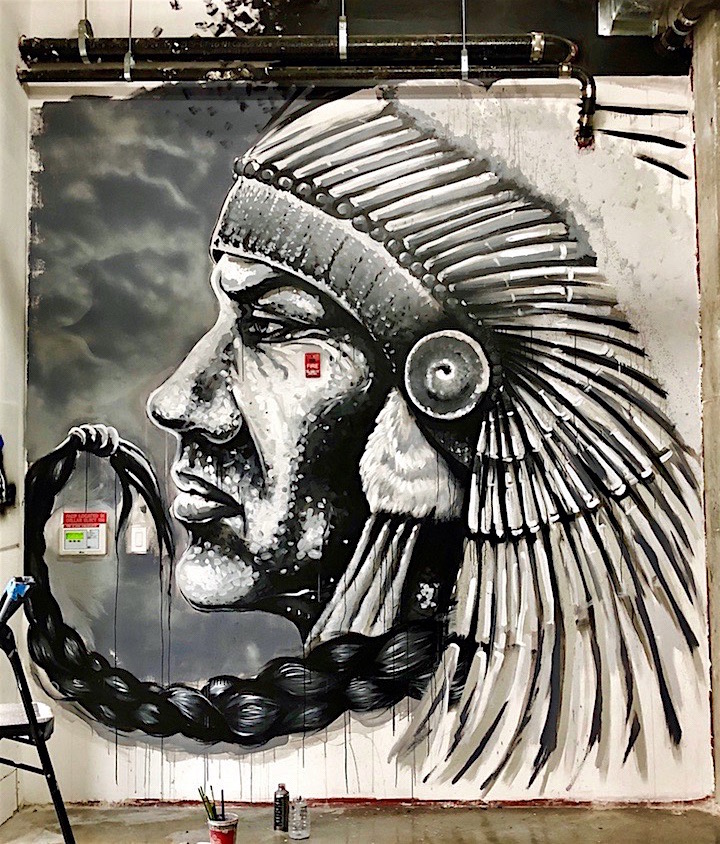 I stopped by HG Contemporary's impressive new gallery space in Williamsburg, Brooklyn yesterday as several artists were busy at work preparing for tonight's official launch.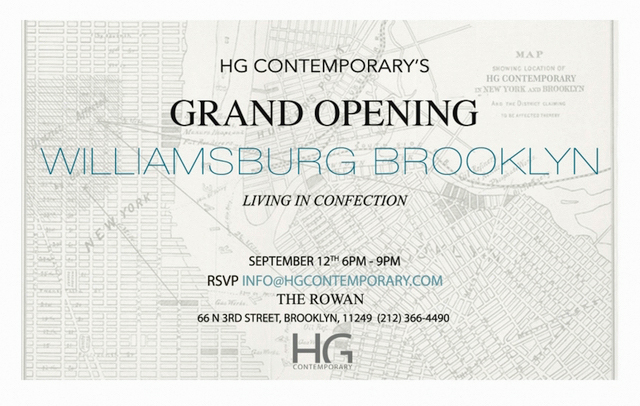 After checking it out, I had the opportunity to speak with Sean Sullivan who, along with Harris Lobel, has curated the gallery's opening exhibit: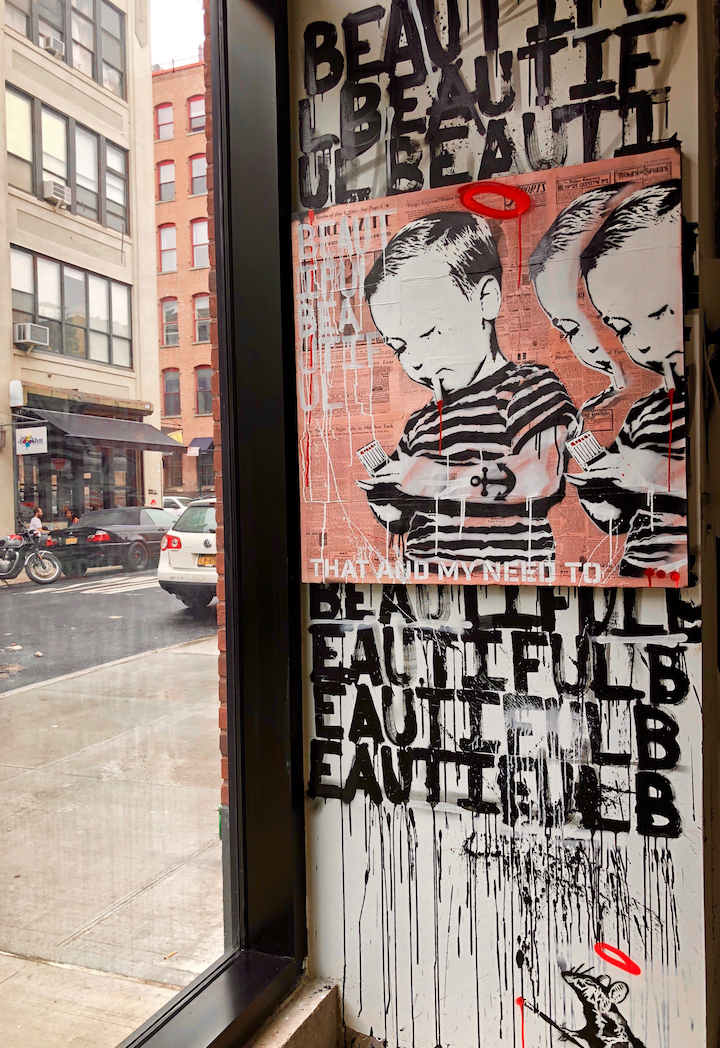 This space is ideal, and the artwork looks wonderful! How did the opportunity come your way to curate this exhibit for HG Contemporary's grand opening here in Williamsburg?
Last month, Philippe Hoerle-Guggenheim, the founder of HG Contemporary in Chelsea, approached me and asked me if I would be interested in curating an exhibit along the lines of First City, the one I'd curated awhile back in Long Island.  I saw it as a great opportunity to give artists I admire a chance to exhibit alongside the fine artists who generally show at HG Contemporary.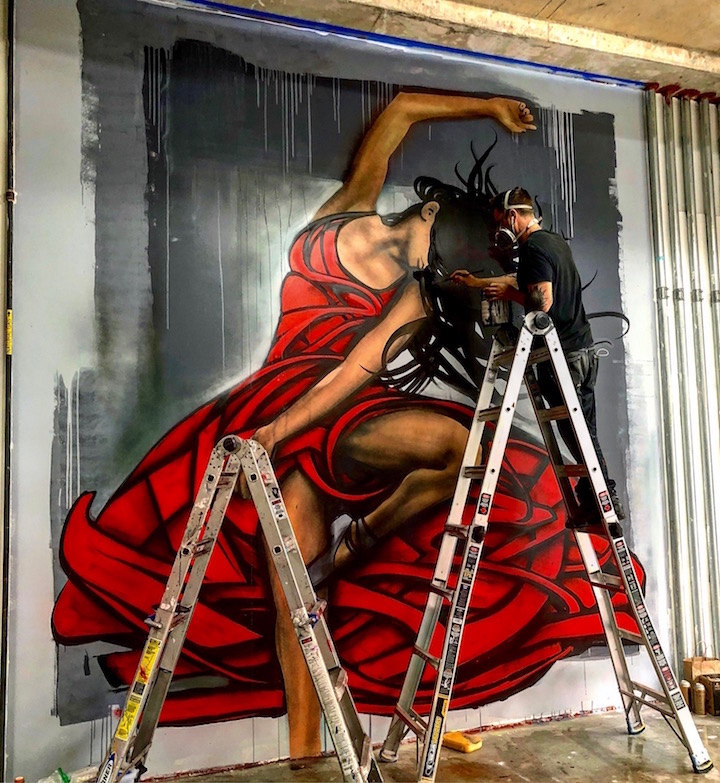 How did you decide which artists to include?
That was difficult, as I would have liked to include many more. I chose artists with whom I've successfully worked with in the past, along with five others whose artwork I've admired, but with whom I've never worked. The final selection was a joint decision between me and Harris Lobel, who was involved in curating, along with me, the First City project. We were interested in showcasing the works of artists whom we believe deserve wide exposure.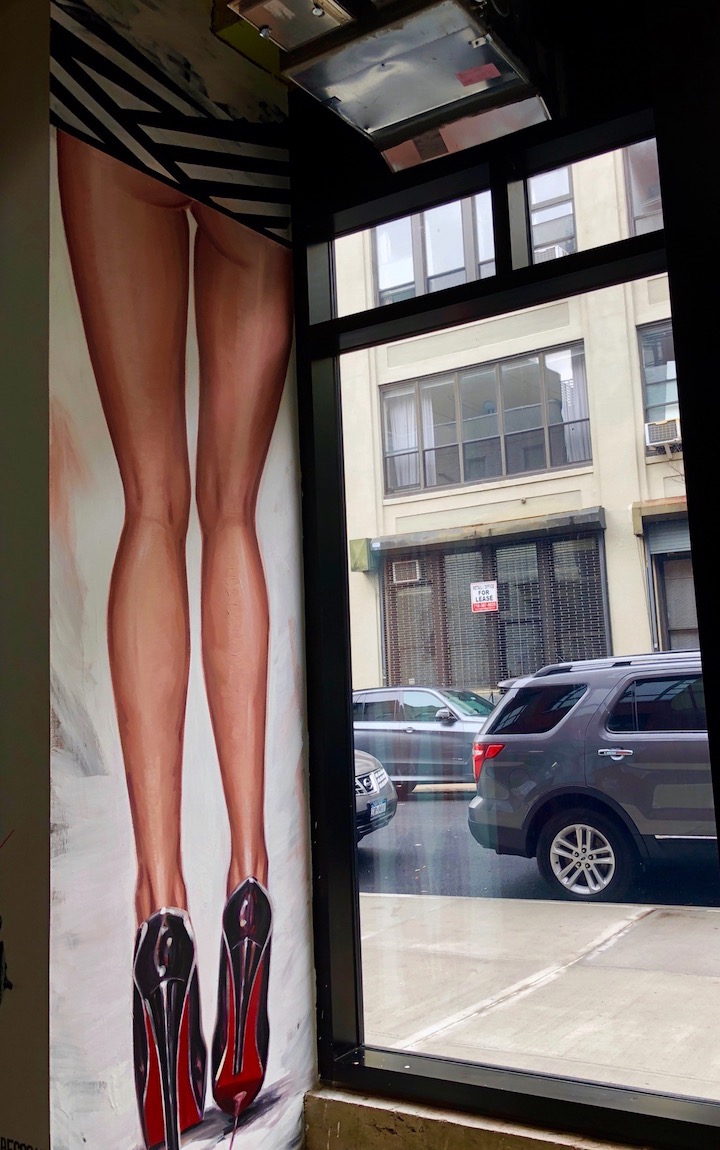 I'm familiar with several of the artists — especially those whose work I've seen on the streets. Several, though, are new to me. Who are the artists that you both agreed to include in this grand opening?
Our final selection included: Albertus Joseph, Zimer, Gumshoe, Jenna Krypell, Jason Ackerman, Fridge, Jenna Morello, OG Millie and Reso 914.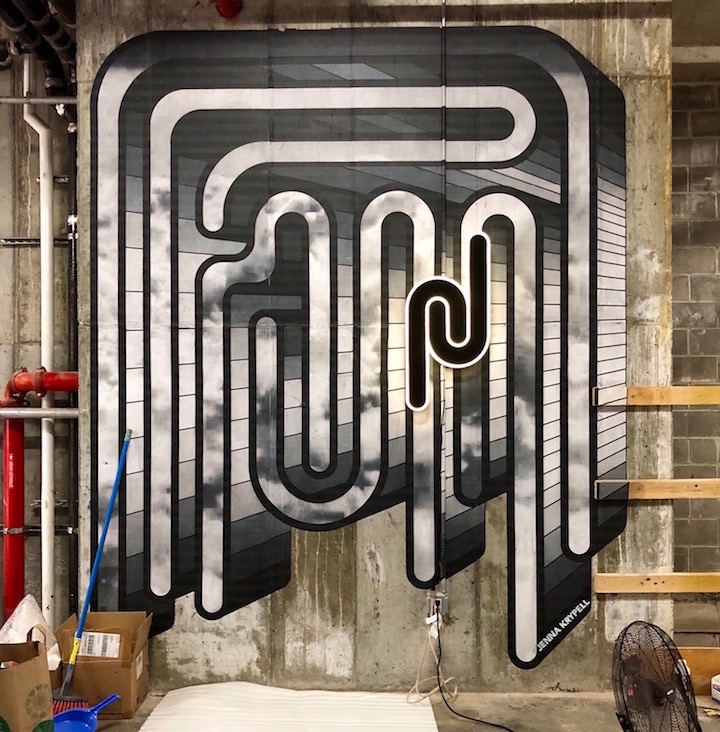 There's quite a diverse range of styles here. Had you a specific theme in mind?
We were interested in representing the various elements associated with street art and graffiti.  And so we sought a mix of images, words, letter technique, characters, color and flow.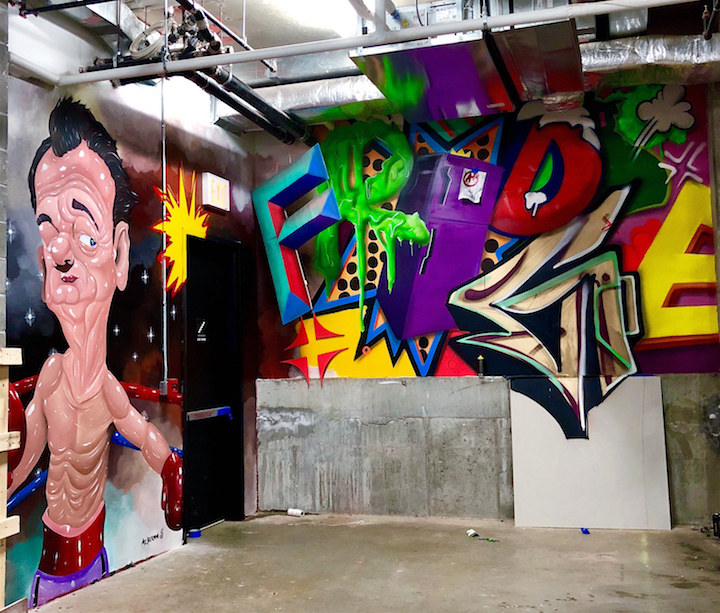 What were some of the challenges you faced in seeing this through?
As an artist who doesn't like taking directions, I wasn't all that comfortable giving directions to others. But it was something that I had to do. And it was difficult asking artists to put a halt to all that they were doing for two to three day, so that they could devote themselves for hours on end to this project.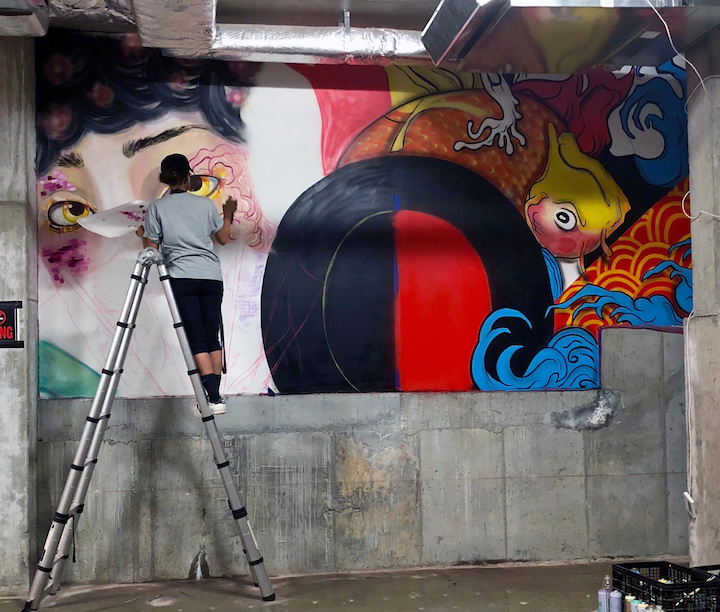 I'm certain that many artists who worked with you in the past were disappointed that they weren't included in such a significant exhibit.
Definitely! I was getting too many nasty direct messages. Dealing with that was another huge challenge. Of course, I would have loved to include more artists, and I do hope to include many others in future exhibits that I look forward to curating in this space.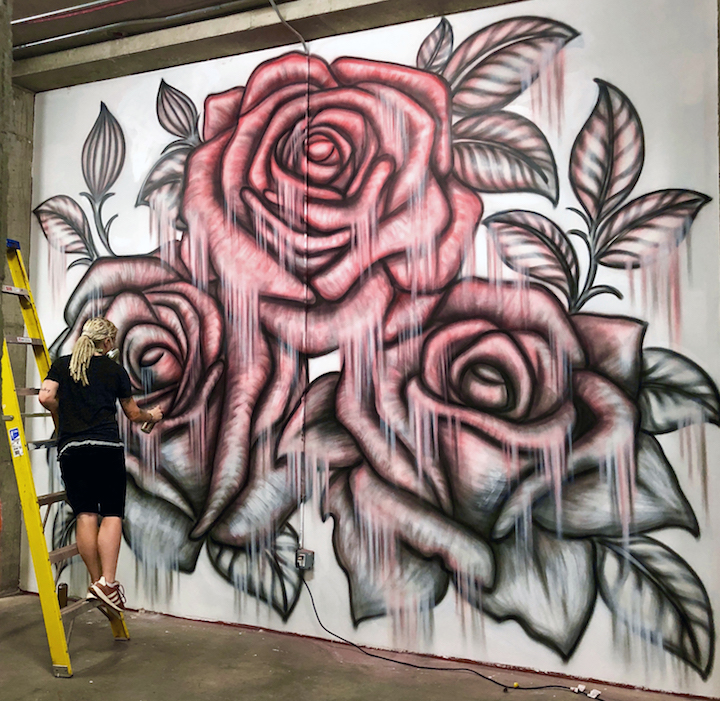 In addition to the works painted directly onto the walls here, what else can visitors to the gallery expect to see?
All of the artists who are partipating will also exhibit works on canvas that are for sale. And in addition to the artists that Harris and I have brought in, HG Contemporary will be presenting a special installation by Franz Klainsek and works by Tim Bengel and Carl McCrow.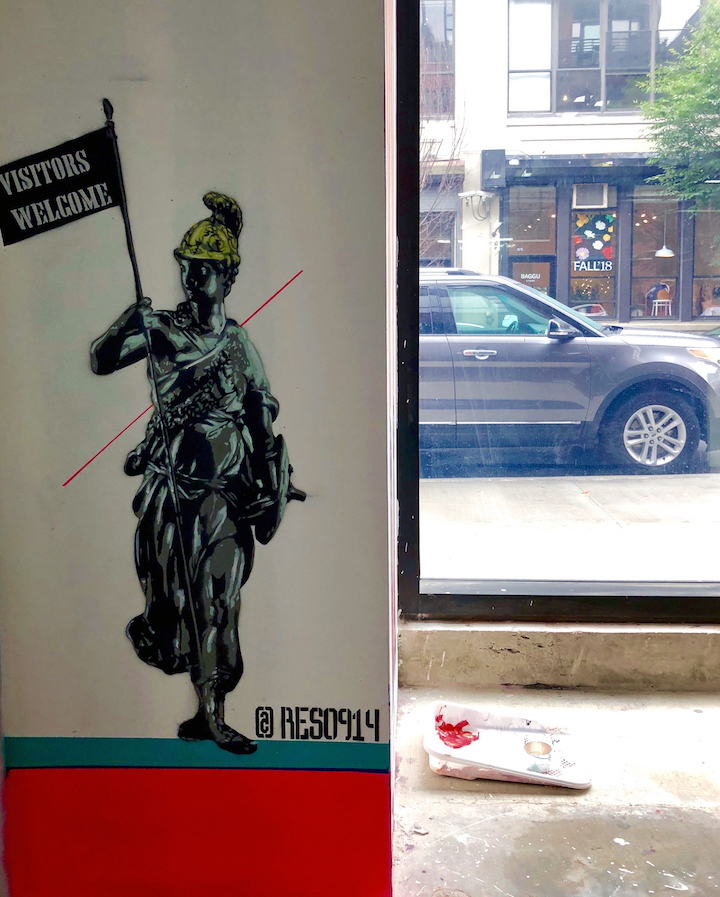 And how can folks who can't make it to the official grand opening see the exhibit?
The gallery is conveniently located at 66 North 3rd Street off Wythe Avenue in Williamsburg, Brooklyn .All are invited to visit the gallery during its regular opening hours.
Images
Interview and photos by Lois Stavsky
Note: Hailed in a range of media from WideWalls to the Huffington Post to the New York Times, our Street Art NYC App is now available for Android devices here.

{ 1 comment }