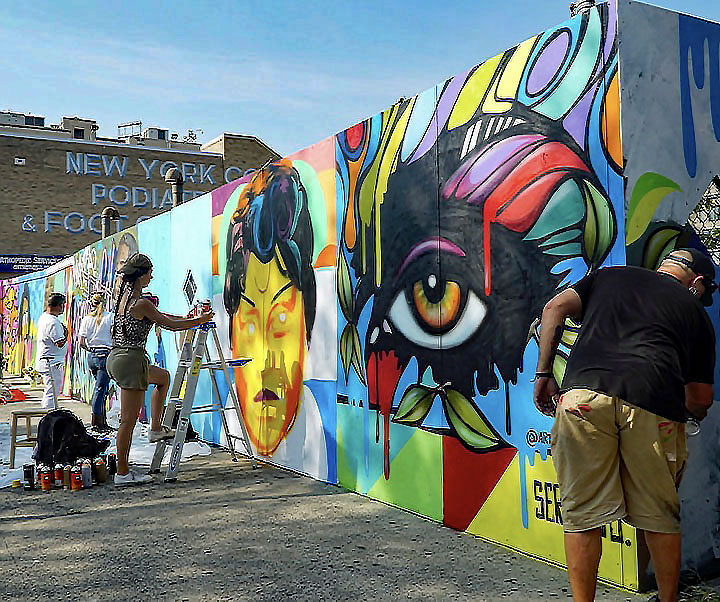 For three weekends this past month, dozens of artists were at work transforming three blocks of fencing located adjacent to the 125th Street Metro-North into a vibrant, intriguing outdoor gallery. While visiting last weekend, we had the opportunity to pose a few questions to its dynamic curator, Ayana Ayo.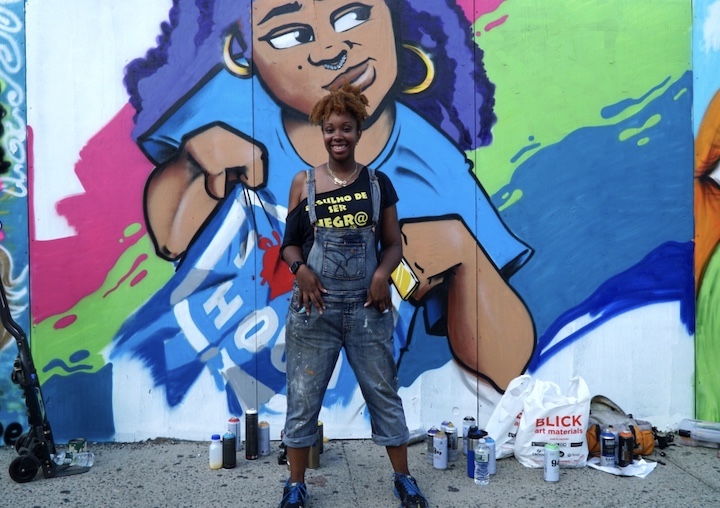 This project is wonderful. We love the way it transforms the neighborhood, while bringing so many folks together to celebrate its renewal. How did you come to curate it?
I work with Carey King, the Executive Director of the Uptown Grand Central — a nonprofit dedicated to transforming East 125th Street and enriching life in East Harlem. I had earlier curated the 100 Gates Project in this neighborhood, and I loved the idea of bringing life to a space that has been vacant for the past ten years.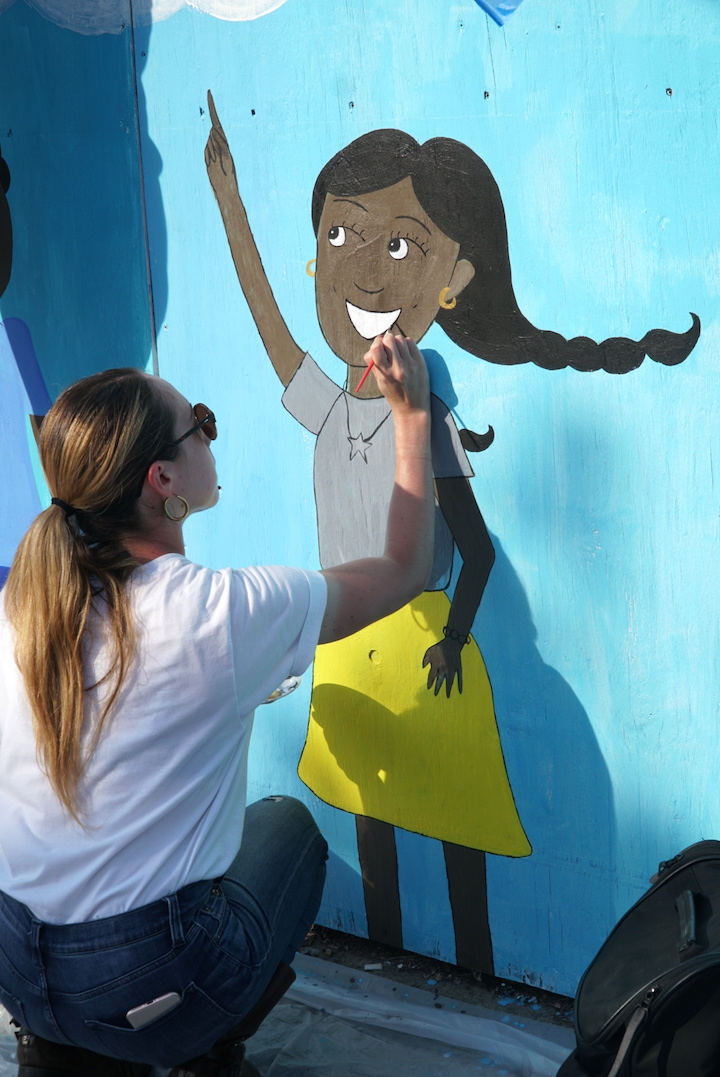 In addition to beautifying the neighborhood and uplifting its spirit, how would you define this project's mission?
I was interested in giving an opportunity to artists — many who live uptown – to come together share their visions in a public space. Several of these artists have never painted outdoors before. Others have international reputations. All feel a strong connection to the neighborhood.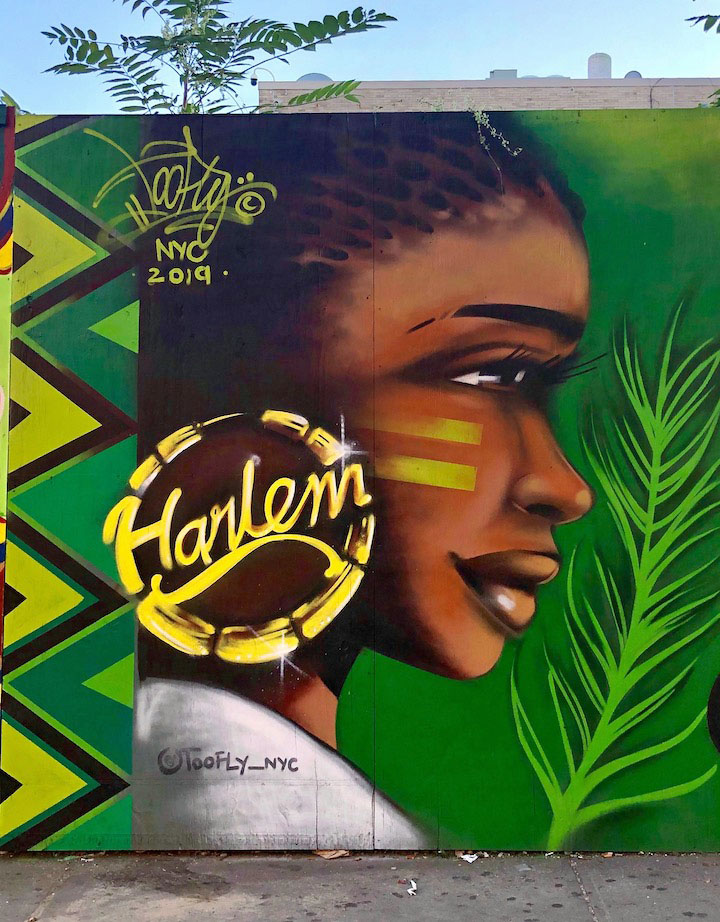 Over 50 artists have participated in this project. It's an amazingly eclectic group. How did you connect with so many talented artists to see this project through?
I sent out a call to artistst describing the project's mission of transforming "1,500 feet of green construction fencing into a vibrant gateway to Harlem."  And I spoke to artists I know who, I thought, would be interested in participating in the project. The word got around!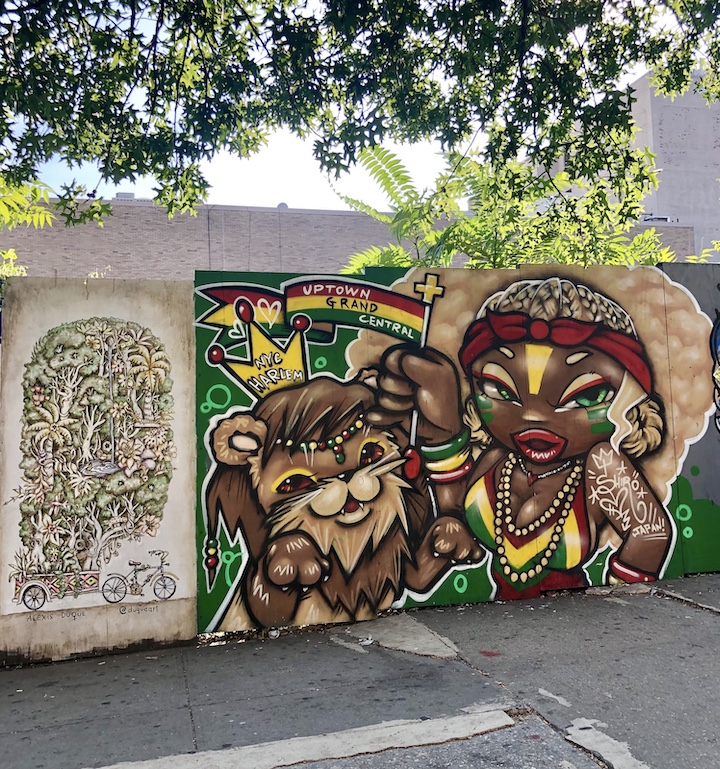 What were some of the challenges you faced in seeing this project through?
Coordinating the schedules of over 50 artists; winning over the local people, so that they felt engaged with the project and having to turn down artists who wanted to participate.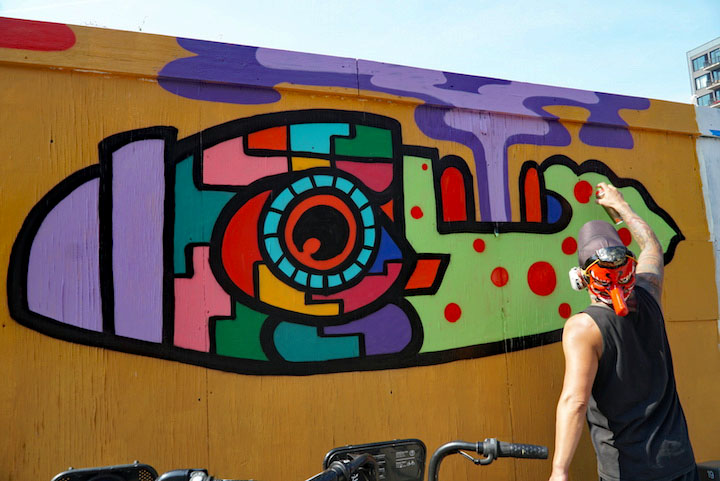 How are you feeling now — that it's just about complete in time forUptown Grand Central's third annual street festival, Party on Park?
Over the moon! I am so happy.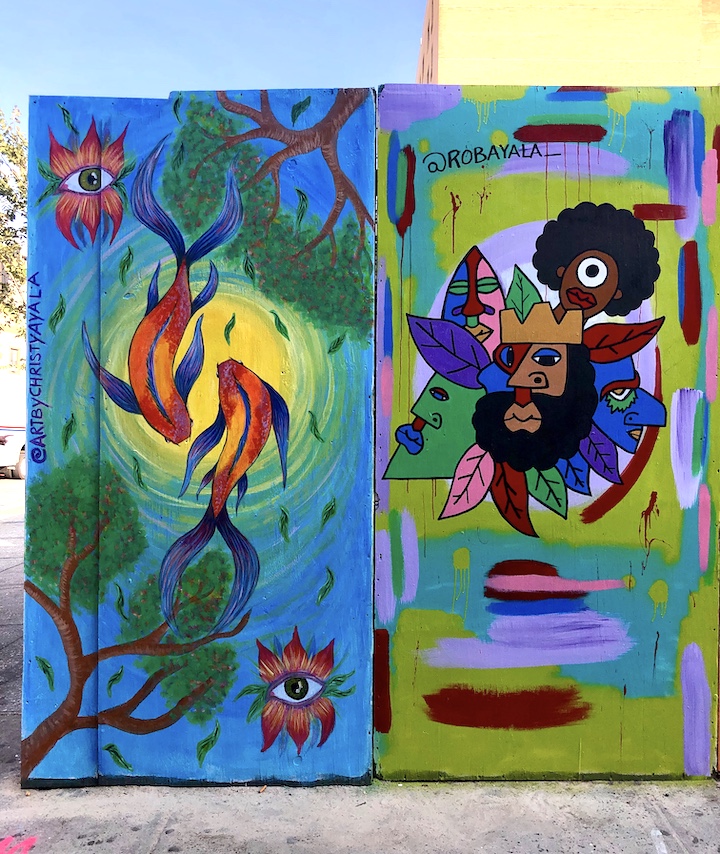 What's ahead?
More opportunities for Uptown Grand Central, as it continues its transformation of East Harlem!
So exciting! And congratulations on the Grand Scale Mural Project! 
Images
1  Ralph Serrano and Anjl at work
2  Curator Ayana Ayo. standing in front of mural by Dister
3  Anna Lustberg at work
4  Toofly
5  Alexis Duque with Shiro to his right
6  Funqest at work
7  Chris Ayala and Rob Ayala
Interview conducted by Lois Stavsky with Ana Candelaria and edited by Lois Stavsky
Photo credits: 1, 2, 3 & 6 Ana Candelaria; 4, 5 & 7 Lois Stavsky
{ 1 comment }