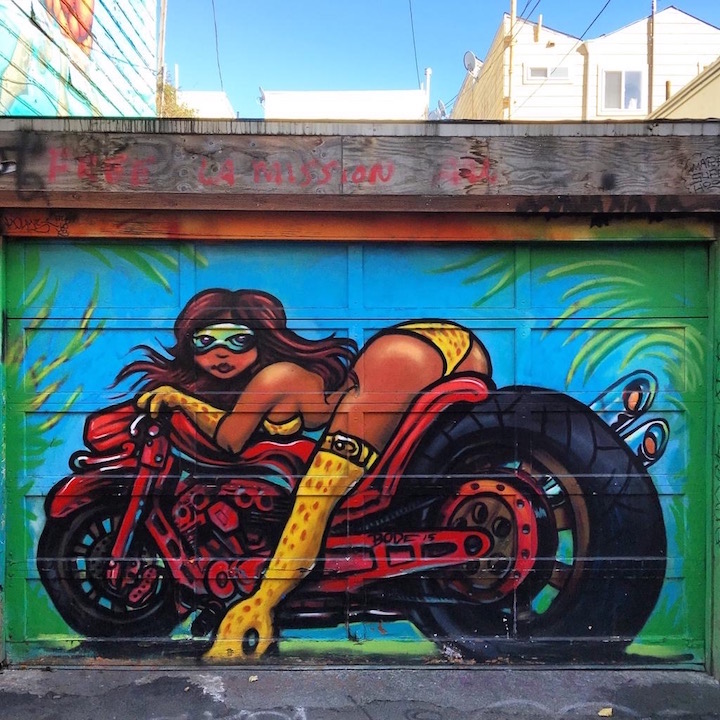 Launched over 10 years ago, the Lilac Mural Project has evolved into a Mecca of richly diverse street art and graffiti and one of the Mission District's main attractions. On her recent visit to San Francisco, travel and street photographer Karin du Maire aka Street Art Nomad had the opportunity to speak to Lisa, who – along with her husband, Randolph Bowes – initiated the impressive project.
What spurred you to launch this project? What was its initial mission?
When we first moved into this neighborhood in 2005, it was quite dangerous. It was plagued by gang violence and drug activity. Living in such a tragic setting was having a negative psychological impact on me. I didn't feel safe. And when I told my husband that I wanted to move, he suggested that we bring in muralists. He saw art as a way to transform the environment.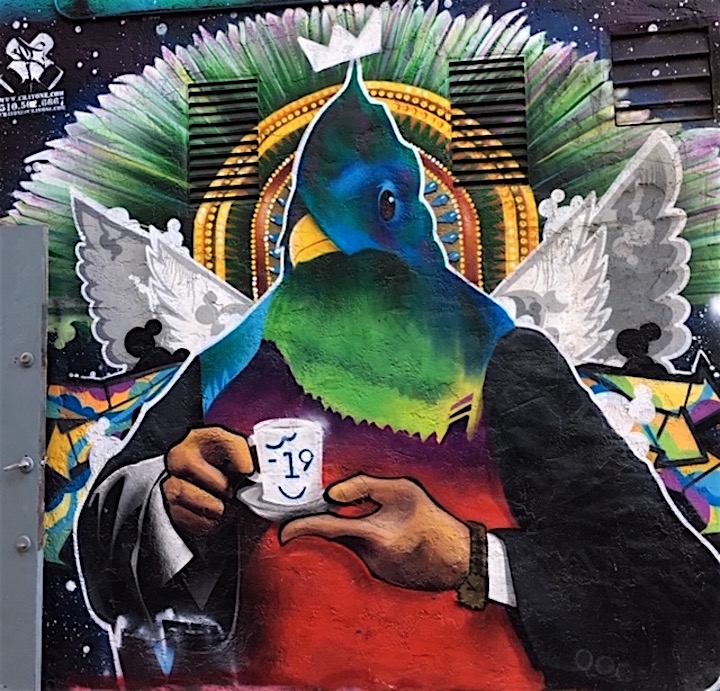 How did you react to his suggestion?
I thought it was interesting, but I was quite skeptical!
What won you over?
Once Baltimore native CUBA – a classic graffiti artist with wide experience – and Mark Bodē, whom he introduced us to, started to paint here, everyone was eager to join them. We asked permission from the property owners for other artists to paint, and Lilac Alley began to evolve into a safe place. The problem of unsightly graffiti was also solved. And soon we were asked to curate neighboring alleys.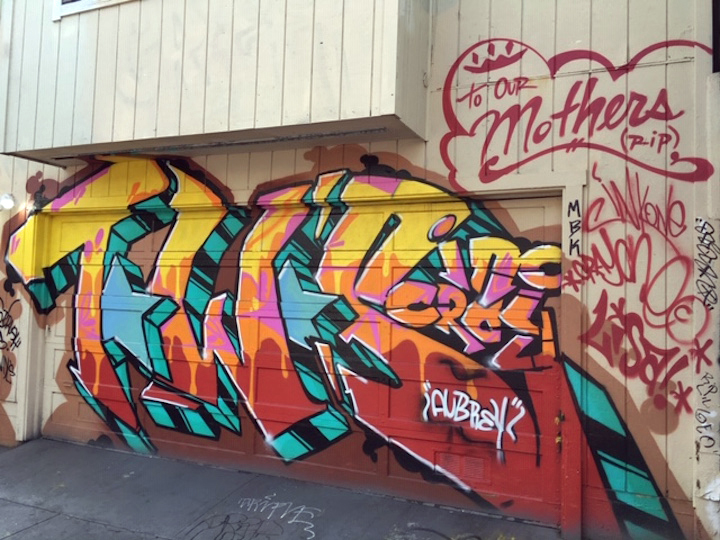 How did you finance all of this early on?
When we first started, we would pay for the paint, food and transportation for about 30 artists. But as the project grew, it started to become cost prohibitive. When we told the artists that we could no longer afford to pay for their products, they assured us that they were just happy to have a place to paint safely.
Can you tell us something about your gallery, Mission Art 415? When did you launch it and why? 
My background is in interior design and fine art, and I've worked in fine art galleries. So when this gallery space became available about three years ago, it seemed like a natural fit. And because San Francisco is so expensive and so many artists are struggling to survive here, the gallery gives them an opportunity to sell their art and earn some income. All that I ask from the artists is a 10% commission, and I've established contacts with international collectors. I also get commissioned murals for artists — such as Mark Bodē, Nite Owl and Crayone — from local businesses.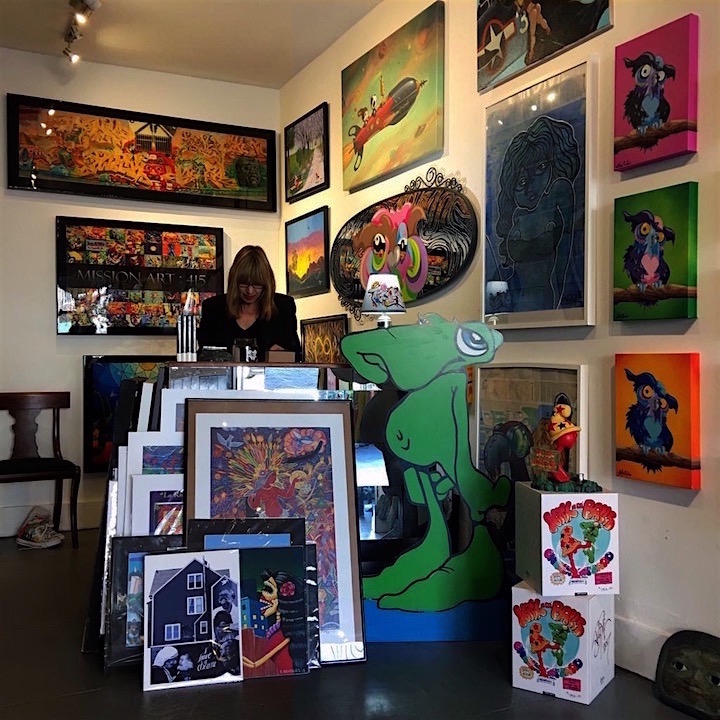 What about this neighborhood? How has it changed since you've moved here?
Rents are continually increasing, and older businesses are being run out. And there's been increasing tensions between the members of the long-time Latino community and the newer residents.
Do you have the same issue that we are are having in NYC – particularly in Bushwick – where ad agencies are replacing murals with ads by offering money to local businesses for use of their walls?
No! I have not had that happen. I actually approach businesses. When I see their buildings or storefronts tagged, I remind the owners that they can get fined for that, and I offer to connect them with great muralists who can get their signage up on their buildings – graffiti style.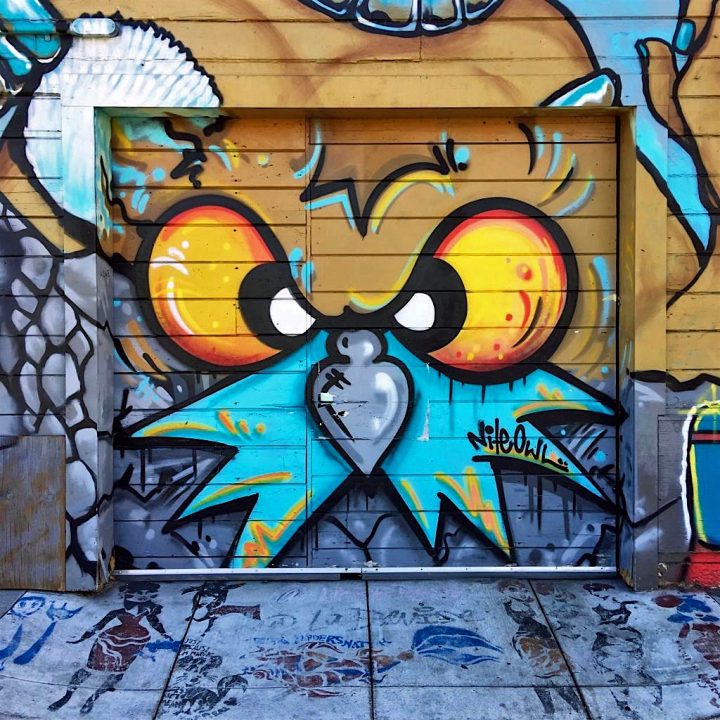 What are some of the challenges you face in curating both a gallery and a mural project that has grown to cover 14 blocks?
The huge costs of running a business, along with the local politics, are the main challenges. I love what I do, but I am always working!
Images:
2 Crayone
4  Mission Art 415 Gallery
5 Nite Owl
Interview conducted by Karin du Maire and edited and abridged by Lois Stavsky
Photo credits: 1, 4 & 5 Karin du Maire; 2 & 3 courtesy the Lilac Mural Project
{ 0 comments }