For over 20 years Col has been gracing our public spaces with his distinctly graceful aesthetic.  His street murals, along with his small works on various media, are among our favorites.  It was wonderful to have the opportunity to recently interview him.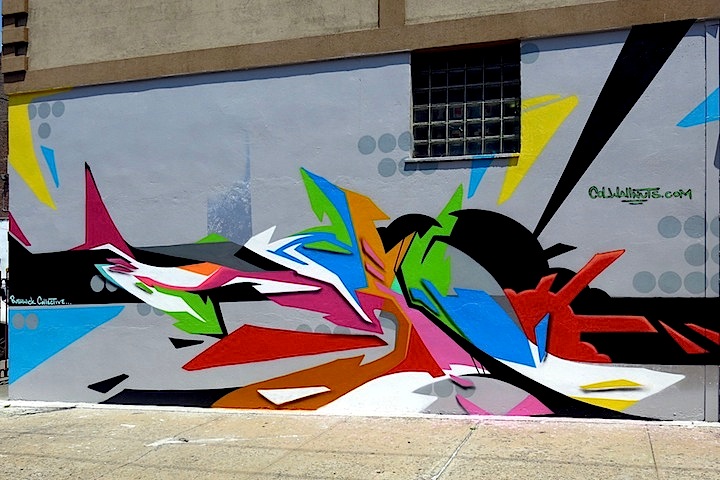 When did you first get up?
I began tagging and doing some outlines in Staten Island/Brooklyn about 1993-94.
What inspired you at the time?
I was inspired by the tags and pieces I saw along highways. I always wondered who had done them.
Have you any early graffiti memories that stand out?
I loved seeing Cost and Revs in the Meatpacking District. The area has come a long way from the violence and corruption that once characterized it. But it's great to see a piece of that time still around.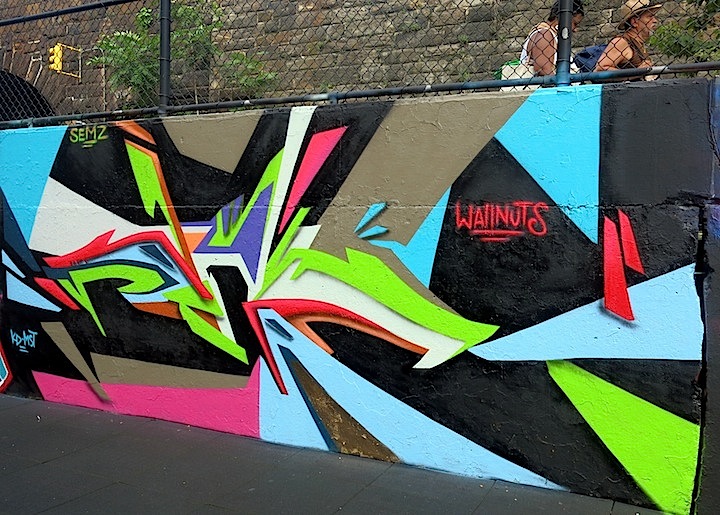 Do you paint with any crews?
I was active with CTO (Check This Out), as both Vers and Edge had taken me under their wings. I'm currently part of Wallnuts, MST, MTA and KD. Wallnuts is comprised of writers from both the States and Europe. Among them are: Muse, Chester, Been3, Ree2, Soco, Riot, Phyme, Met, MadC, Zest, Dos, Free5, Kern and Mad.
Do you prefer working alone or with others?
It depends on the project. Painting with good people motivates me, sets a fire under my ass and inspires me. Painting alone is good too. It's like nothing else exists.
Do you generally paint with a sketch-in-hand?
Almost never.  A sketch prevents one from being organic. I want to see where my idea goes and to produce what I see in my head.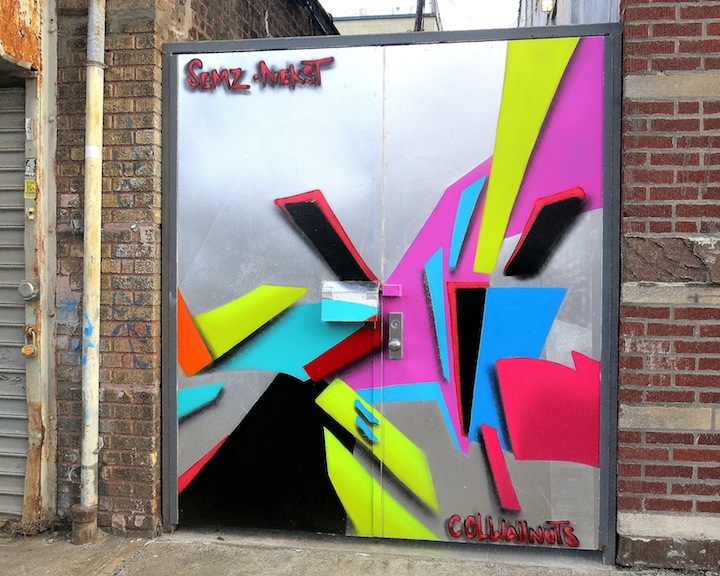 Do you have any preferred surfaces?
I love to paint on anything. I prefer painting on surfaces and in areas where no one has painted before. I enjoy challenges. Obstacles are fun. And I love working large scale on buildings. I grew up working on walls, so the bigger the better.
What about neighborhoods? Have you any favorites?
I prefer working in bad neighborhoods. There are real people there. In good neighborhoods, you're faced with bullshit. I'll take Marcy Avenue over Park Avenue any day of the week! Painting in an impoverished neighborhood gives it life and positive energy.
What percentage of your time — would you say — is devoted to art?
I paint seven days a week. I work through holidays. I'm always working on paper, canvas or on my computer.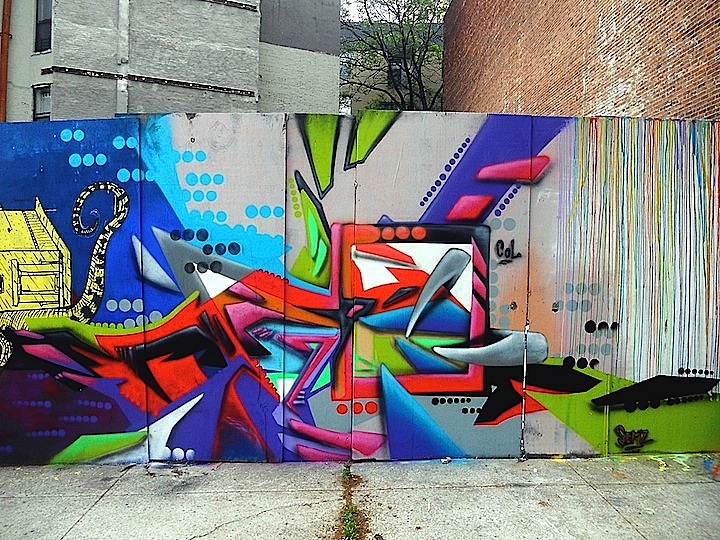 Have you exhibited your work in gallery settings?
Yes. I've exhibited at Art Basel (Miami), in NYC, LA, Chicago, DC, and in Europe.
How do you feel about the movement of graffiti into galleries?
As a painter, that's progression. And it all begins with the tag. A tag is an art form. It's a craft that not just anybody can do. Tags, then throw-ups and then you eventually evolve into doing pieces. And galleries have a responsibility to preserve them and share them.  Although I'm still not completely comfortable with gallery settings, it's a good feeling to make money from my art when my work sells.
What are your thoughts on the street art/ graffiti divide?
Fifteen years ago, it was only graffiti. But we are no longer the only ones getting up. And that's not a bad thing. I have a lot of respect for street artists. They are doing fresh stuff. Street art actually helped graffiti. Since the emergence of street art, graffiti writers have had more opportunities to exhibit their work in galleries. If you're a wheat-paste artist keeping the movement alive…how can I hate that? There are rules, though, to graffiti and some street artists need to learn them.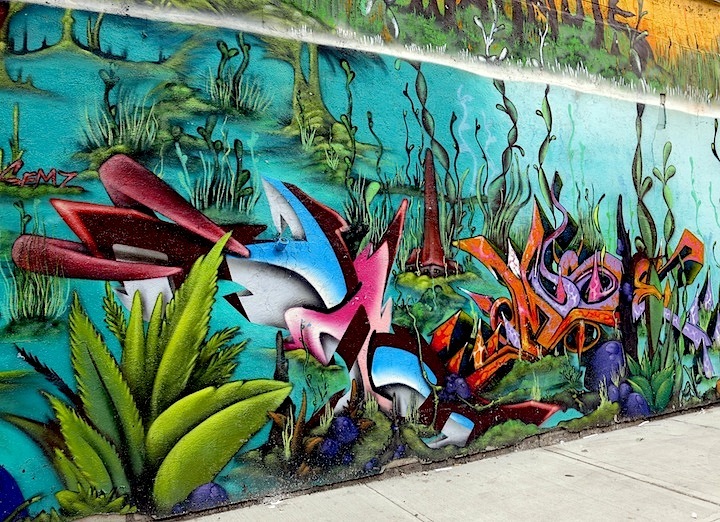 Have you ever been arrested?
Never for graff. But I've been chased a lot. Back then, cops used to catch you with paint and write on you. Then they'd let you go with a warning. Those days are over.
How did your family and friends feel about what you were doing?
My family hated it. My family didn't want the kids doing anything illegal. They saw it as a dead end…not doing anything with yourself, but putting up your name. I also lost some friends over graffiti. But your true family will never turn their backs. Ultimately, you learn, too, that you only have yourself at the end.
Do you have a formal arts education? 
I studied Fine Arts and Advertising at FIT and at the Academy of Art University. But all my spray painting training is self-taught. I learned the hard way with Krylon, Rustoleum, American Accent and Dutch Boy. The kids today have it easy using Montana and Belton.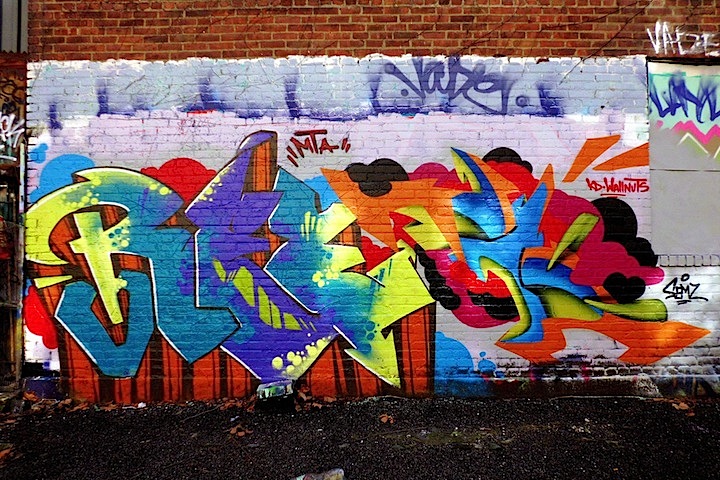 Are you generally satisfied with your work?
It's fifty-fifty. Sometimes. Other times I want to just buff and start all over. If you care about what you do, you're your own worst critic.
What's the riskiest thing you've done for your art and why were you willing to take that risk?
Painting in Israel by the Syrian border right in the line of fire. It's the sort of thing we as artists live for. Art is stronger than war. And that's why I did it.
Are there any particular cultures that have influenced your aesthetics?
I love the abstract movement. I enjoy the works of Pollack, Rauschenberg, Fran Stella, Jasper Johns and de Kooning. The abstract movement went against the grain of what was popular in Europe.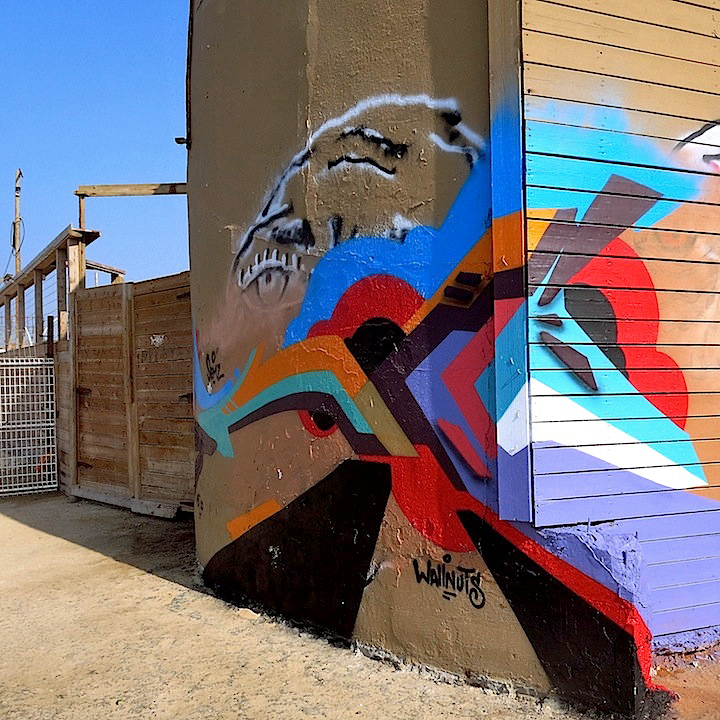 How has your work evolved throughout the years? 
I'll say it's more deconstructed these days. Back then, the majority of my work was 3D, but that got old and boring to me. I went into breaking letters and transitioned from 3D to silhouette.
How do you feel about what you are doing these days?
I'm happy with my progression and where I'm going. I'm glad I didn't listen to people around me. I'm glad that the progression came naturally, and I can't wait to see where it goes within the next few years.
What do you think the role of the artist in society?
It's about being a role model and reaching the youth. You got to give something to them they can grasp. You have to make them feel excited about what you are doing. The artist has to inspire and lead by example. He has to teach others that being an artist is a positive thing.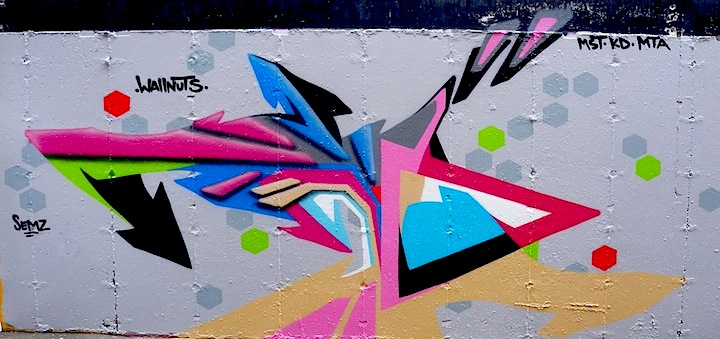 How do you feel about the role of the Internet in all this?
It's a part of you when you wake up; it's a part of you when you go to sleep. It's an outlet for everything we do. Before the Internet, guys were grinding…dealing with people first-hand. You had to present physical material. Today it's digital, and it takes two minutes. There are tons of positives and negatives to the Internet. You have to use it in a way that it works for you.
Any thoughts on the photographers and bloggers out there?
I support them. They shoot my work, they are very supportive and their eye is important. I like that they provide an opportunity to others to see my work.
Any shoutouts?
Shoutout to my WALLNUTS and URNY family. The homies: Hellbent, SeeOne, Depoh, Phetus, KA, Werds, Touch, Rubin. Semz (Rest In Power) and my grandma. Semz did so much for the graffiti scene. His is a name everyone should remember. My grandma was my biggest supporter. She never understood my art, but always pushed. She was a self-taught traditionalist artist. She told me, "Never stop and don't ever let anyone tell you that you're not an artist or that you're not a painter." She's with me in everything I do.
Interview by Lenny Collado; photo 1 at the Bushwick Collective by Lois Stavsky; 2 at the East Harlem Hall of Fame by Lois Stavsky; 3 at the Bushwick Collective by Lois Stavsky; 4 in Prospect Heights by Tara Murray; 5 in Bed-Stuy with Muse by Lois Stavsky; 6 in Inwood with Ree by Lenny Collado; 7  in Tel Aviv by Lois Stavsky, and final photo courtesy of the artist.