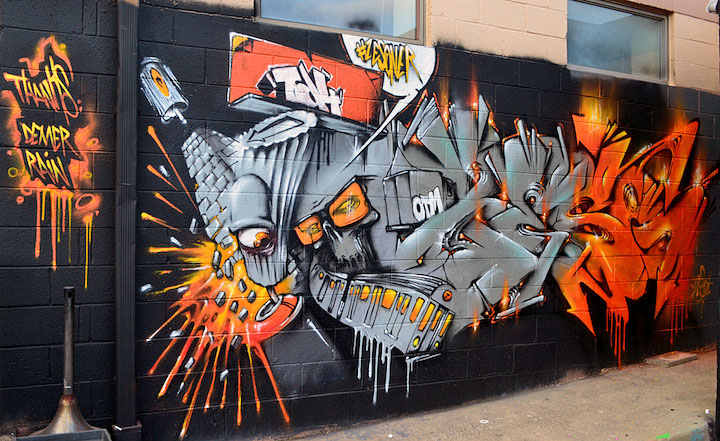 We first encountered Zeso's spectacularly stylish murals at 5Pointz, where he often painted with other TD4 (The Deadly4Mula) crew members. We've since seen this talented French artist's vibrant visuals in a range of both public and private spaces. I was delighted to have the opportunity to speak to him:
When did you first become interested in graffiti?
I first became interested in it when I was about 12 or 13. And that's when I started tagging. But I didn't seriously start doing graffiti until I was 21.
What inspired you to become serious about it?
I loved what I was seeing on the streets, and I wanted to be a part of it. I also liked challenging myself to see what I could do. I am still doing that.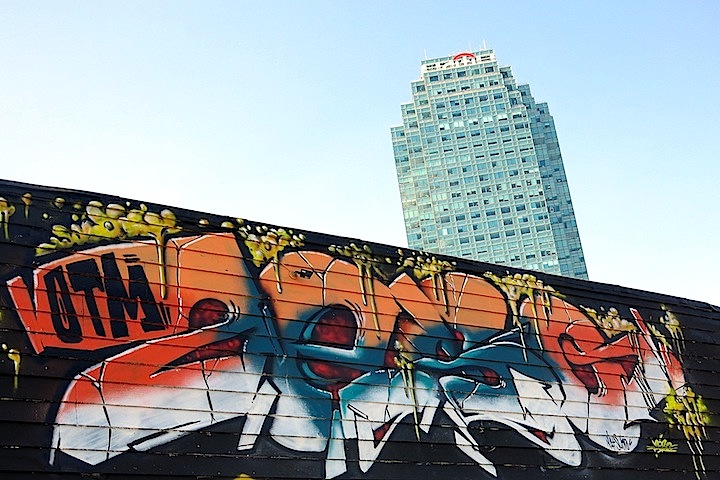 Have you any preferred surfaces?
I prefer flat surfaces, but the environment is very important.
These days — do you work only on legal walls?
I think all walls are legal – if you paint fast enough.
Have you ever exhibited your artwork?
Yes, I've shown at 5Pointz in Long Island City, and I was part of the TD4 show at Low Brow Artique in Bushwick.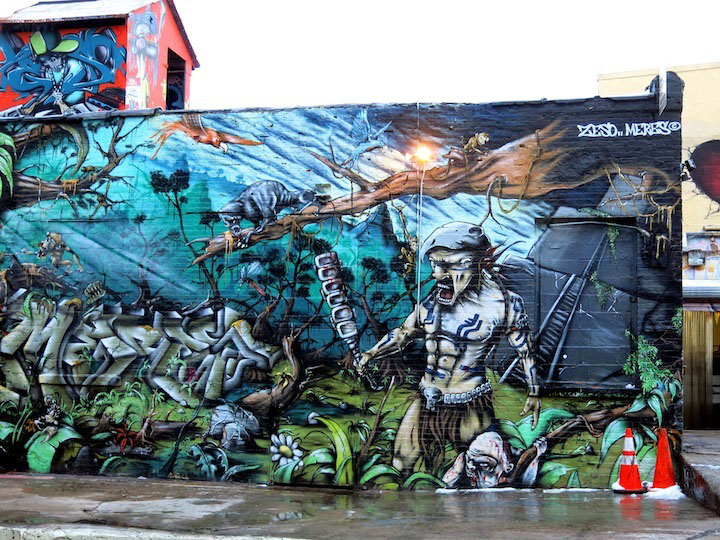 How do you feel about the movement of street art and graffiti into galleries?
I appreciate that museums and galleries are recognizing these art forms. There are some among us who can manage to adapt to this new setting.
Any thoughts about the graffiti and street art divide?
They both appear in the same environment  — the streets. While graffiti is focused on typography and painting techniques, street art is more about images and the message.  I don't see any reason to compare or divide them.
What about corporations? Would you take on a corporate commission?
Like any project, if I feel good about it, I will do it.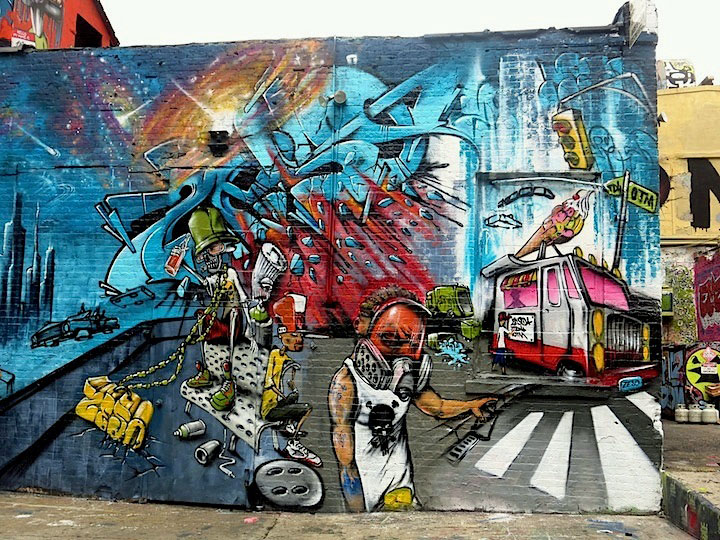 Do you prefer working alone or collaborating with others?
I prefer to paint alone with headphones on.
Have you painted with any crews?
I've painted with OTM, WF, TD4 and NSA in France.
Have you had a formal art education?
No.  I'm self-taught.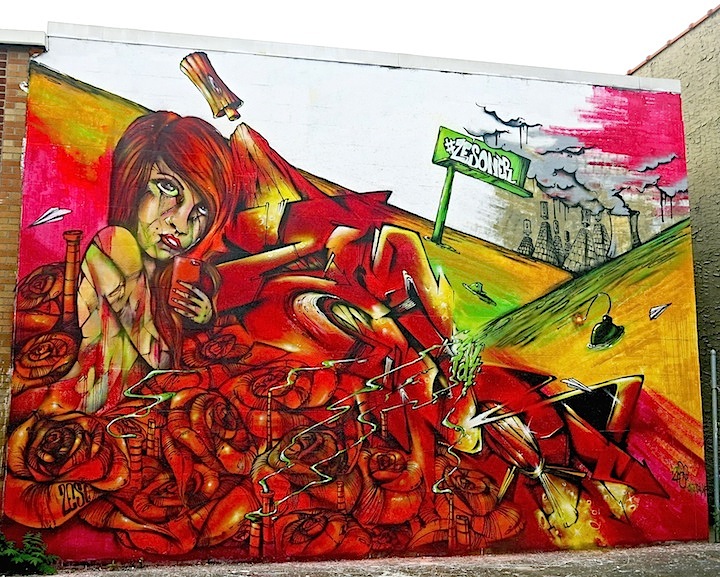 What is your ideal working environment?
Outdoors in the sun.
Are there any particular cultures that have influenced your aesthetic?
I love all mythology. All cultures with strong imagery influence my style. But the main ones are Japanese and Latino.
Do you work with a sketch in hand or do you just let it flow?
I almost always freestyle, but, on occasion, I have a sketch with me.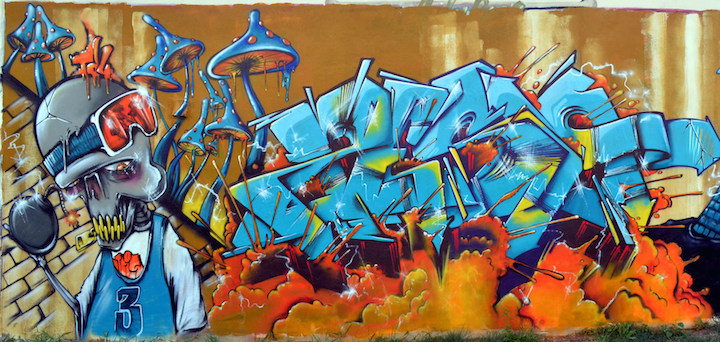 Are you generally satisfied with your finished piece?
Rarely 100%.
How has your work evolved through the past few years?
It is more spontaneous, and I tend to use more colors. I have, also, begun developing themes and more characters.
How do you feel about the photographers in the scene?
They are important, because they help promote my work. But I'd rather they didn't photograph my face.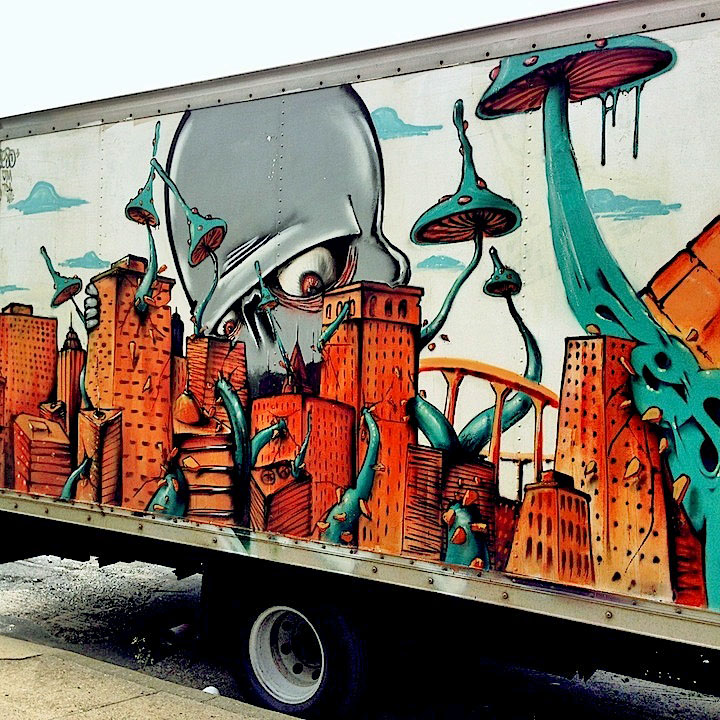 Who are some of your favorite artists?
Gustav Klimt is my all-time favorite.  Among the current artists – there are too many to name.
What do you see as the role of the artist in society?
For me it is to stay real and to create.
What's ahead?
I plan to go big or go home.
Interview conducted by Lois Stavsky; photos 1 and 6 courtesy of Zeso; 2, 5 and 7 by Lois Stavsky; 3 (collaboration with Meres One) and 4 by Dani Reyes Mozeson