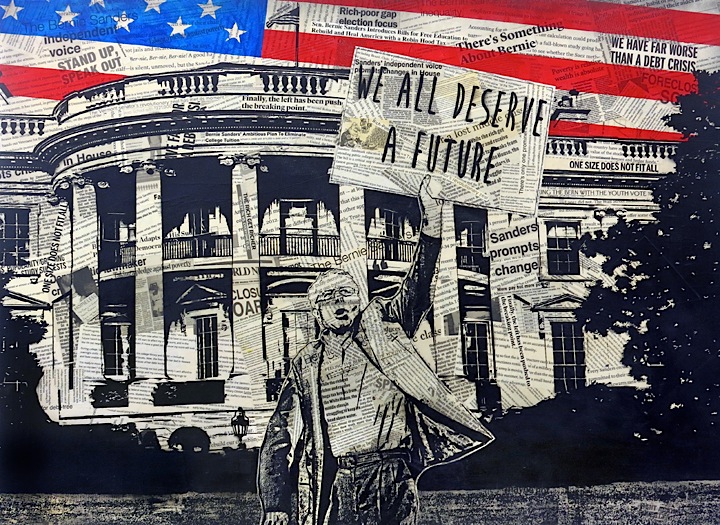 Featuring dozens of national and local artists whose work is inspired by the political landscape, the Artists for Bernie Sanders national touring exhibit, The Art of a Political Revolution, continues through 7:00 PM this evening at 312 Bowery. While visiting yesterday, I had the opportunity to speak to its principal curator, Tyler Gibney of HVW8 Gallery.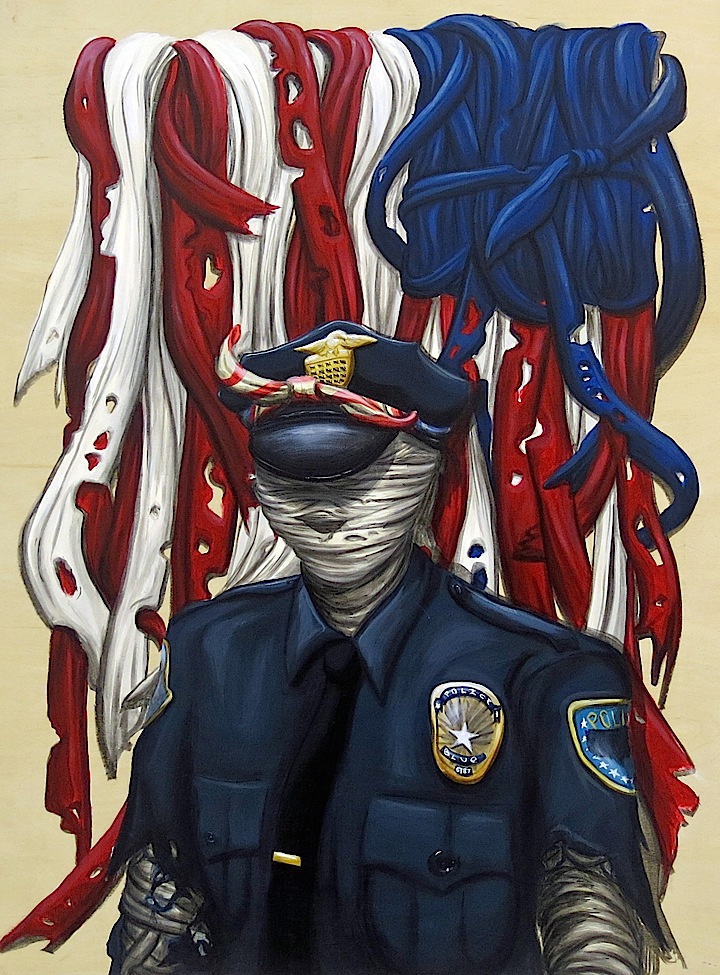 There is such a wonderful range of socially conscious art on exhibit here.  While some of the artworks directly reference Bernie Sanders, others touch on an array of social, political and economic issues. How did this all happen?
Bernie Sanders has always been a strong supporter of the arts. And soon after he appointed Luis Calderin — with whom I've worked in the past — as Director of Arts and Culture, Luis and I started working on launching this exhibit.
How were you able to engage such a diverse group of outstanding artists — many working in different media?
Both Luis and I had worked with many of the same artists when Obama was first running for President.  Several of these artists have also shown in my gallery. And in addition to the artists we both knew, many approached us — eager to participate.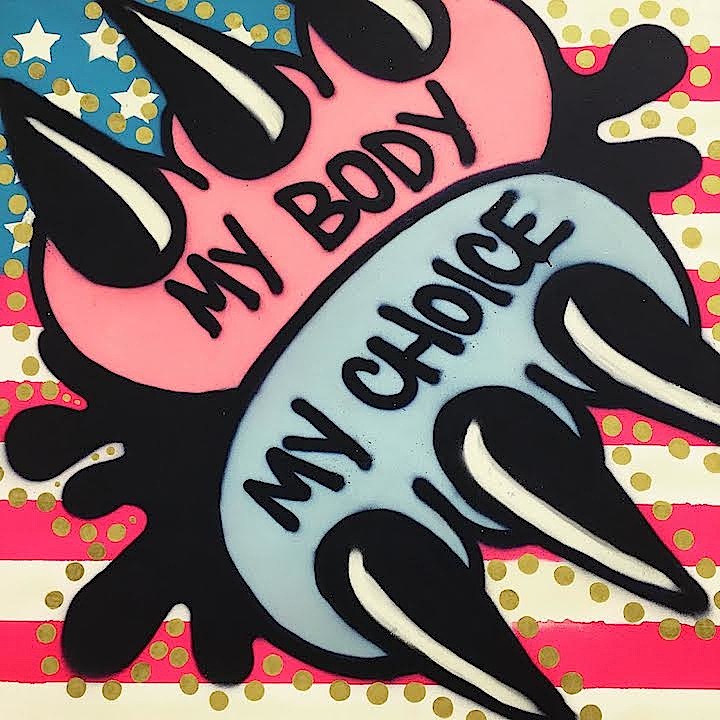 So many artists — of all ages — are supportive of Bernie. Why do you suppose this is so?
Bernie can be counted on to advocate for funding of the arts in our cities, schools and public spaces. He clearly understands the importance of the arts and has a proven record of supporting the arts. Artists can also easily relate to his values. Bernie takes no corporate donations.
And how might you explain his appeal to so many young people?
Many young people are feeling the need for a political revolution in this country. They graduate school with thousands of dollars in debt.  They witness a gross inequality of income. They see homeless people living on the streets in the richest country in the world. And with Bernie these issues come into the open.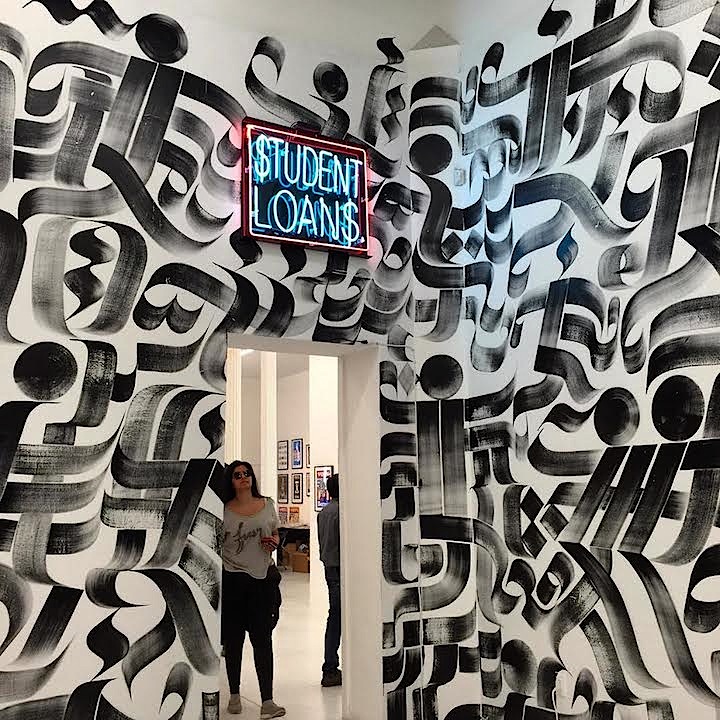 How did the opening of this exhibit here in NYC go?
It was amazing! We knew that Bernie's wife and son would be here. But we didn't quite expect him. He'd just been visiting the Vatican hours earlier! And so when he arrived, we were thrilled!
And are you satisfied with the response the exhibit is getting here in NYC!
Absolutely!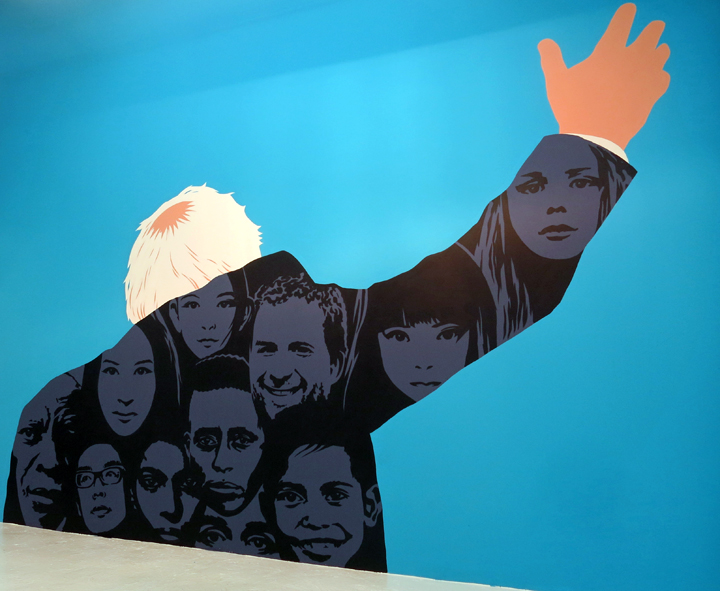 The Art of A Political Revolution  —  produced by Bernie 2016, with support from HVW8 Gallery, Creative Cabal, The GoodLife! & Evolutionary Media Group — is open to the public today from 10:30am – 7pm.
Artist signings: Aaron Draplin from 11:00 AM – 1:00 PM; Jermaine Rogers from 1:00 – 3:00 PM and Claw Money from 3:00 – 5:00 PM
Photos by Lois Stavsky; interview conducted by Lois Stavsky with Houda Lazrak and edited by Lois Stavsky
Images
2. Brian Blue
3. Claw Money
4. Rostarr  & Patrick Martinez
5. Dan Buller