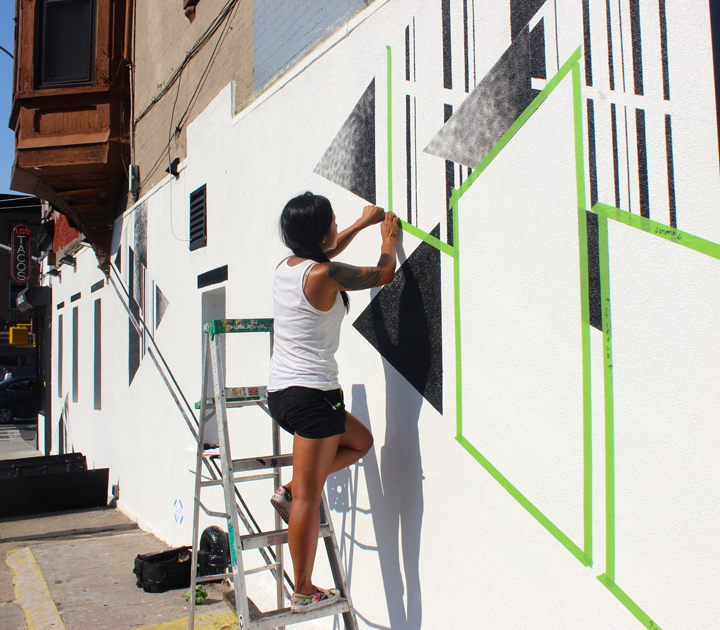 This past summer, a distinctly elegant mural surfaced on the streets of Williamsburg by Brooklyn-based artist LAMKAT. Last week, I had the opportunity to meet up with the talented artist and find out a bit about her.
When did you first share your vision in a public space?
The very first time I painted outdoors was this past June in Krakow, Poland.  It was in collaboration with Marcin Kowalik and sponsored by Galeria Dystans.  I loved the experience, and was instantly inspired to continue painting outdoors.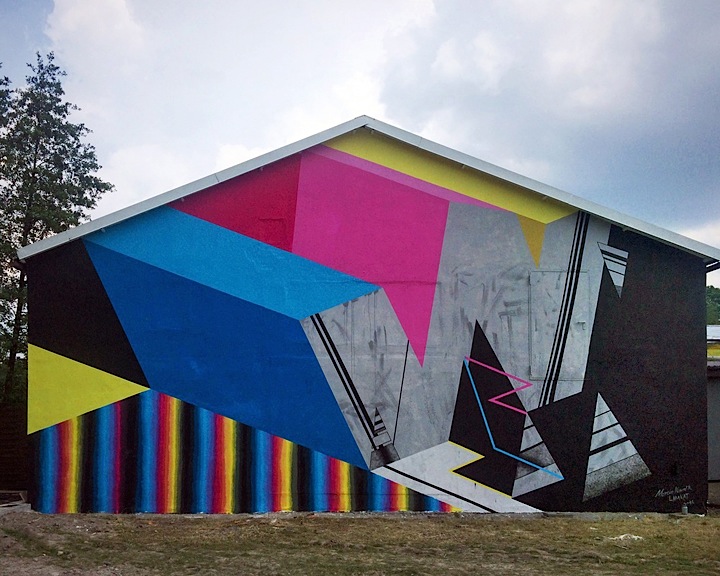 Were you always conscious of street art? Have you any favorite street artists?
Yes! I was always aware of it and I've always loved it! Among my favorite street artists are Bogota-based Gauche — whom I met in Berlin — and Li-Hill.
Can you tell us something about your particular aesthetic? What inspires it?
My father's black and white photography has been a huge inspiration. He's the one that taught me the importance of perspective and depth, both visually and as a way of observing life.  And I'm inspired by math.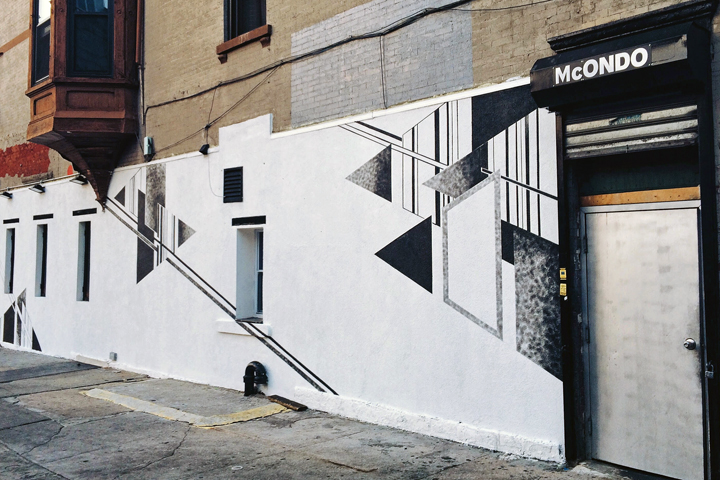 Are there any particular cultures that have influenced it?
My Chinese heritage plays a role, and growing up in Texas, I was influenced by Mexican culture.
Do you prefer working alone or collaborating with others?
Both! I like working alone, and I love collaborating. This summer I collaborated with One Thousand Birds, a commercial sound studio. We created interactive sound murals that were featured at Likeminds Camp, a creative and tech conference set in the middle of the woods in Beacon, NY.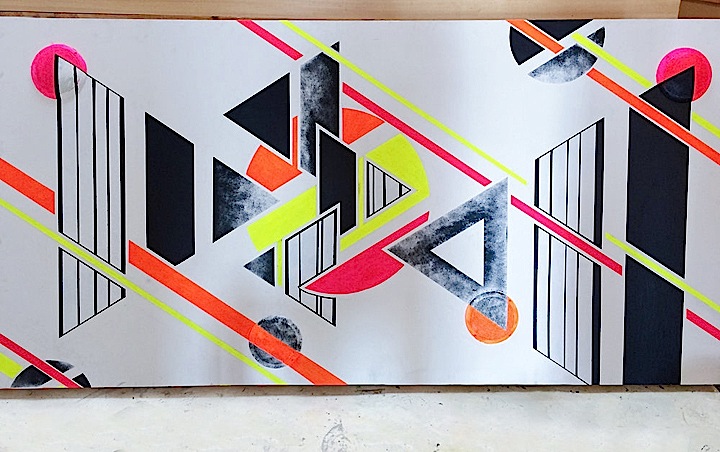 Have you a formal art education?
I started with Fine Arts, but I then studied Advertising and Art Direction at The University of Texas at Austin. And I earned a degree in Communication Design from The University of North Texas.
Do you feel that your formal education benefited you?
It did when I worked in advertising. It taught me about the relationship between art and business…how to turn art into a business.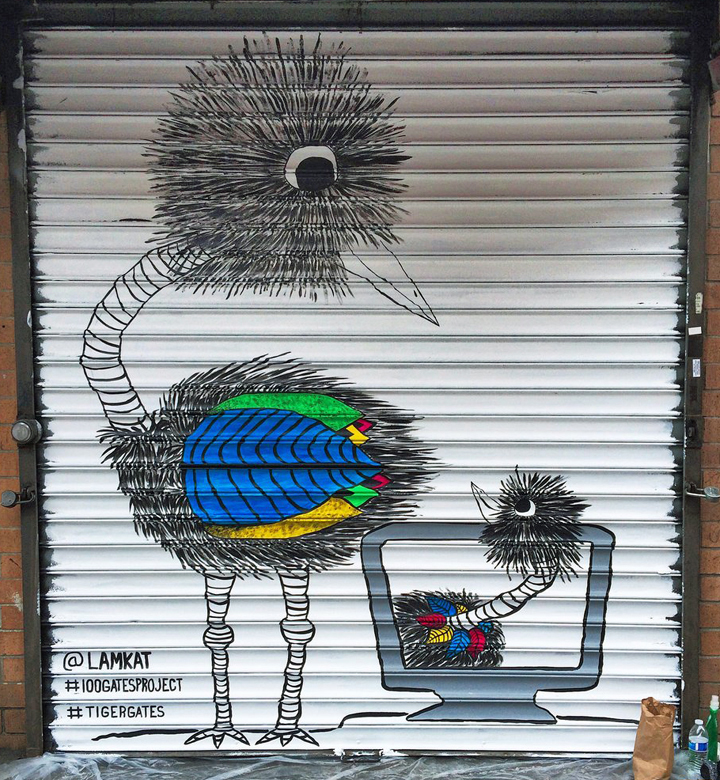 Now that you are now longer focused primarily on advertising, what is the main source of your income? 
My art still is — through commissions — in such venues as restaurants — and also through my work as an illustrator.
Your illustrations — as evident in the gate you recently painted for the 100 Gates Project — certainly exude a different feeling than your huge abstract murals!
Yes! I've always loved drawing birds, robots and goofy characters!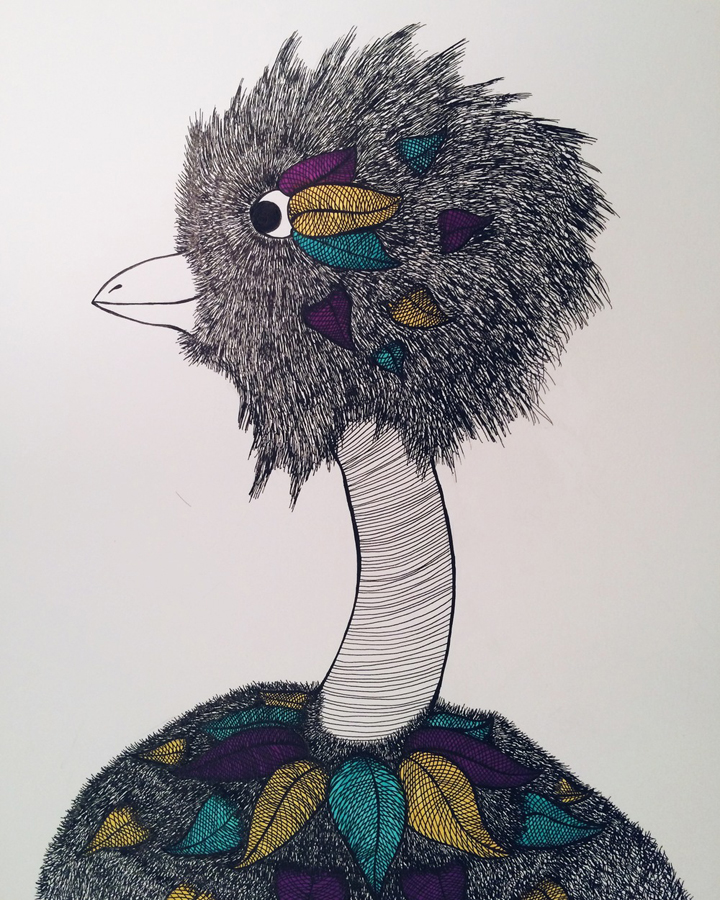 Do you work with a sketch in hand or do you just let it flow?
I do have an initial sketch.
How do you generally feel when your piece is finished?
I feel happy and sad at the same time! I'm happy, of course, that it's completed, but I love painting so much that I feel sad that it's over!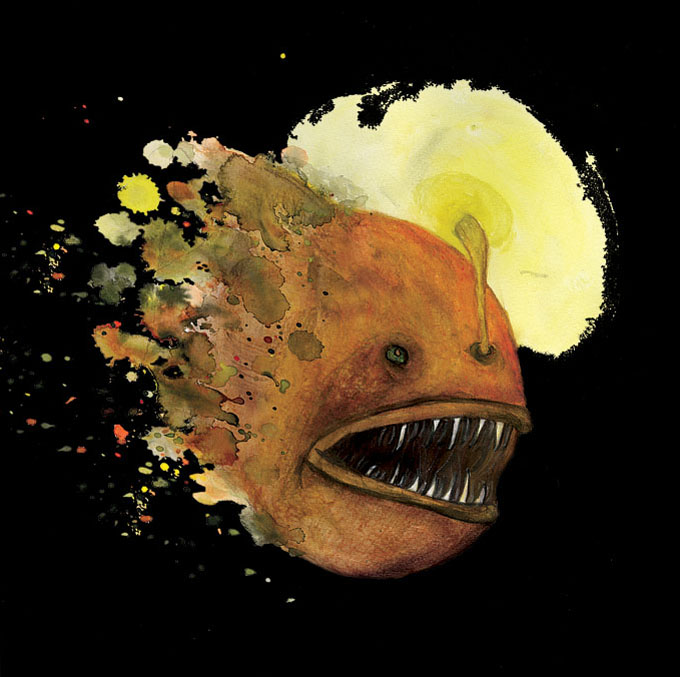 What do you see as the role of the artist in society?
It is to bring a sense of vibrancy to our environment.
What's ahead?
The interactive sound mural from Beacon will be at the Art Mart, 395 Johnson Avenue, at Bushwick Open Studios (ed.note: beginning today through Sunday); I will also be selling my smaller-scale works there. On October 20th, I will be participating in a skate deck show at Fillin Global, 160 Bowery. I'm also scheduled to paint next month up in the Bronx at the BMX Park. And in late October, I'm heading to Austin.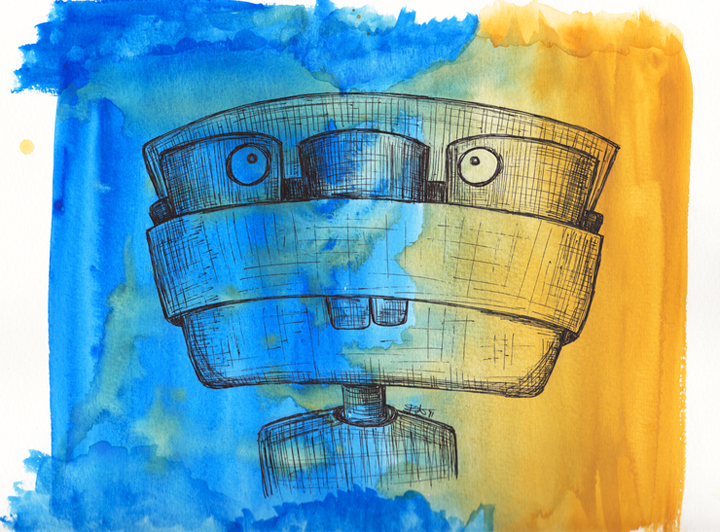 It sounds great! Good luck with it all!
Photo credits: 1 Tara Murray; 2-8 courtesy of the artist; interview conducted and edited by Lois Stavsky
Note: Hailed in a range of media from the Huffington Post to the New York Times, our Street Art NYC App is now available for Android devices here.