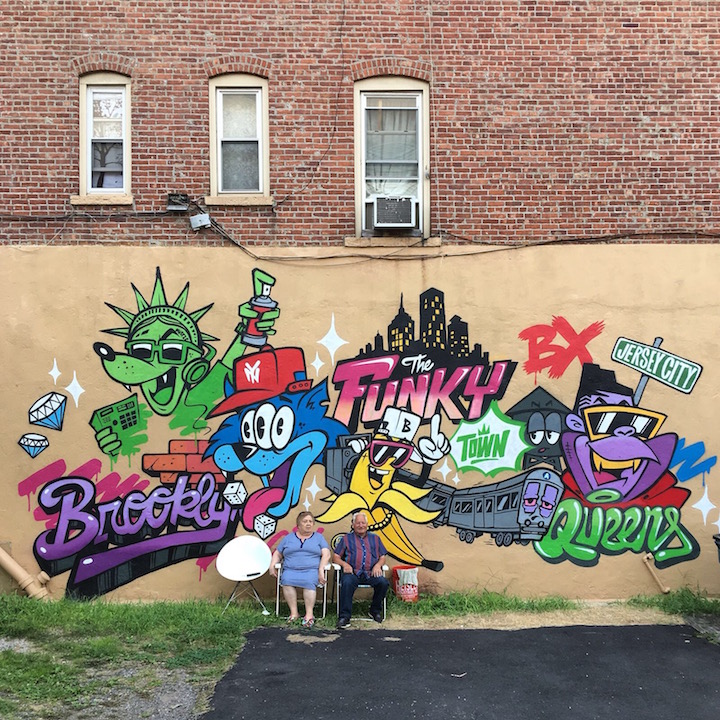 A veteran French graffiti writer, designer and illustrator, Jaek el Diablo shared his talents with us in Jersey City earlier this year, painting several walls in coordination with Green Villain, along with independent commissions.  At the time, street and travel photographer Karin du Maire had the opportunity to interview him:
When did you begin doing graffiti?
It's been about 25 years now since I first started doing graffiti. I began in the early 90's.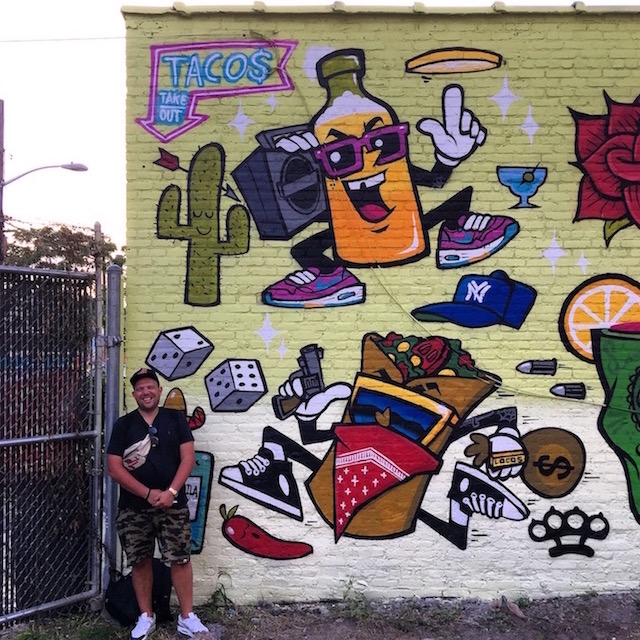 What inspired you at the time?
I was into the skateboard culture back then, and I met many other skaters who were tagging the streets. They exposed me to graffiti, street art, comics and pop culture, in general.
What, would you say, has had the largest impact upon your particular style — both as a graffiti artist and a designer?
Comics! I was always drawing, and the comics I was reading inspired my characters. I think that was the beginning of my story!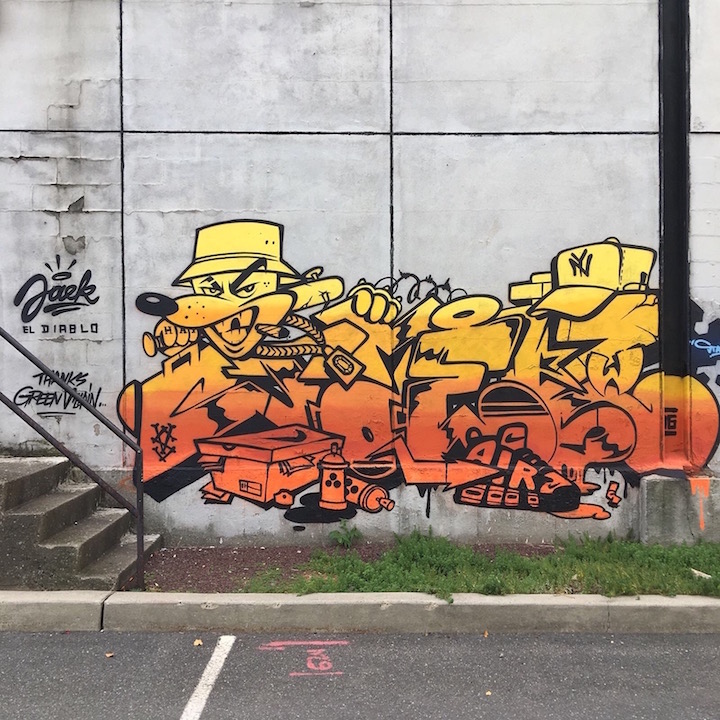 How would you define your style? What differentiates it from others?
If I had to define my style, I would describe it as cartoon. I was influenced early on by the Kermits, Disney, Hanna–Barbera… In my work, I try not to reproduce the same thing that I see. I put my own stamp on it! It's kind of like sampling in hip-hop – a remix of sorts! I see my work as a tribute to some of my favorite characters. It's always a tribute.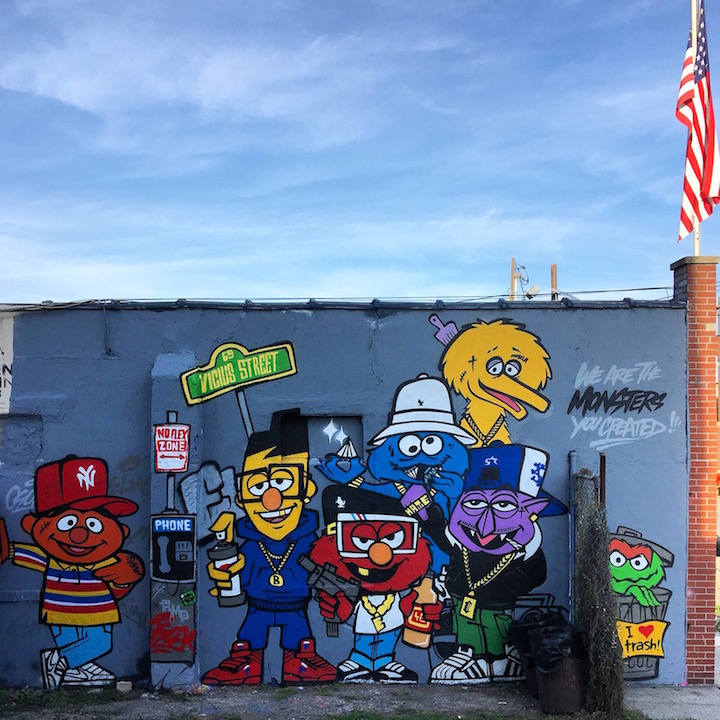 Can you tell us a bit about the difference between French graffiti and the graffiti you've seen here while painting in NYC or Jersey City?
I think that back in Europe, we've had other influences — such as Mode 2 and the cartoon styles that inspired him. And we have the German graffiti writers whose letters are always evolving. Here in NYC, the writers are very academic; they are Old School academic. Not all  — there is Rime MSK and a few guys who are next level. But most NY writers maintain the classic graffiti style. To me, the two books, Spraycan Art and Subway Art, are the Bible, the base. I love being here and discovering the origin of my religion!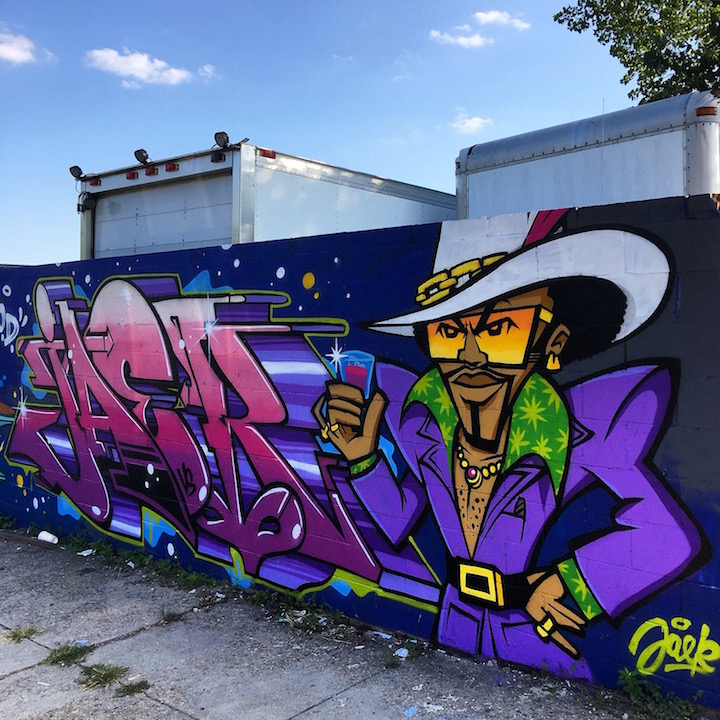 What about the future of graffiti? Where do you see it going?
I see more and more big murals, especially tribute murals, and more illustrators doing street art. I see lots and lots of styles, but there will always be a return to the roots of it all – which is graffiti. I see it  going in a variety of directions. But, I think, in the future there is no museum. It is only in the streets!
Many walls in NYC are now curated. How do you feel about this trend?
On a positive note, the walls are better and better, because the artists are carefully selected. But it's also a negative thing. Graffiti was meant to be open to all. If you had a can, the wall was free! But, yes, these curated walls help break down the negative stereotypes of graffiti. And that is good for my art! So maybe that is the future!
Photos by Karin du Maire; interview conducted by Karin du Maire  and edited by Lois Stavsky
Note: Hailed in a range of media from WideWalls to the Huffington Post to the New York Times, our Street Art NYC App is now available for Android devices here.