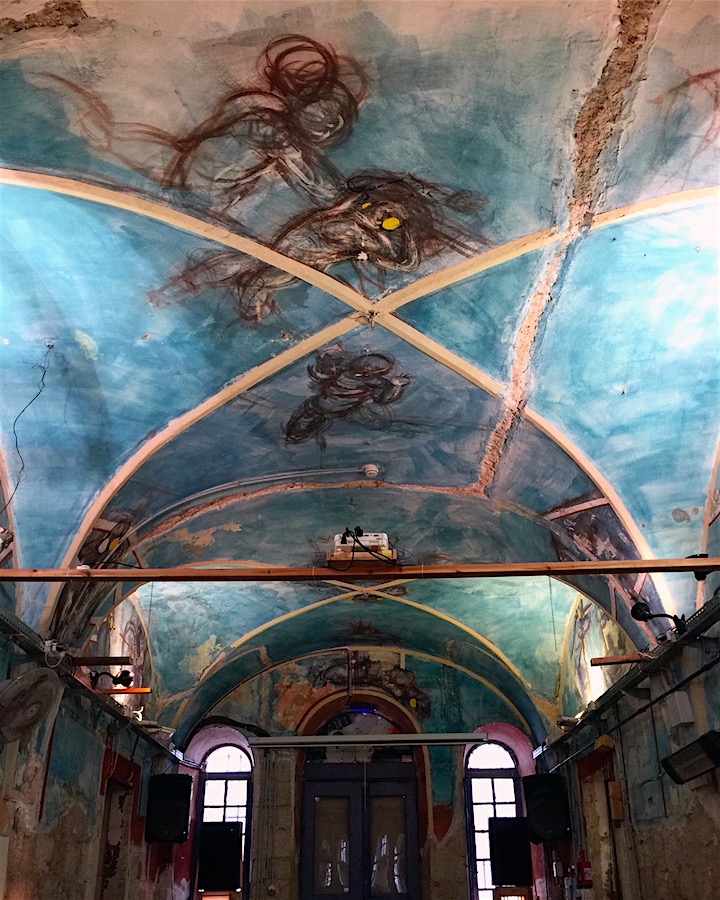 Located in what was once an abandoned 19th Century building, the cultural center known as HaMiffal now hosts an extraordinary range of cultural activities, while providing studio space to artists working in different media. And towards the end of 2017, its production department became engaged in building an entire hospitality infrastructure, the ART BNB INN, that hosts international and Israeli artists from a range of disciplines.
While visiting the space, I had the opportunity to speak to Jerusalem-based artist Meydad Eliyahu, who has been involved with HaMiffal since its inception.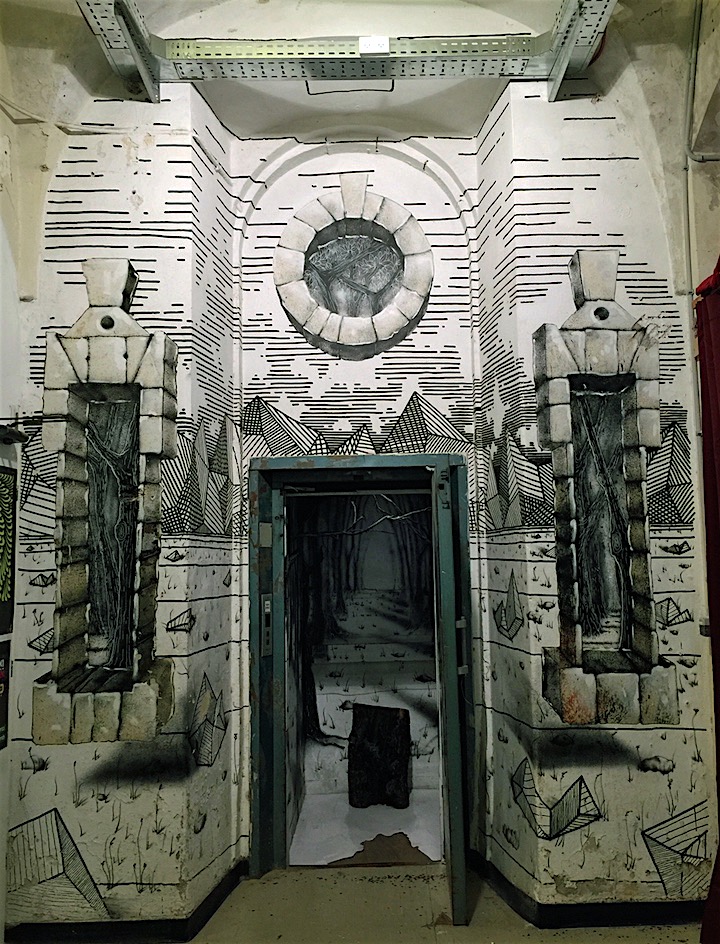 What a remarkable space for artists and for art lovers! When did HaMiffal host its first event?
At the end of 2015, we opened it to the public, inviting artists to create site-specific work in a range of media.
Can you tell us a bit about your engagement with HaMiffal?
I was the first artist-in-residence. That was almost a year ago. For three months, I worked on a series of paper drawings that reflect this building and one in India that I had been researching. I've also participated in most of HaMiffal's exhibitions, and I was among the first artists to curate here.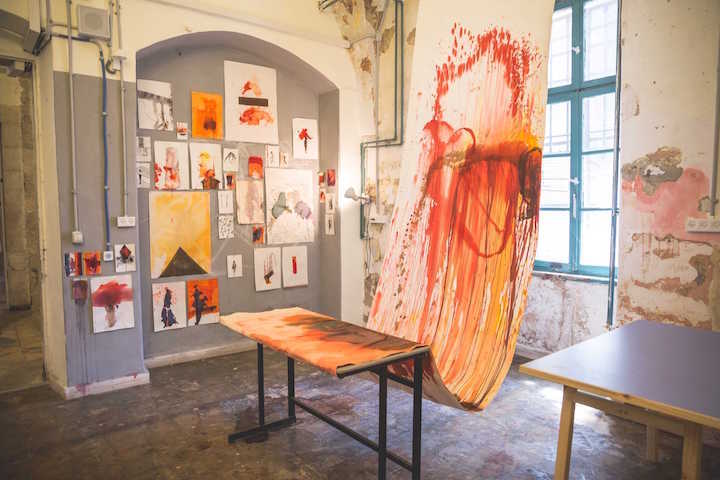 How does the process of working here differ from working in your studio?
Working in front of other people, and — at times —  in collaboration with them, is far different than working alone in one's studio. It is almost performance art! And there is always dialog. It is challenging in a positive sense.
Who are some of the other core artists involved with HaMiffal's development?
Among them are: Noa Arad Yairi, Neta Meisels, Michal Harada, Shavit Yaron, Tal Harada, Tal Ben Hamo, Yuval Yairi, Itamar Hammerman, Shaul Zofef, Ann Deych, Deborah Fischer, Gilli Levi, Kobi Vogman, Michal Chevion, Michael Cohen, Jonathan Ofrat and Elad Yaron.
Several months ago, HaMiffal began hosting artists from around the world who conduct workshops that are open to the public. Can you tell us something about that?
Yes. In late December, eight artists — of diverse backgrounds from throughout the globe — conducted workshops, engaged in public dialogs and created site-specific art related to the 100 meter radius around HaMiffal. Among them were the Brazilian street artist Manoel Quiterio, who works extensively with drug addicts and homeless people in his native country and the German musician, DJ and music researcher Nicolas Sheikholeslami.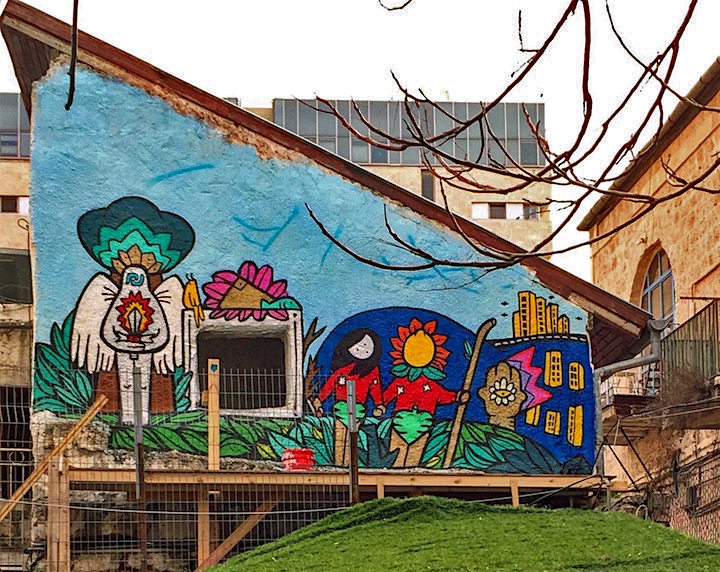 What's ahead for HaMiffal?
We envision it as a cultural center that continues to provide workspace and opportunities for artists working – both individually and collaboratively — in an all kinds of art forms. A few months ago, we published an open call for artists to create new works in HaMiffal's varied spaces. We received over 60 proposals and we chose ten artists.
And we are interested, of course, in engaging more people from the local community. In addition to running a gallery and workshops and hosting a range of cultural events, HaMiffal offers a café bar. It is quite unusual to have such a space in Jerusalem, and we are doing our best to maintain it.
And you are about to travel!
Several months ago, we were invited to participate in the 28th Jewish Culture Festival in Krakow, Poland to create a site-specific project in a historic building owned by the Bosak family. This is the first time HaMiffal artists' collective will create a project abroad. It is a huge challenge and an amazing opportunity. The project, Sambation, will continue for ten days and will involve more than 16 artists from the HaMiffal collective.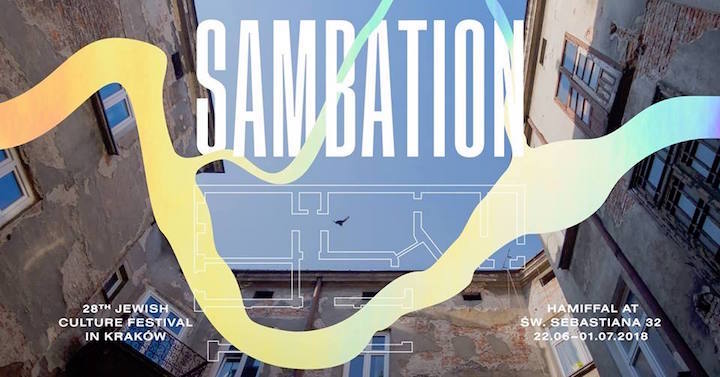 That is so exciting, And what a wonderful model HaMiffal is for other cities!
Note: Jewish Culture Festival in Krakow began last week and continues through this Sunday.
Photos:
1 & 3 Artwork by Meydad Eliyahu
2 Artwork by Kobi Vogman
4 Artwork by Brazilian artist Manoel Quiterio
Photo credit:  1, 2, & 4 Lois Stavsky; 3 Yelena Kvetny
Interview conducted and edited by Lois Stavsky
Support for HaMiffal is provided by the Jerusalem Municipality, the Jerusalem Foundation and the Leichtag Foundation.