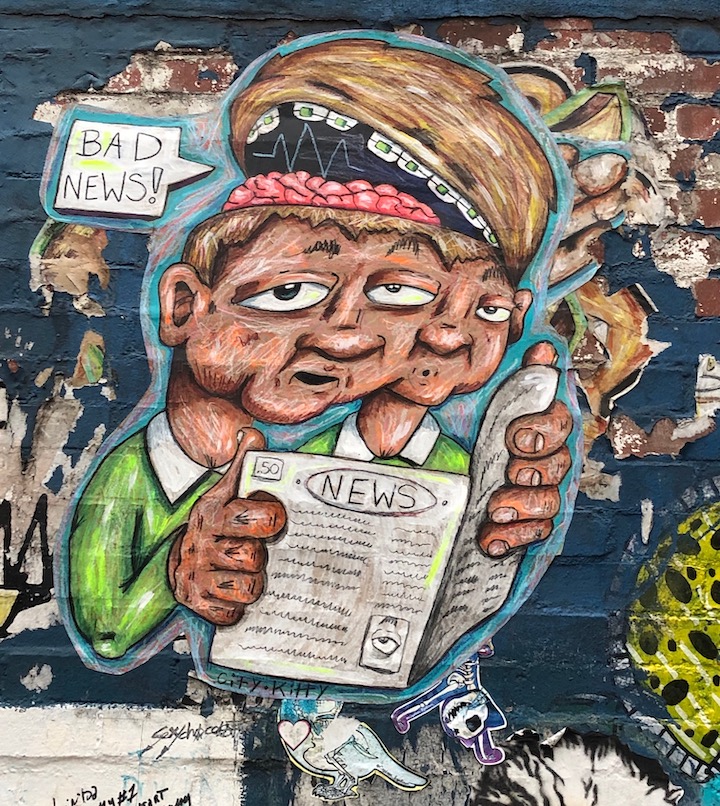 The following guest poet is by Lower East Side-based photographer Ana Candelaria:
Born in Rochester, New York and currently based in Queens, City Kitty makes his presence wherever he happens to be. And each piece that he creates is distinctly intriguing. 
When did you first discover your love for art?
I've always loved art, and it's always been a part of my life. I come from a very artistic family. My grandparents were both painters. They met when they were students at Pratt. My mother was a singer. I, myself, was a musician for many years, and my brother is a musician. It's just something that has always been encouraged.
Do you have a formal art education?
Yes. My undergraduate degree is in Art Education from Nazareth College in Rochester. I worked as a substitute teacher for a bit, but I did not end up pursuing teaching as a career. I then went back to school and earned an MFA in Painting from the University of Albany, where I taught undergraduate courses in drawing for two years. I have an entirely different career in the Fine Arts. That work looks nothing like my street art.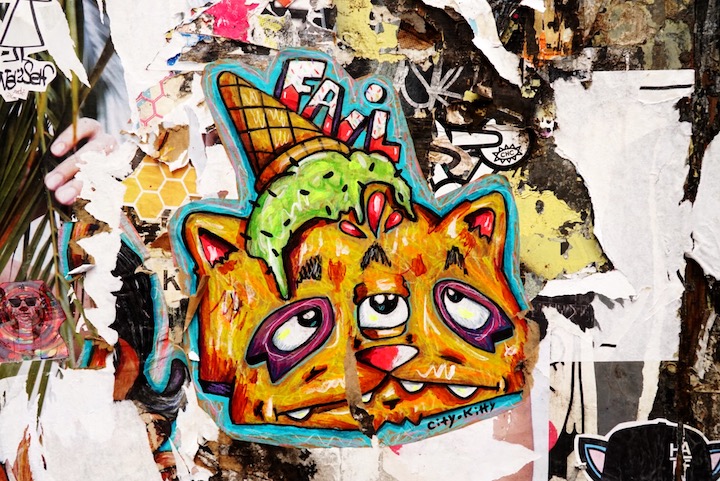 On the streets we identify you with your City Kitty character. When was your City Kitty character born? And how did you come up with its design?
I moved to NYC in January 2010. And two months later, I met a couple of friends who were working at the Fountain Art Fair. They ran a collective that I ended up joining, and I started meeting more and more street artists. I used to do graffiti as a kid, and I saw that if I were to do street art, I'd have to make up a character.
So I thought, "All right I'll come up with a character!" I grew up in a house with five cats. And when I lived in Bushwick, there were two gangs of cats on either side of the adjacent factory, and they were always having kittens.
Do you remember your first City Kitty piece?
Yes, the first thing I did was make a silkscreen. The style of work that I do now is similar to what I did back when I was in a band. When I moved down here, I was still making band posters. But since hanging posters here is illegal, I decided that if I'm going to get into trouble, it might as well be for my own work! That's when I started burning silk screens. I would make all of my work by hand for the posters, but then I would print them out. I would make one cut paper piece, scan it and print multiple copies and put them out. All the other poster artists that I knew and fell in love with were silkscreen artists, so if I'm going to change gears, I'm going to want to start with silkscreen.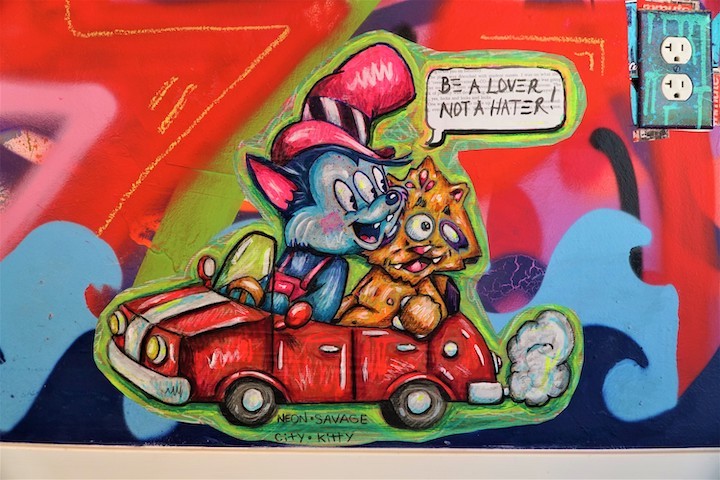 Who are some of your favorite artists?
There are poster artists and fine artists. Jeff Soto is kind of a crossover, as are Michael Motorcycle and Tara McPhearson. Jeff is a great painter, but he also does murals. Tara designs toys that she shows at Comic Con and she's, also, represented by galleries. I like that balance. I do a lot of posters between working on fine art paintings.
I have seen some of your sketches on MTA service announcement posters on the New York City subway platforms.
Yes! I usually grab the posters on my way to work. I'll draw them on my lunch break, and I'll put them up on the way back home. And they get around — as I work in different parts of the city from the Lower East Side to Harlem. And when I have to get to New Jersey, I travel through Midtown.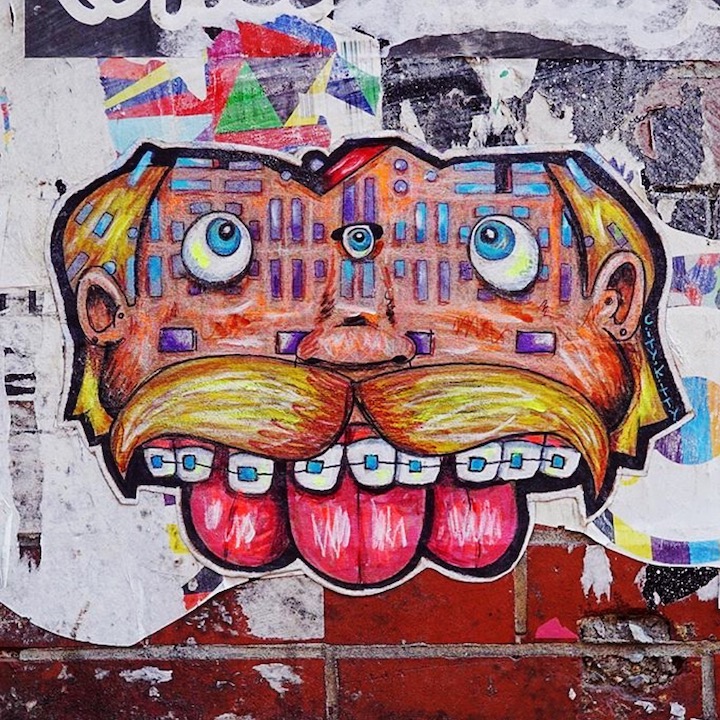 When did you start putting up these MTA service announcement sketches? And why?
About a year and a half ago, I put up 113 of them. Sometimes they're up for a few days, and other times they stay up for as long as a month. After 10 years of doing street art, I felt like I was making work for the same audience. On the subways I can reach a different audience and, perhaps, make some people smile. And I don't sign my subway sketches. I like that feeling. And since I've begun doing this, I've only been yelled at by a couple of transit workers.
Have you ever done a wall?
Yes, I have done several. My first wall was in Ithaca at a bar where I used to play with my old band.
What about collaborations? I've seen your collaboration with Turtle Caps. Do any others stand out?
I've collaborated with a lot of people. For years, I did a lot of work together with my street art friend Bludog. I also collaborated with Grey Egg from New Jersey, and I worked with some people from Europe.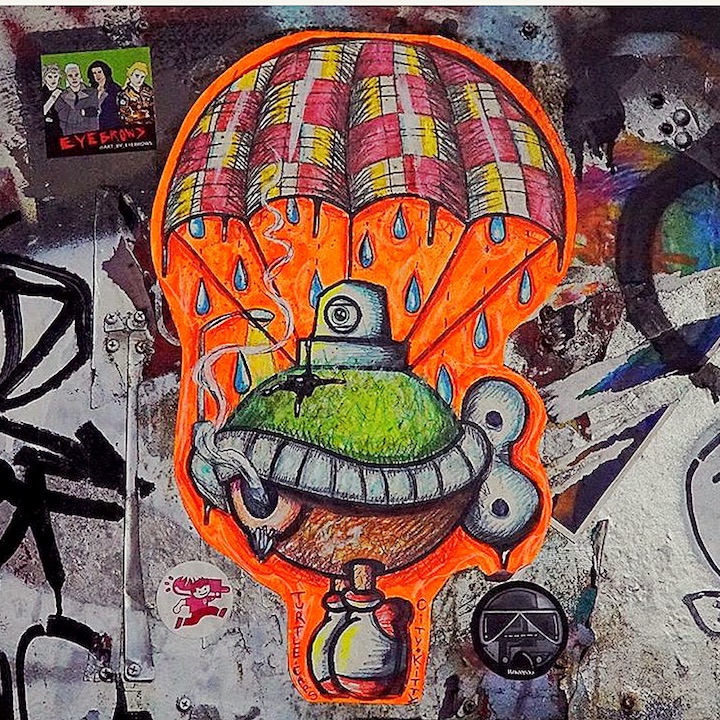 What gives you the biggest thrill in this street art scene?
Traveling to new cities and putting my work up in them — especially since it's such a worldwide thing. It's a global community. I love seeing what other people are doing and I love contributing to it.
Are you generally satisfied with your work?
I'm satisfied when I finish, and then a few days later, I hate it!
How has it evolved over the years?
I use more colors and my characters have evolved over time.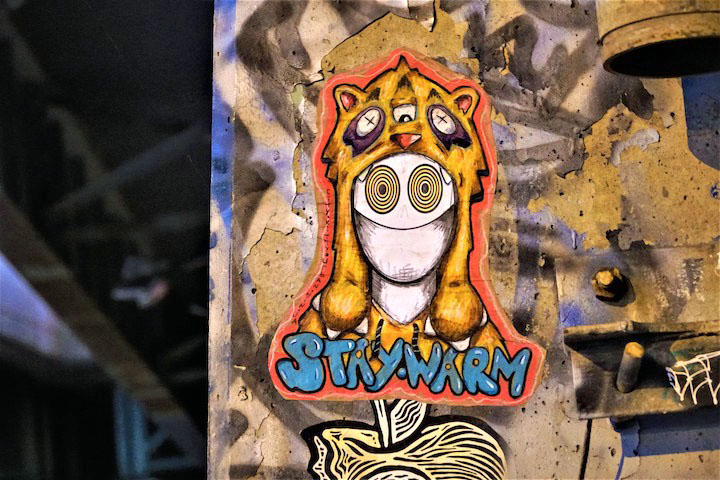 Running into your pieces always makes me feel happy! And I'm looking forward to seeing more of them…especially on my way to work! What's ahead?
I'm now working on the wall at Second Avenue and Houston. A solo exhibition of my hand-embellished MTA posters will open this Friday evening from 6-10 pm and continue through Saturday, 12-8 PM, at the Living Gallery Outpost, 246 East 4th Street.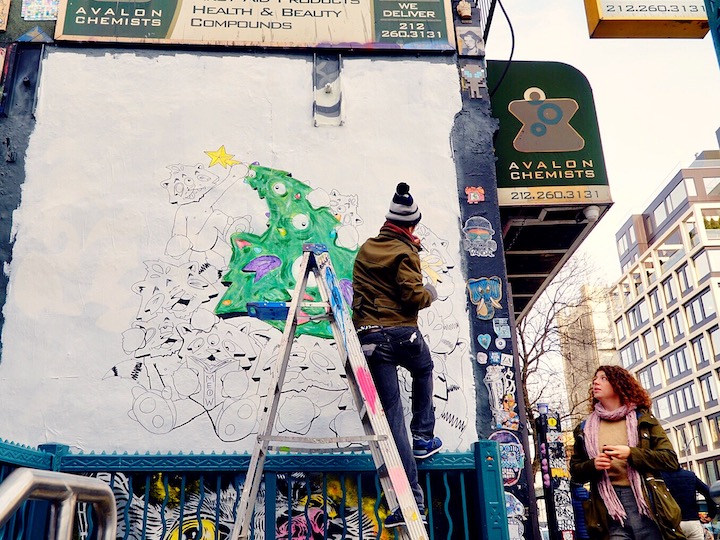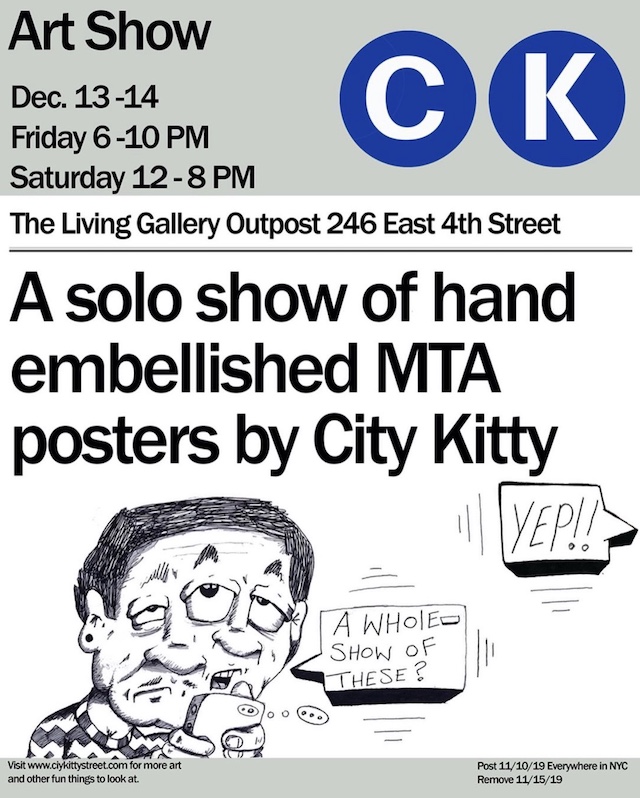 Collaborations:
3. City Kitty with London-based  Neon Savage
5. City Kitty with Queens-based Turtle Caps
6. City Kitty with Toronto-based Urban Ninja
Interview conducted by Ana Candelaria and edited by Lois Stavsky
Photo credits: 1 Lois Stavsky 2-7 Ana Candelaria