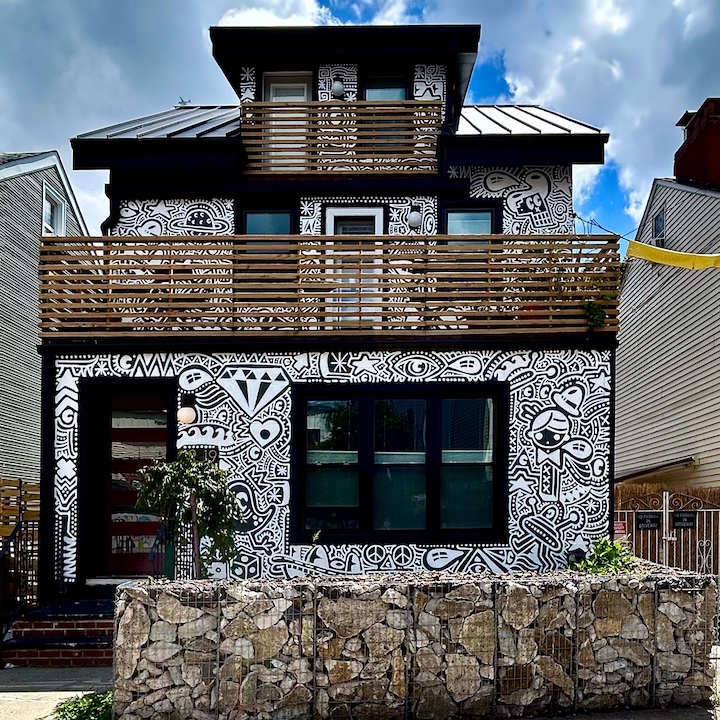 This past Sunday, Welling Court Mural Project director Alison C. Wallis introduced us to the distinctly talented Dutch artist, Ottograph, who had just graced the exterior of a three-story local home with his delightfully playful aesthetic. What follows are excerpts from an interview conducted then at Welling Court with the renowned international artist by Street Art NYC contributor and UP Magazine staff member Ana Candelaria.
When did you begin painting? 
I started about 40 years ago. I was 12.
What inspired you at the time?
My inspiration came from a Chaka Khan music video. I saw a guy who was roller skating and at the same time painting on a wall with a spray can. I said to my mom, "Mom I've got to do that!" I then painted my first piece in a suburb in Amsterdam and was instantly hooked.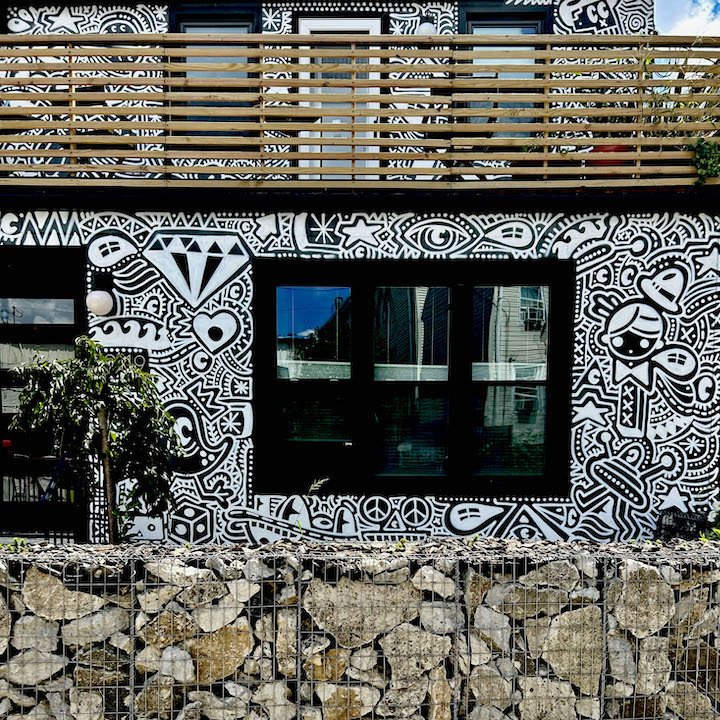 What was your tag back then?
I didn't have any reference to graffiti. I'd never seen it before, so I copied the tag BEAT, the name of the guy painting in the Chaka Khan video.
Have you had you other names?
As we were watching the subway trains go by, we would always say "Oh shit! You saw that one?" And so when I was a teen, I took on my second tag, SHIT. Later I changed my name to ZEY because I liked the letters, and you can almost make it like a COCA COLA logo with the sling from the Y going under the other letters. But then I figured it was too short, so I added an apostrophe and an S, and it became ZEY'S. Then later there was ZEIS and finally ZEISER. That was the last one before my current one.
How did you get your current name OTTOGRAPH? 
My real name is OTTO. I was listening to a song by N.W.A and one of the artists Eazy-E,  shouted "And all the ladies want my autograph," and I was thinking Otto? Autograph? Hey, that's me! Do you know what's crazy? Over in Europe no one gets it, but in America people instantly start smiling when I tell them my name. I've stuck with that name for the past 15 years.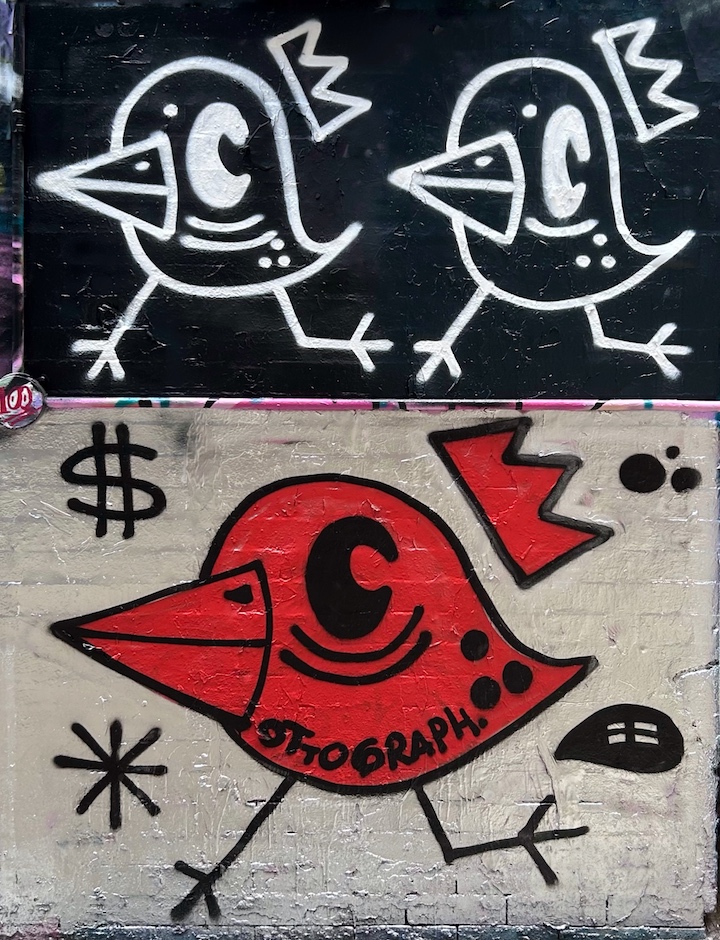 Had you a preferred style back then – when you were bombing?
I really liked doing blockbusters. I made a lot of giant blockbusters on the subways. This was around 1985. It was so scary, and, like, the biggest adrenaline rush ever!
Were you involved with any crews back then? 
When I was like 17 or 18, I created the SHIT HAPPENS posse and for the first three months I was the only member. Now it has over 300 members! I see people putting S.H.P on their pieces and I don't even know who they are.
What were some of the highlights of your career as an artist?
Painting last week on Sedgwick Avenue at the birthplace of Hip Hop was definitely a highlight. They had an open mic the whole night. It felt like I was playing music in my studio, but then I would look up, and they're actually rapping in front of me. I felt like I was in a movie. And one special memory I have that stands out is from when I was painting at 5Pointz. I remember standing between seven guys in their 50s or 60s who all had massive pickup trucks. They found a way to link up their sound systems together and played Busta Rhymes songs the whole day. The scene was amazing! The kids were playing soccer, and we were just painting. I will never forget that day. Busta Rhymes, BBQing and painting.  Holy moly!  it's perfect.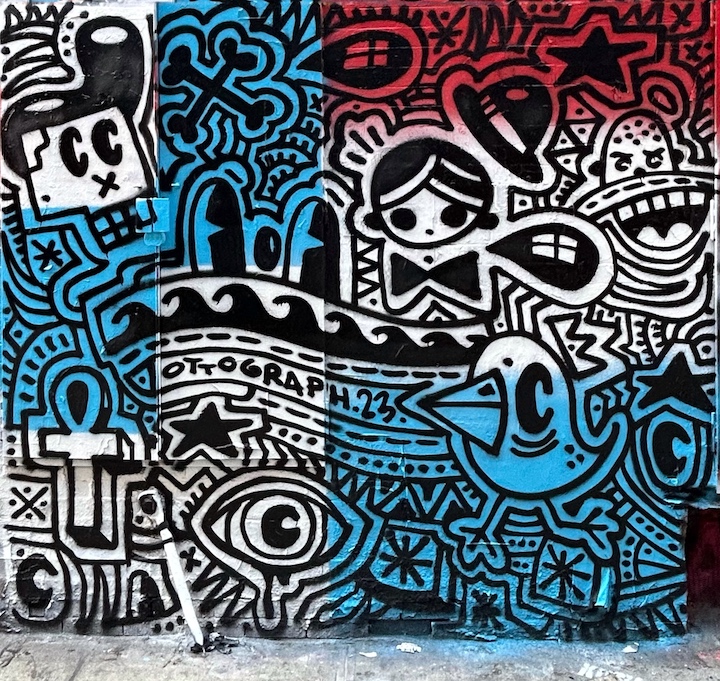 Where else – besides NYC and Amsterdam – have you painted?
Within the states I've painted in Hawaii, San Francisco, Denver. I've painted in Russia like 15 times, mainly in Saint Petersburg. I've also painted in Japan, Berlin, Spain, Italy. I've painted in Africa — in Gambia and Zanzibar. The next big project I have coming up is in Nigeria. I'm supposed to go out there in three weeks, but the political situation is a little out of hand at the moment, so I may have to push it to a later date. I can't wait for it to happen!
Are there any cultures that influence your aesthetic?
Yes, my style is largely influenced by Aboriginal and Native American art. I love their patterns. I tend to put a lot of dots in my work, and that comes from the aboriginals who used to make artwork using only dots. The dots for me are a good way to fill in spaces. I always try to fill out a drawing. I usually start with my character, King Canary; then I work my way around it.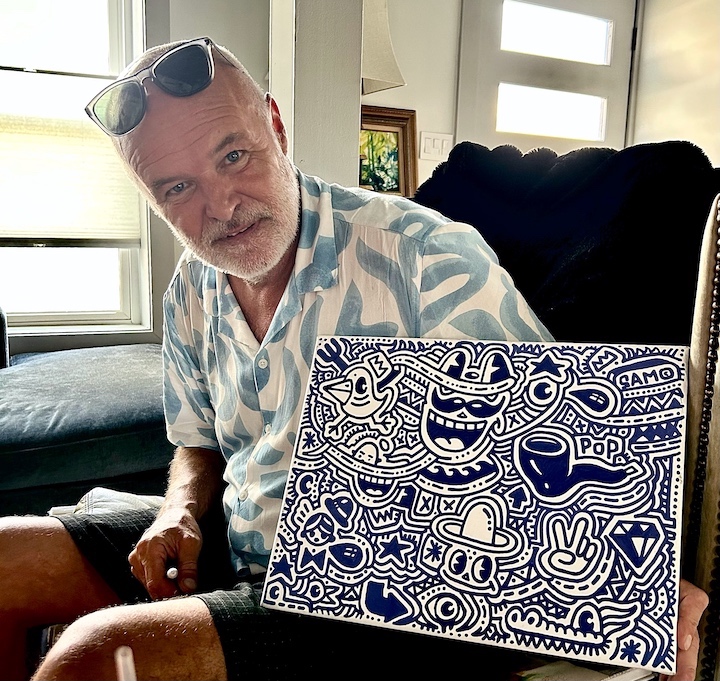 Where do you see yourself five years from now? 
I see myself doing the same thing. Traveling the world, painting as many murals as I can and meeting interesting people.
Interview conducted by Ana Candelaria and edited by Lois Stavsky; photos by Lois Stavsky
Note: Keep posted to UP Magazine for a comprehensive portrait of the artist, also penned by Ana Candelaria