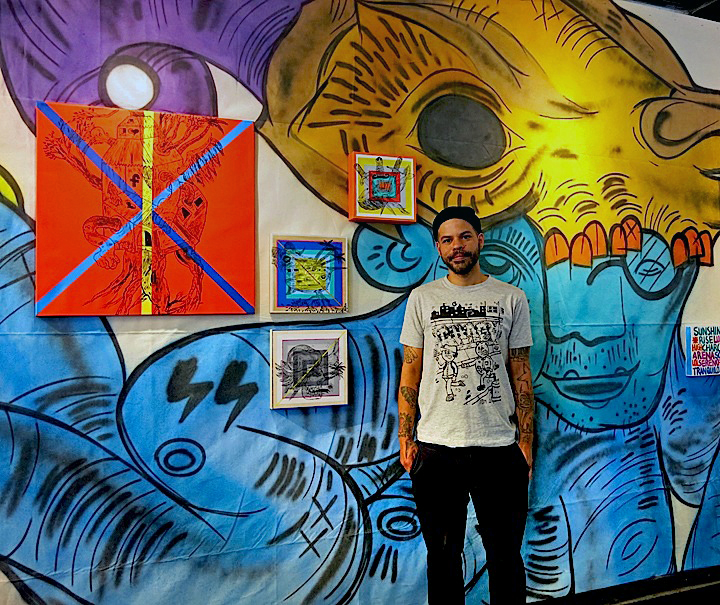 With their luscious colors and seductive styles, Nepo's murals has been enhancing the streets of NYC since the talented artist arrived here from Puerto Rico over two years ago. Earlier this week, I had the opportunity to catch up with him after he had finished installing his current exhibit, Fantasia Tropico, at Chelsea's Wix Lounge.
This space is wonderful, and your work looks perfect here! How did this opportunity come your way?
I've known Kamilla Sun, the founder of the creative agency ST.ART, for over a year now.  When she told me about Wix Lounge, a really special co-working, event and exhibit space in Chelsea, I loved the idea of exhibiting my recent series of works, Fantasia Tropico, there.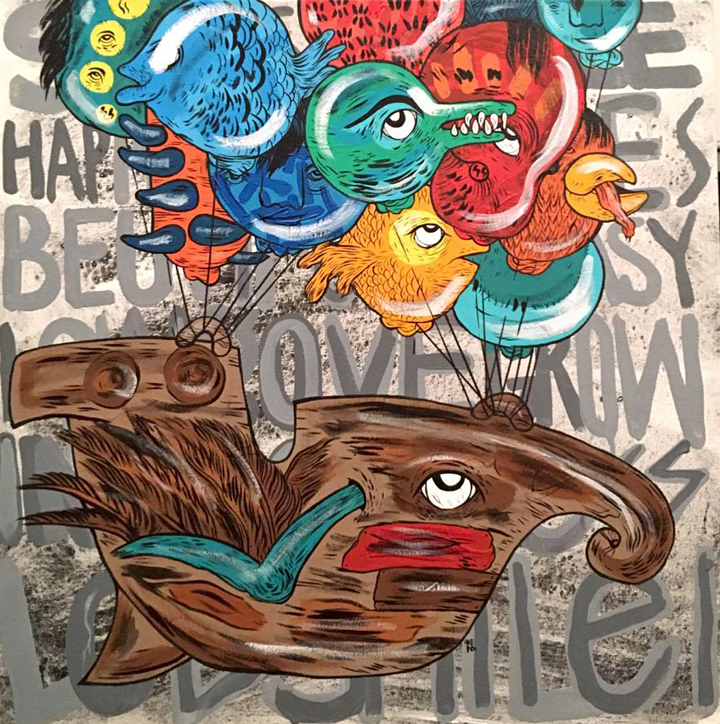 Can you tell us something about this specific series? 
It references all that I love and miss most from my island, especially my nostalgia for the holidays. This body of works continues to evolve from an exhibit that I was invited to present earlier this year at the University of Wisconsin's Aylward Gallery. The exhibit here at Wix Lounge, curated by Kamilla Sun, presents several new pieces.
How have the folks here at Wix Lounge responded to your installation?
The reaction has been so positive. People are interested in what I'm doing, and everyone's been so helpful.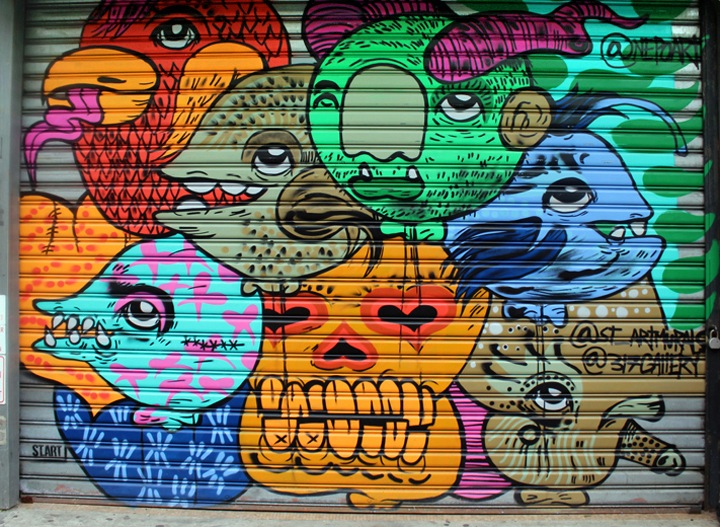 Have you collaborated with ST.ART on any other projects?
Yes! I was commissioned to paint a mural on the Lower East Side last year.
You've been doing quite a bit of traveling. What has that been like?
It's been great! I recently returned from Brazil where I participated in the Street of Styles Festival. It was an amazing experience, and introduced me to some of the best graffiti I'd seen anywhere. I also had the opportunity to paint a huge mural with Son and Spear Torres.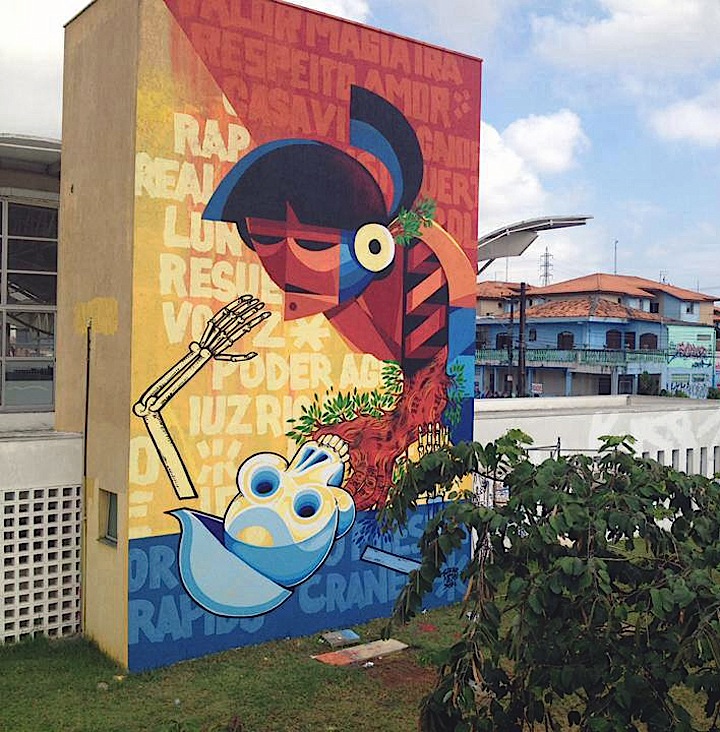 And you've also been to Dubai. What brought you there? And what was it like?
I was invited to participate in an exhibit during Art Dubai. It was my first time in that part of the world, and I loved experiencing Arab culture and discovering artists from the Middle East.  I, also, got to return home with several commissions! It was a great feeling!
 What's ahead?
Painting a few murals! And in a few weeks, I will be assisting Rimx with a huge mural that he was commissioned to paint in Newark, New Jersey. I'm planning to visit L.A. in June.  And in the fall, I'm hoping to visit Lebanon and Jordan and further explore Middle Eastern art. I especially love Arabic calligraphy.
That sounds great! Good luck with it all!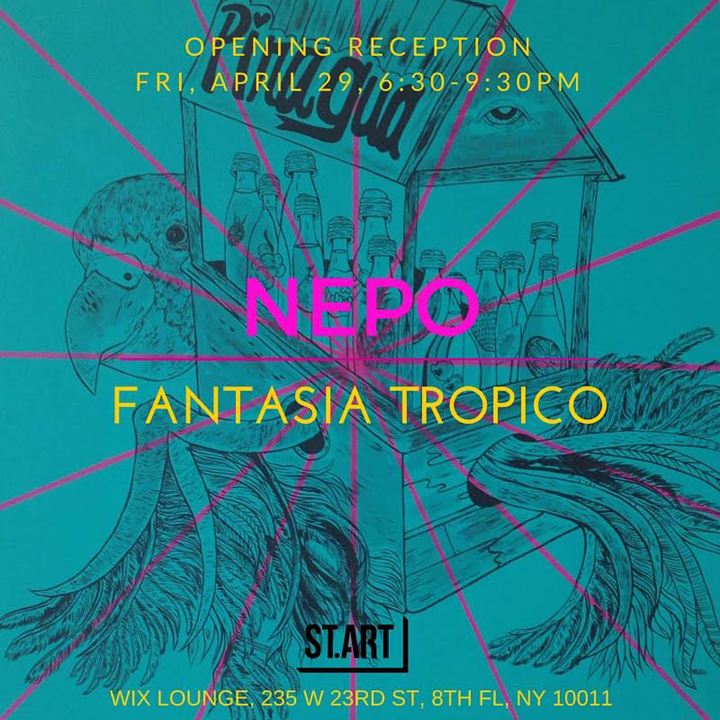 There will be an opening reception for Nepo's exhibit tonight, Friday, 6:30 – 9:30 PM at at Chelsea's Wix Lounge, 235 West 23rd Street. The exhibit remains on view through May.
Photo credits: 1 Lois Stavsky 2 & 4 courtesy of Nepo and 3 Tara Murray; interview conducted and edited by Lois Stavsky
Note: Hailed in a range of media from the Huffington Post to the New York Times, our Street Art NYC App is now available for Android devices here.

{ 0 comments }