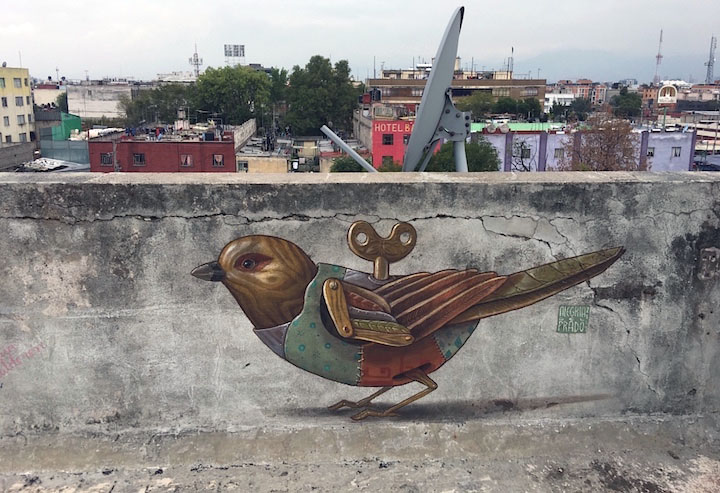 The following guest post is by Houda Lazrak
A fantastic topography of fabulously executed artworks by street artists from around the world has found its way onto the rooftop of Mexico City's Antique Toy Museum, or MUJAM. I stumbled upon this hidden space while visiting the city's Colonia Doctores neighborhood. Soon afterwards, I had the chance to speak with the man behind the project, Roberto Shimizu, Creative Director of MUJAM.
How and when did you first become interested in street art?
It all started when I was ten years old. My father took my family on a trip to New York City.  And every time we were in NYC, we went to bookstores. My brother and I had an unlimited budget for books. It was the only place my father would let us spend money as children. The first book I ever bought was Subway Art by Martha Cooper and Henry Chalfant. I was just looking for graphic stuff, but it ended up changing my life. I still have it on my desk at the museum today.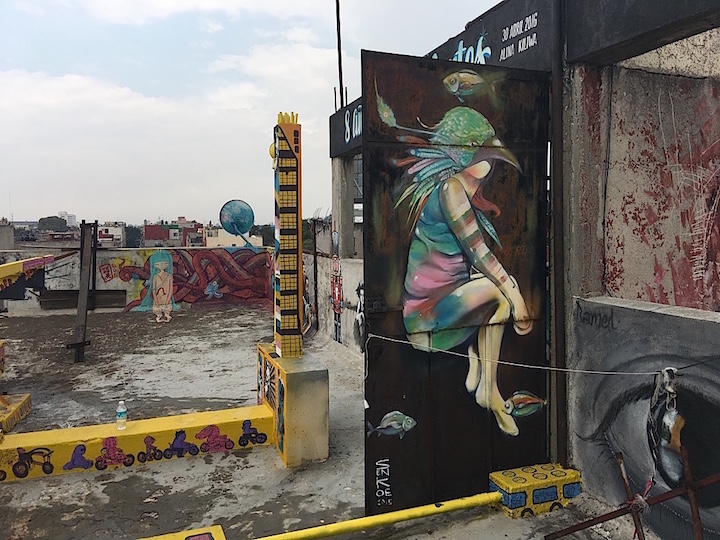 How did you become involved in the scene here in Mexico City?
I went to Japan for one and a half years after receiving my degree in Architecture in Mexico City. I moved to Tokyo to work at a high-end architecture firm, but I quickly realized that I didn't identify with Japanese culture. I came back to Mexico City, and my father asked me to assist him with his business. He had a 5000 square foot warehouse in the Doctores neighborhood with bare walls. He gave me full access to, and it became my playground! I started by doing open calls for street artists through Facebook. I also reached out to music and theatre groups. Many noted Mexican street artists – such as Saner — first started painting here.  Other renowned artists who've painted here include: Ripo from Barcelona; Jaz from Argentina; Jeremy Fish from San Francisco; Pixel Pancho from Italy and Roa from Belgium. In 2007, it was dubbed the 5 Pointz of Mexico City.
And can you tell us a bit about what has happened since – in the past decade?
Once the warehouse took off, I realized I wanted to do something bigger. I invited Roa to paint an official mural on the wall of MUJAM. And in 2010, I organized the first big mural show in Mexico City with eight artists painting in different neighborhoods. That we sought permission from building owners, used cranes, and officially invited artists was very new at the time.
What triggered the start of the rooftop project Azotea Mujam. It is fascinating!
The warehouse was prime real estate, and so we had to rent it out. I couldn't convince the new renters to keep the existing murals. Those walls were part of Mexico City's street art history, but they wouldn't hear it. We had to whitewash all the murals. But my intention was, and still is, to keep working with emerging artists. My father had founded MUJAM in 2006 as a showcase for his personal collection of antique toys. Today the museum houses over 40,000 pieces. Above the museum was an empty rooftop, so I decided to start Azotea Mujam and invite artists to paint up there.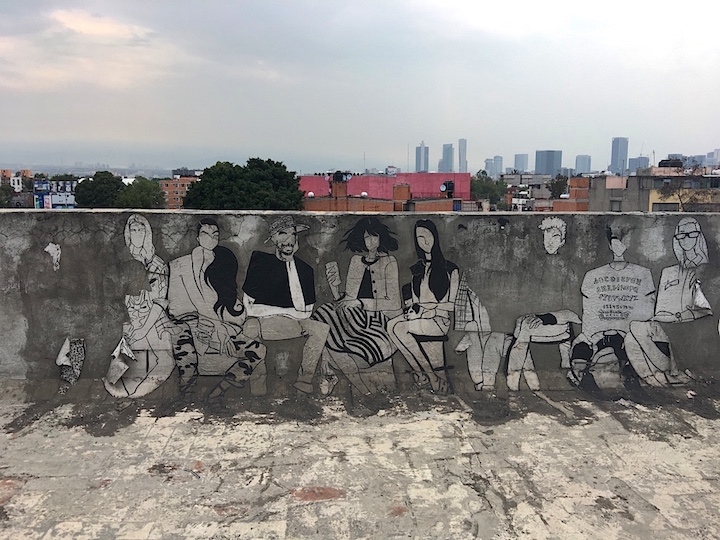 Who was the first person to paint there?
Scarlett Bailey was the first artist to paint on the MUJAM rooftop in 2015. A talented Mexican illustrator living in New York City, she was a cartoonist for The New Yorker for many years. On the rooftop she painted icons of New York City's fashion and media worlds with the Mexico City 'hood' as a backdrop. It was the sole work up on the roof for four months.
It seems like the entire rooftop has been painted since! How did it become so popular?
It was through word of mouth! Once the word spread, it became popular pretty quickly. I was fascinated by how much attention it received. I've had to whitewash some artworks to make room for others. Azotea Mujam is often the start of a collaboration between the artist and other painting projects, as well — including more prominent wall spaces in Mexico City that I organize.
How do artists react to this very unique context of a toy museum?
They love it! I think artists have a particular fascination with toys. Many famous musicians have also visited, and often when they enter the museum, they become like children. Perhaps, as artists, they are always playing.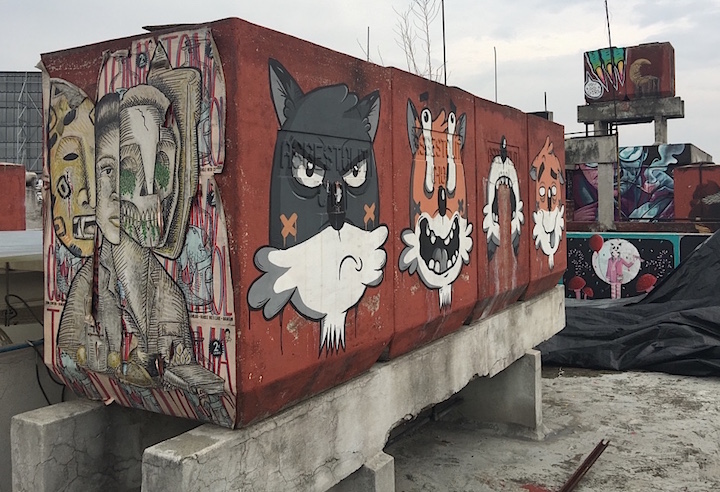 How do you select the artists that paint on the rooftop?
I receive emails daily. I ask the artists for their portfolios. Some of them don't have any, and that's fine too. Like I said, I am interested in offering opportunities to emerging artists, and I've had very nice surprises. I am not focused on getting big names. That was never the intention of the project. What is most important to me is the relationship I develop with the artists and how they can go further from here. Regardless of how big the city projects that I organize are, Azotea Mujam is what's most rewarding to me.
Do you encourage the artists to focus on toys in terms of the content of their artwork?
I always suggest that the artists spend a couple of days in the museum, sketching the toys they like, as that is the main theme of the rooftop. Sometimes I ask for sketches, sometimes not; it depends on the artist.
There's a surprising variety of surfaces available for artists to paint on. Did you purposely bring in these different elements?
Yes, I added those myself to the rooftop, so there would be different options of textures and surfaces for artists to experiment on.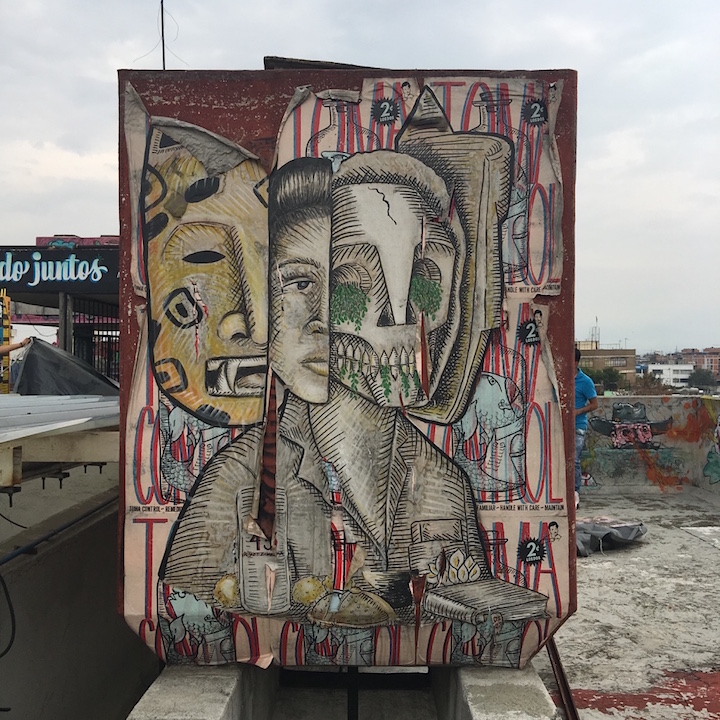 What's your main goal with Azotea Mujam? 
To create the new generation of Mexican street artists, of both men and women. I see the rooftop as a place where seeds are planted for the future.
The space and the building itself are very interesting. Can you tell us more about its history? How it was acquired? And what have you and your family done with it since acquiring it?
MUJAM's building was one of the most important buildings for Japanese migrants back in the mid 1900s. Many of them arrived to Mexico City with just a suitcase in hand. My father and grandfather built this building for that Japanese community to have a starting point. After that, my grandfather had the idea of importing Japanese toys; that became his business.  And it, eventually, became the building housing my father's toy collection.
When I was up on the roof, one of the neighbors was doing laundry. So the roof is still used for practical purposes! How do these folks respond to artists painting here and sharing their work with visitors?
They love it! It was somewhat abandoned before. The artists gave it a new life. I receive many requests to host commercial events there: photo shoots, video shoots, branding events, launches… Perrier even offered to rent out the space. I always turn them down out of respect for our neighbors. I've only lent it to very small organizations who are themselves just starting off. I want to keep it pure.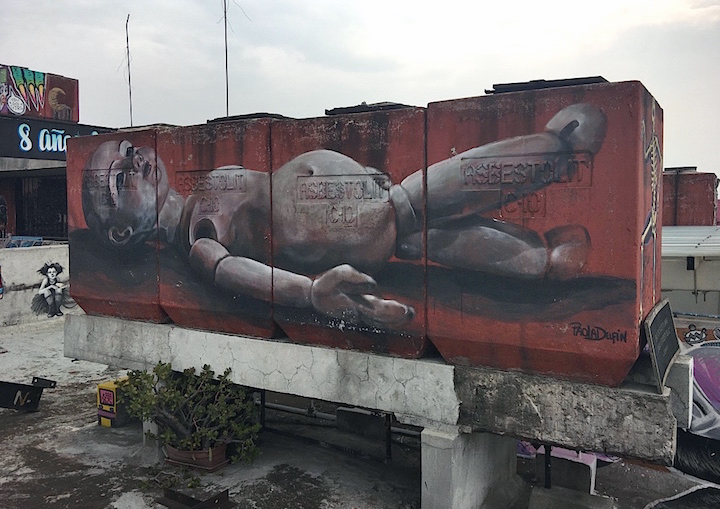 Who are some of the other artists who have painted on the rooftop?
Poni, Paola Delfin, Atentamente una Fresa, Birdy Kids, Alaniz, Los Dos, Alegria del Prado, Gangsby, Daniel Buchsbaum, Spencer Keeton Cunningham, Nabs D, Mr. Lemonade …
Have you anyone special on your wish list to paint here? 
I would love to collaborate with Os Gemeos. I like their social and political works.
The rooftop is not open to the public. How do you get people to visit it?
I don't really try to. I want to keep it like a speakeasy. People will find it if they come into the museum and mention they like street art. We will guide them upstairs and open the door to the rooftop. Just like we did for you!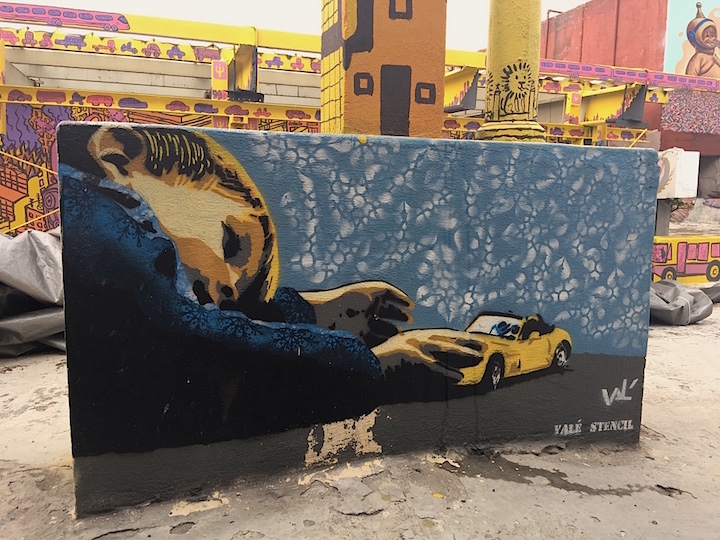 Can you tell us a bit about this neighborhood – Colonia Doctores?
Back in the 30's and 40's – when my grandparents moved here – it was the city's most flourishing, residential area. With buildings designed by a French urban planner, all of the streets were named for doctors. I consider it the city's most important district  because the government's offices are located here. Anyone who wants to register their newborns or report a death must visit Doctores. It is home to: the biggest morgue of the city, the biggest police precinct and the first public hospital, along with the first running water. The first residential zone created by the government, there are three metro lines cutting across it. In the 1980s-90s, people started leaving. But they are coming back now! Doctores is projected to grow in the next ten years, as it is right next to the Roma neighborhood, which is now booming. The cycle of the district is very interesting.
Images
2 Senkoe
5 Los Dos
Photos and interview by Houda Lazrak
Note: Hailed in a range of media from WideWalls to the Huffington Post to the New York Times, our Street Art NYC App is now available for Android devices here.