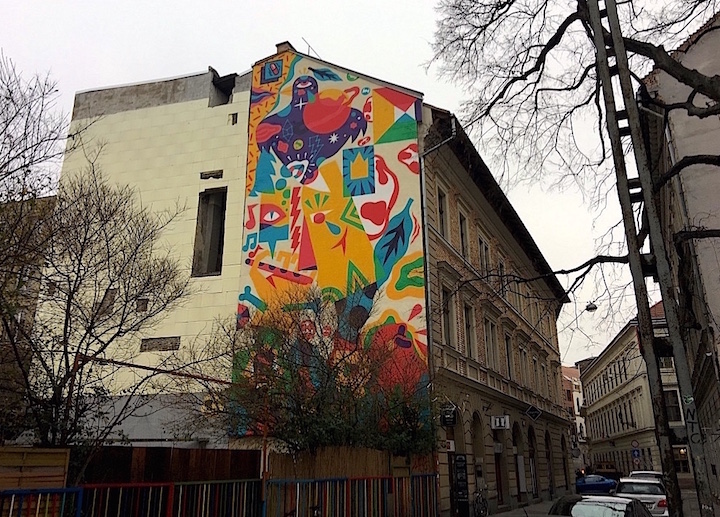 The following guest post is by Houda Lazrak
Earlier this year on a frisky afternoon, I met up with Noémi Nádudvari at a lively café in the 7th district of Budapest. A Budapest native and street art lover, Noémi, with the help of several like-minded individuals now known as the Colorful City Group, founded the Színes Város Festival (Color City Festival), the premiere large-scale public wall painting project in the country. Inspired by Hungarian painter Victor Vasarely's vision that colors should play a vital role in city planning to make the world a more livable place, Noémi and her team have added over 70 murals to the facades of the Budapest City Center. I asked her a few questions about this project before she took me on a walking tour of the neighborhood.
It is a pleasure to meet you, Noémi. If I understand correctly, you work here at Café Dobrumba?
I do! I am the manager of Café Dobrumba. My team and I collaborate to create a rotating menu inspired from our travels abroad. Sadly, these are my last few weeks working here. I will be focusing my time and energy on the Színes Város Festival. It is impossible to have a full time job and, also, curate an expanding street art festival!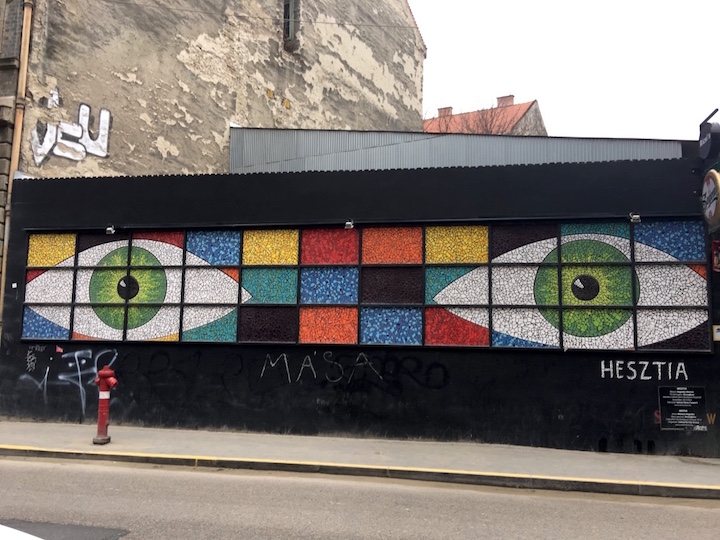 Yes, the Color City Festival! Tell us about this great initiative and how it all started.
The start of the festival was in 2014 with myself, my collaborator, Peter, and a super small group of people who were on board with the idea of creating an arts and culture initiative with murals by street artists at its center. We are now in our fifth edition. It is a little hard to believe sometimes. If six years ago someone had told me that I would be the curator of a city-wide street art festival, I would have laughed in their face! Today we produce around 8-10 murals each year, trying to find new wall spaces every cycle.
It sounds like you've come a long way. Was this festival your first experience curating? 
It was my first time curating a large-scale event. I studied aesthetics, philosophy of art and Latin in college, and then I worked in contemporary art galleries, auction houses, and was involved in the organization of festivals promoting young designers in Budapest. In 2011, I organized Urban Tactics, a one-day live painting event. It was the first-ever legal live painting in a public space in Hungary. We set up a series of panels on the street and presented an exhibition of work by six graffiti artists. That was my first real curating experience. At the time, we were struggling with money and permissions and did not think that something bigger would be possible.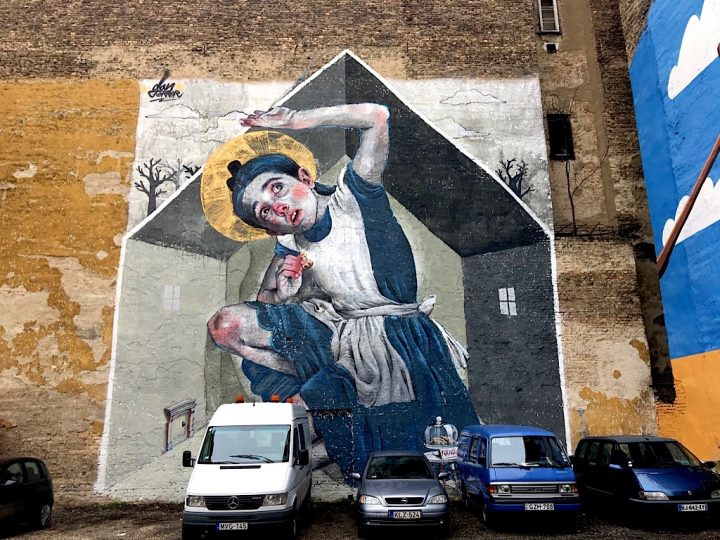 Can you elaborate on the particular model of the festival in regards to the rotating themes and sponsors?
Because street art is so new in Hungary, we decided to collaborate with the city council and government to launch the project, along with sponsors who are keen on increasing the appreciation of street art in Budapest. Each year, we invite a sponsor to select a theme for the festival. It forces us to work within a certain framework. I then create a brief and reach out to local and international artists who may be interested in producing work around the topic. The mural painting then happens.
Can you tell us a bit about the topics that have been the focus of the festival?
In 2014, the topic was Let's Start to Talk; in 2015, Hungaricum — a phenomenon that is unique to Hungary and represents great value for Hungarians; in 2016, Water and City / River and the City, focused on the Danube River which separates the city into the Buda and Pest sides; and in 2017, the theme was The Gastronomy of Art – The Art of Gastronomy.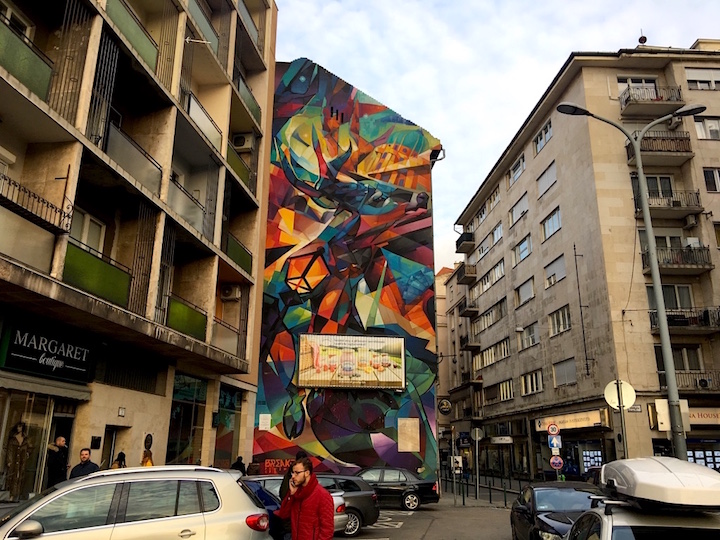 Where are the murals located?
Mostly around here, the 7th District, but we started to do some walls in the Buda side of the city as well. Ruben Sanchez finished a piece there this past winter. The challenge on the Buda side is that we have to create murals that are more classical — in the vein of a 19th century-style aesthetic — to fit the context of traditional Hungarian architecture.
How have neighborhood residents reacted to the festival?
Good, actually. At first, there was some suspicion. But now, a few years later, we get more favorable reactions. Older generations have actually embraced it the most. They come with their grandkids to watch the artists paint, and a few have told us "We'd love to have this everywhere."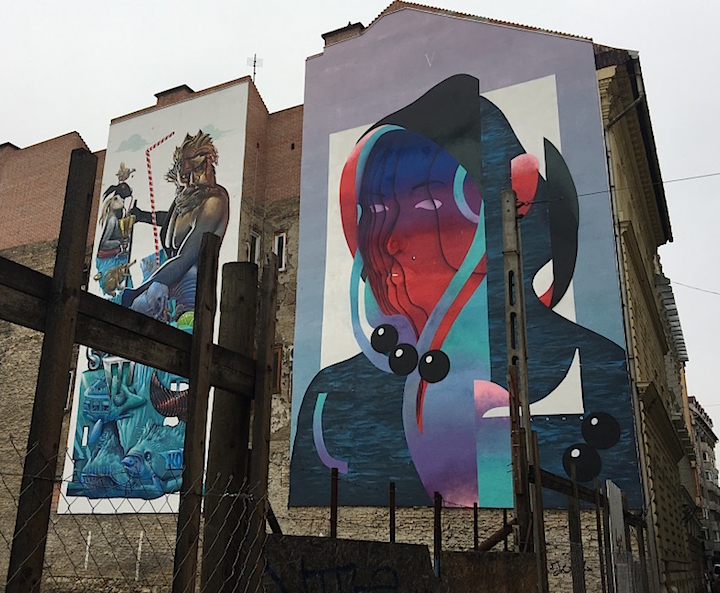 What — would you say — were, or are, your biggest challenges?
Putting the festival together is pretty challenging, but as a curator/organizer, I would say the most difficult part is obtaining painting permissions. The city of Budapest does not easily give them. It's a long process. We have to ask five different entities for permission before we can even begin painting.
It's also difficult to find available walls. We've come up with a couple of strategies. The first is that we offer to renovate the building façade. It improves the state of the building and benefits the residents. Residents are then a lot more willing to give permission for a mural. As you can imagine, though, it then becomes very expensive for us. The second strategy is finding walls in parking lots. Since the walls are not immediately on the street, the permissions are easier to get. But, this means the mural will be erased when the parking lots are transformed into real estate developments. It could happen after one year or a few years, but in the meantime, the murals are there. Sadly, construction has started in a parking lot where we have some of our favorite walls by two members of Berlin's The Weird Crew, HRVB and Vidam, who is half Hungarian.
The other challenge is dealing with sponsors who wanted to control the art aspect of the festival. I always insist that we need artistic freedom as soon as we start working with a sponsor. Each year this gets easier as sponsors develop a better understanding of street art and the goal of Színes Város.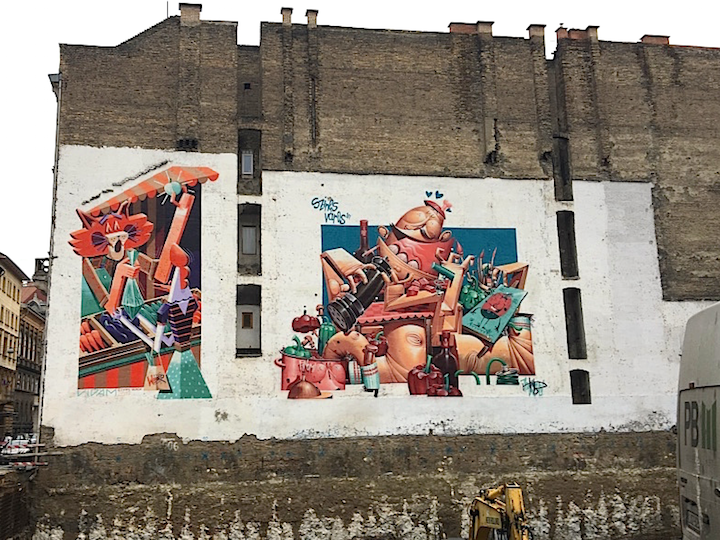 How has the festival evolved?
Better artists, better walls. And more artists from abroad. Foreign artists love Budapest! Which is great because we really need a new image of the city… We want to invite international artists to show more street art styles to Hungarian audiences, as well. We were very happy to have artists like Adno, Dan Ferrer, SPOK ÉS KORSE, BreakOne, Ruben Sanchez and others painting walls in Budapest.
What is your main goal with Színes Város ?
At first, the goal was to expose Hungarians to street art and get them to understand what it is; I wanted to educate the public about this art form. Now that this goal has somewhat been met and people are starting to appreciate art that is less mainstream, I am trying to push the limit and include more adventurous, interesting, challenging pieces every year.
I always say in the press conferences that one of the main goals of the festival is to show the great variety of styles that exist. People should be more open and even excited about styles that are new to then, because there isn't one common taste. No one has to like all the murals. but everyone will have their favourites. For me that's an important message. You don't have to love all of them, but try to understand them; try to speak about them; explain why you like a mural or not. Diversity is so important. It is even more important nowadays when the world is moving in a direction that doesn't encourage inclusiveness…Trump being a prime example of that.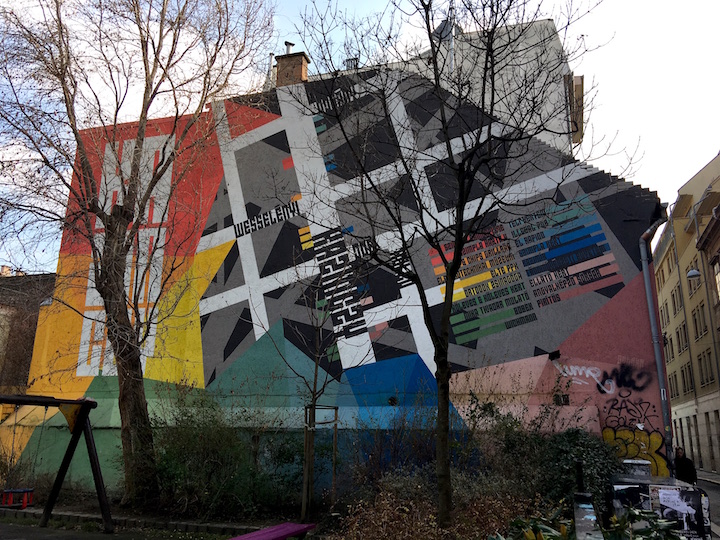 Do you feature other types of installations besides murals?
Not at the moment. There was a boom in the early 2000 of small street art pieces. Artists were trying to do small works. But there were too many risks involved because, unfortunately, you could go to prison if you get caught just doing a paste up. Graffiti and street artists mostly tried to paint outside the city, finding hidden lonely places where they can work easily without anyone bothering them. So that is why we are missing small pieces in the city. In cities like Berlin and London, you feel like something more is going on aside from the murals – you get that feeling because of the paste ups, stickers, stencils etc. That is a project for the future, focusing on smaller works as well.
Any other future projects or plans?
For the festival's fifth year, I want to publish a catalog with images of all the walls. Maybe an exhibition, as well. In the longer term, I want to start an artist exchange program to allow Hungarian artists to go abroad, gain recognition in the international scene and collaborate with other artists. Fat Heat paints everywhere in Europe and Russia, which is great, but I would like to see more Hungarian artists represented around the world.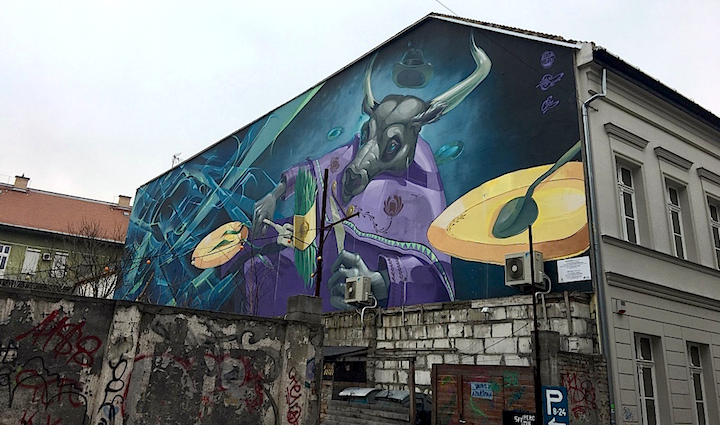 Sounds exciting! We wish you the best for what's next!
Images
1 Lisbon-based AkaCorleone
2 Budapest-based Márton Hegedűs
3 Spanish artist Dan Ferrer
4 Portuguese artist BreakOne
5  Russian artist Adno (right) and collaborative mural by Spain's Spok Brillor  and French artist KORSE 
7 Hungarian artist Péter Szabó-Lencz aka Petyka
8 Budapest-based TransOne and Fat Heat
All photos and interview by Houda Lazrak