Queens native Cern began writing graffiti in the early 90's.  His artworks — characterized by luscious colors, swooping shapes and imaginative characters — have, since, made their way into public spaces, alternative venues, festivals, galleries and museums throughout the globe. We recently met up with him in Long Island City where his current exhibit, Vertical Archipelago, remains on view through the end of this month.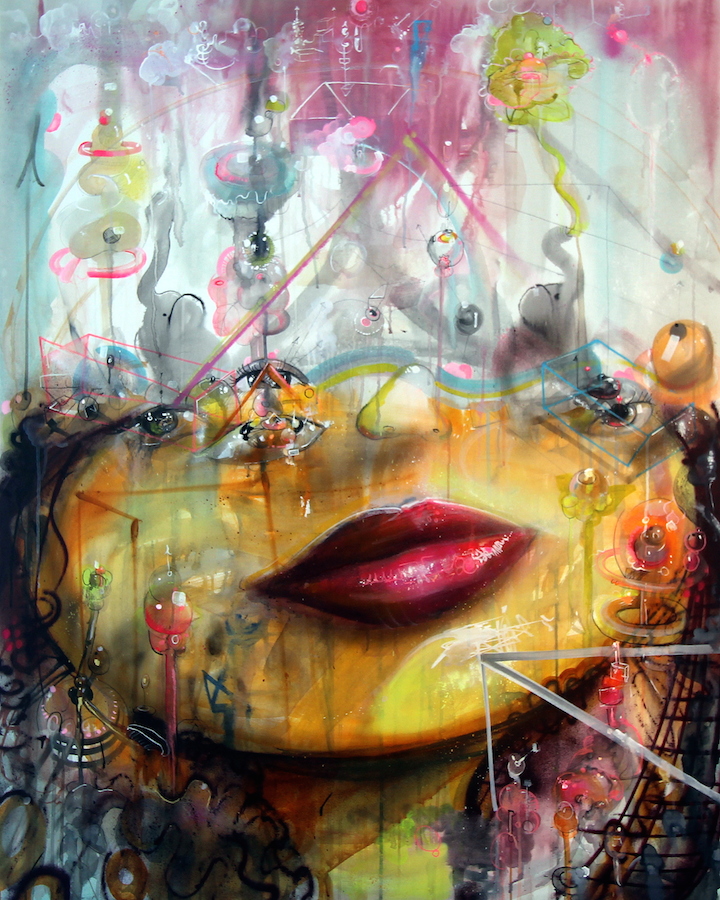 When did you first get up? And where?
Back in 1990 in Queens. I was 12 at the time.
What inspired you to do so?
Everyone around me was doing it!
Are there any early memories that stand out?
I remember riding the train with my mom, looking out the window and thinking, "Wow! This is amazing!"  She said, "This is bad!"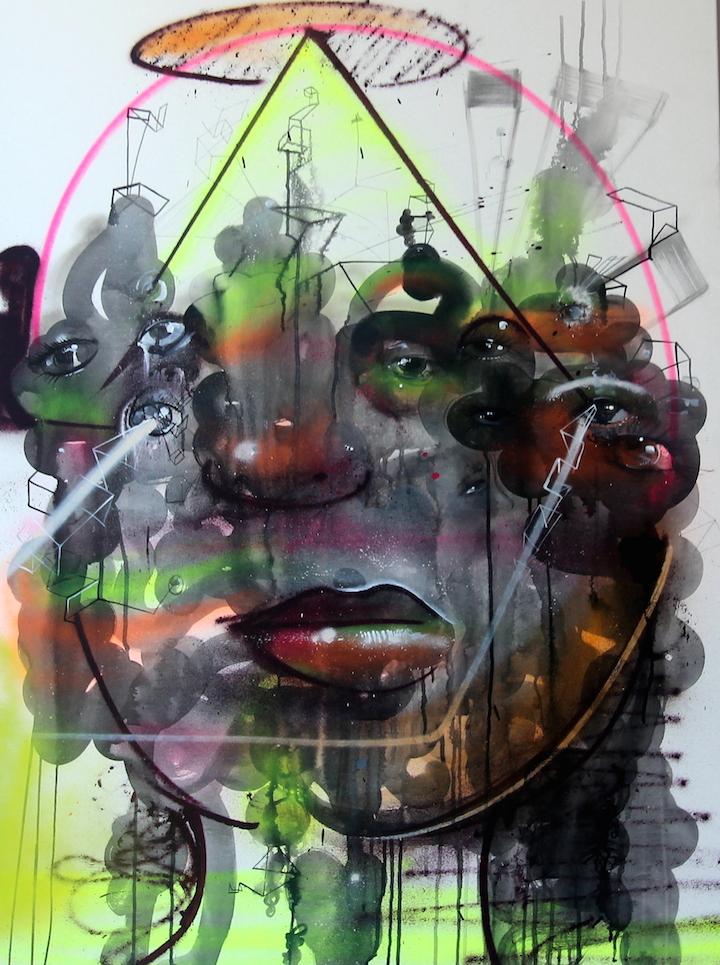 What percentage of your day is devoted to your art these days?
Way too much!
Any thoughts on the graffiti/ street art divide?
Everyone seems to be having a good time!
Your current exhibit Visual Archipelago is beautiful, and it encompasses an incredibly wide range of artworks. How do you feel about the movement of graffiti and street art into galleries?
It's nothing new. It's been going on for 40 years. It's a normal progression. And I like the way art looks everywhere.
What about the corporate world? How do you feel about the relationship between street artists and the corporate world?
I have no problem with an artist getting paid to promote a cool product. I, myself, like working with small, independent businesses.
Do you prefer working alone or collaborating with others?
I like both.
What is the riskiest thing you've ever done on the streets?
I just finished painting six stories high on Canal Street throughout the night!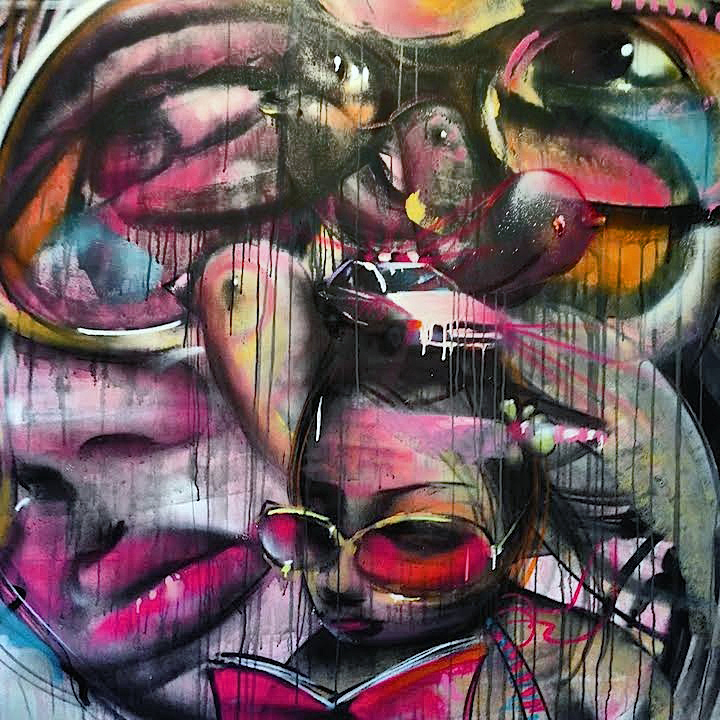 How you feel about the role of the Internet in this scene?
It's cool! It provides us all with yet another medium.
Do you have a formal arts education?
I have a degree in Studio Art from Queens College, but I never really used it. It did teach me, though, how to deal with bureaucracy.
What inspires your art these days?
Memories, discoveries, nature, animals and urban life. And, of course, all my travels have been a source of inspiration.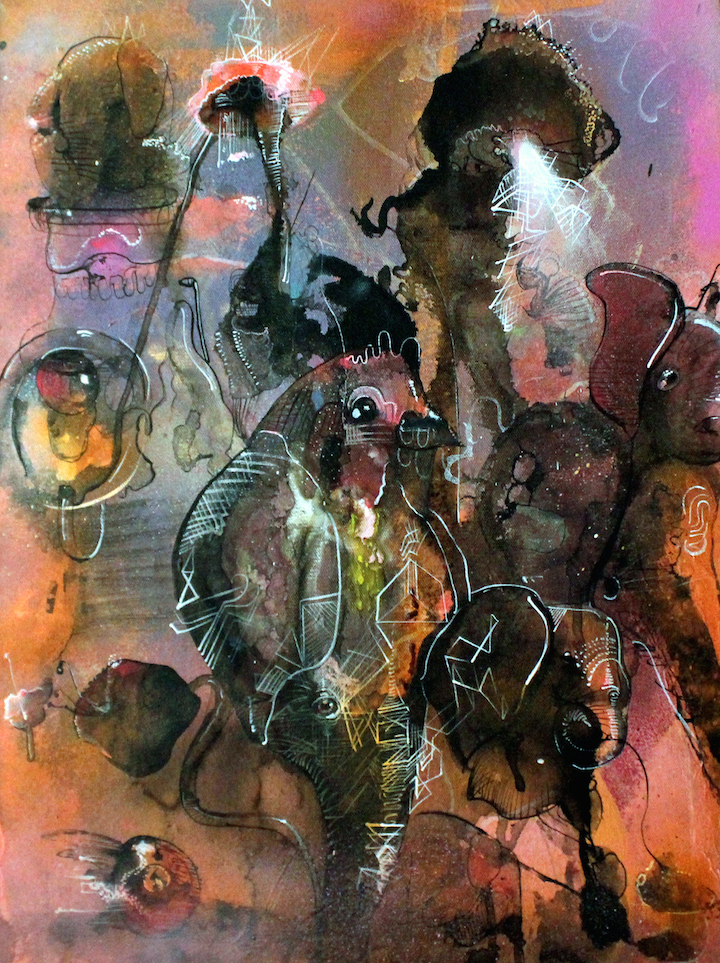 Do you work with a sketch in your hand or do you let it flow?
I sometimes work from loose sketches.
Are you generally satisfied with your work?
Usually.
How has your work evolved in the past few years?
It's more experimental, and I tend to work with a range of mixed media including spray paint, watercolor, graphite and ink.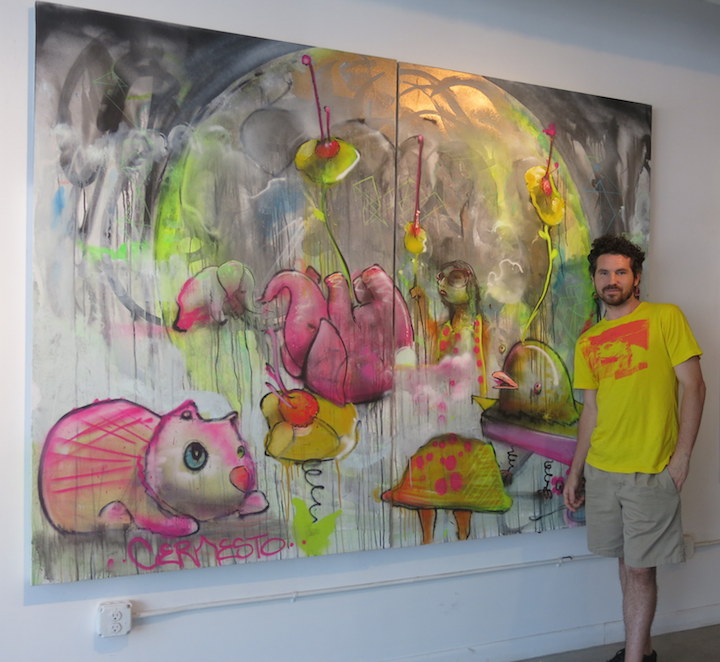 What do you see as the role of the artist in society?
To heighten people's visual awareness.
What do you see as the future of street art and graffiti? Where is it all going?
Styles seem to be evolving more quickly. And the marketing of the art has become increasingly important, almost as important as the art, itself.
And what about you? What's ahead?
I want to continue in my own development as a person and as an artist.
Note: All of the above images were captured on our visit to Vertical Archipelago, Cern's current exhibit at 26-19 Jackson Avenue in Long Island City.
Interview by Lois Stavsky with Tara Murray.
Photos: 1, 2, 3 & 5 Tara Murray; 4 & 6 Lois Stavsky