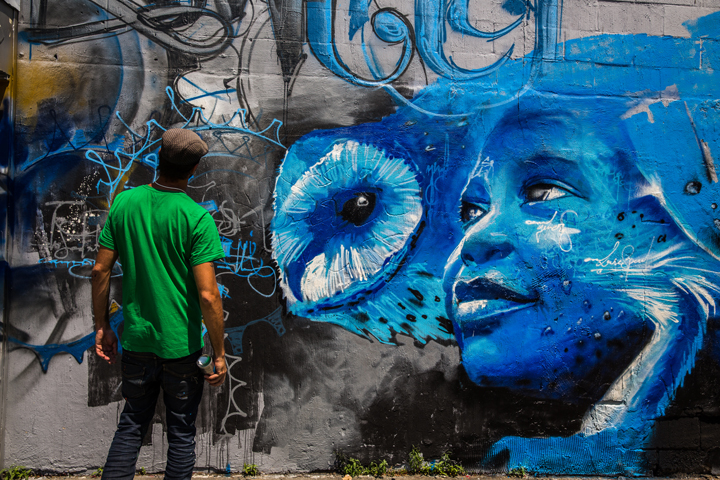 For the past several years, Queens-based photographer Raphael Gonzalez aka Zurbaran1 has been creating intriguing, visually dynamic images of street art, often focusing on the artists at work.  Within the past year, his photos have made their way into several shows including his first solo exhibit, The Hand of An Artist. He has also been featured in Yoav Litvin's blog, 2createart. I recently had the opportunity to meet up with him.
I love what you are doing! When did you first begin to photograph NYC's street art and graffiti?
About four years ago.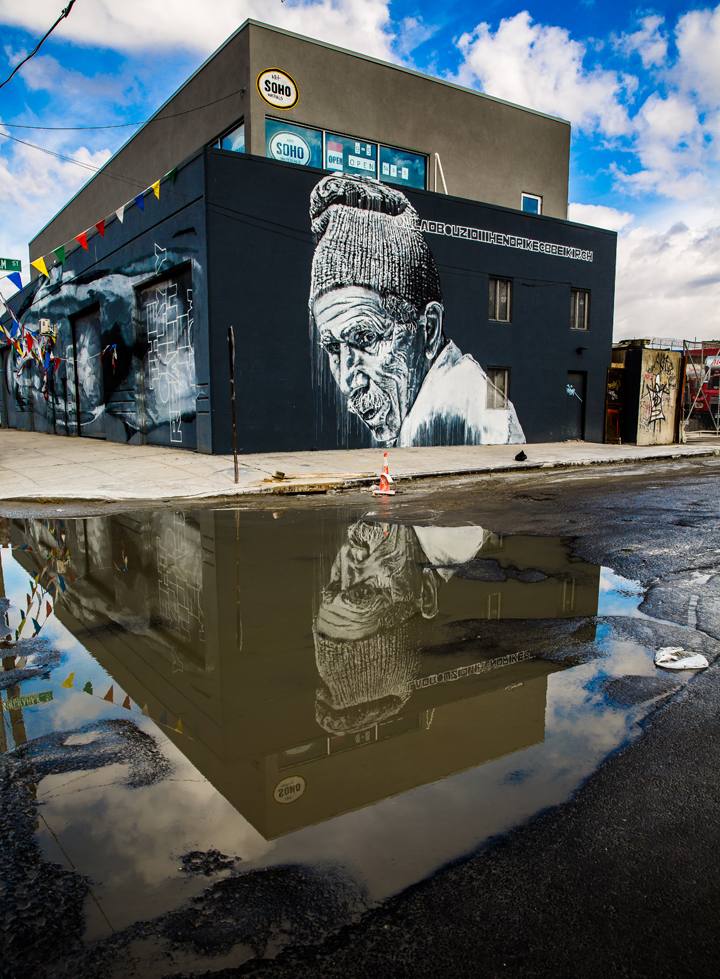 What inspired you to do so? 
Several years ago, my daughter visited Berlin and returned home incredibly excited about the street art she had seen there. Her enthusiasm, along with the photos that she showed me, inspired me to check out what was happening on the streets of NYC. And I first became serious about it all in October, 2013 when Banksy hit NYC with his month-long day residency Better Out Than In.
Within the few years that you've been shooting street art, you seem to have established friendships with many of the street artists you photograph.  Can you tell us something about that?
The very first street artist I met was Alice Mizrachi. I was standing in front of her mural at Welling Court when she noticed me. She was living right there at the time, and — almost at once — came out in her pajamas to speak to me! I was so impressed by her intelligence and craft. I photographed her in front of her mural, and we struck up a friendship right then.  She was the first street artist I photographed and spoke to. Since that day, I've become friends with many more.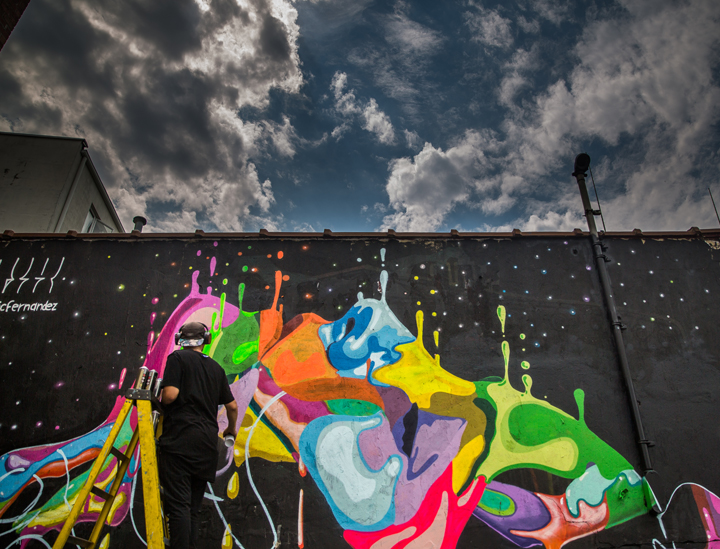 You've been photographing many artists as they work. How have they responded to this? Are they open to it?
The response has been great! And when I share the photos I've taken with them, they are so appreciative.
That's great! As street art is so ephemeral by nature, it's so important to document it. And I'm a huge fan of artful photographers who document the process. I notice that you've focused quite a bit on the artists' hands.
Yes, I like observing their hands in action. And photographing hands gives me a chance to use my long lens which I love doing!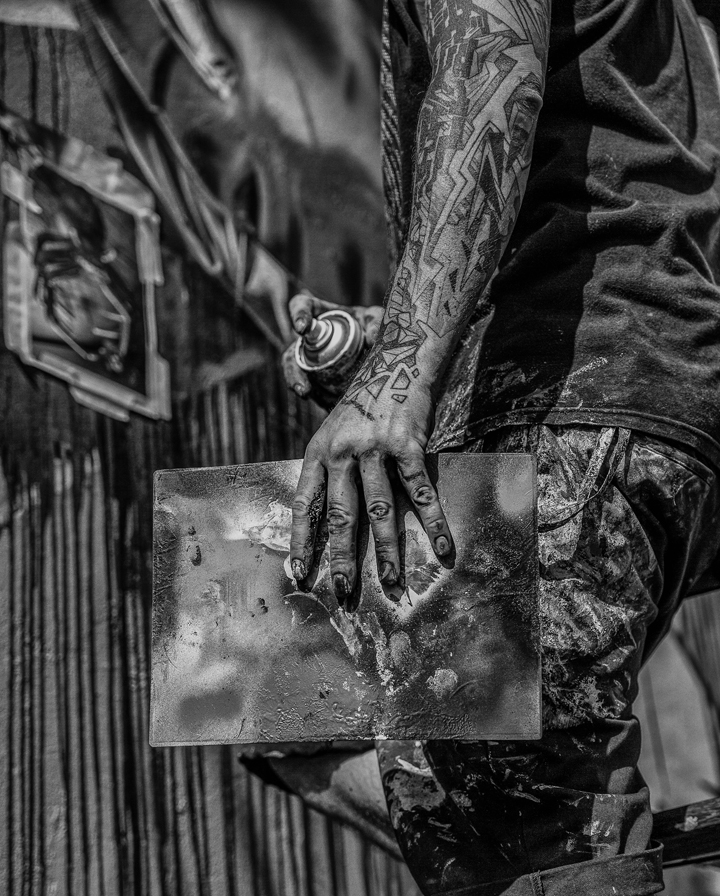 And you've also begun collaborating with some of the street artists whose works you photograph. How do you go about engaging them?
Yes! I love collaborating. The process makes me think a little differently, and the artists have been wonderful.  Among them are Fumero, Giz, Trans1, Noir, City Kitty. Some I've approached, and others have approached me.
What are some of the challenges that you face in seeing your projects through?
There's never enough time. And there are so many artists! Going through all the photos that I take and then editing them is a lengthy, time-consuming process.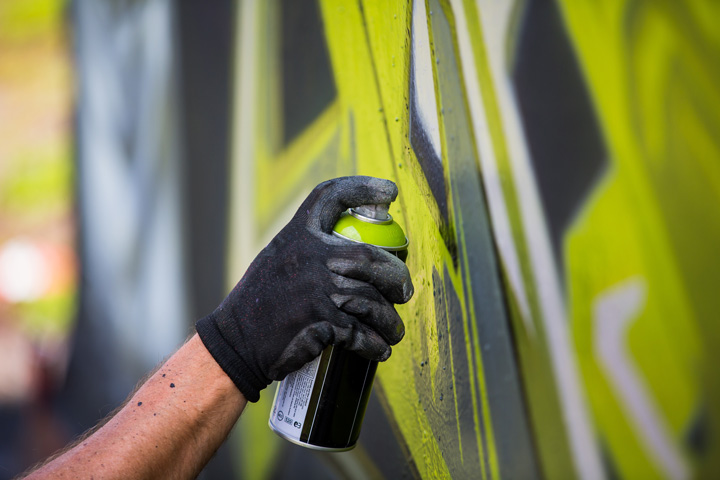 How has the scene changed since you first started photographing street art?
There are fewer walls, and street art has become more commercial. And it seems that in the past few years, street artists have achieved celebrity status. It's almost like they are the new rock stars!
What's ahead for you?
I would like to engage in more collaborations…different in nature than the usual ones!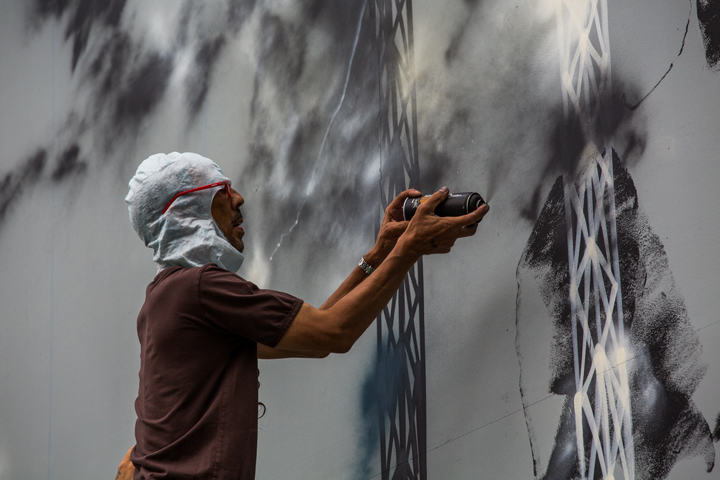 I look forward to seeing them all, and I will be keeping up with you — in the meantime — via your Instagram!
All photos © Raphael Gonzalez aka Zurbaran1; interivew conducted and edited by Lois Stavsky
Images
1. El Niño de las Pinturas, Brooklyn Is the Future, Brownsville
2. Hendrik Beikirch aka ECB, Bushwick
3. Dasic Fernandez, Welling Court Mural Project
4. Fanakapan, Bushwick Collective
5. Noir, as featured in Raphael Gonzalez's solo show at Fatty's in Astoria, Queens

6. Futura, Bushwick Collective