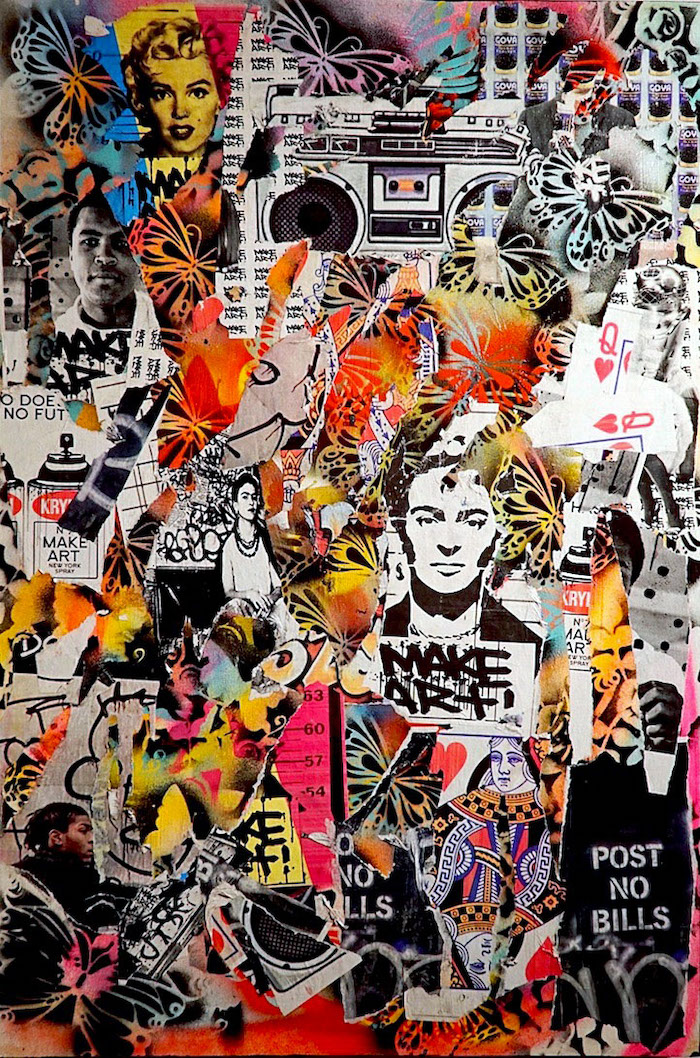 The following post is by Street Art NYC contributor Ana Candelaria
An artist, curator, dancer and filmmaker, NYC native Savior Elmundo has long been a huge force in the urban art scene. Recently, I had the opportunity to find out a bit more about him.
When and where did you start tagging?
I was fifteen years old when I started. I grew up on the Upper West Side. My tag was REIN. It stands for Ruler – Equality – I – Now. My partner and I tagged and bombed everywhere — Harlem, the Heights, Queens and Brooklyn.
Were you down with any crews?
Yes. My mother moved us to Woodside, Queens. She thought a change of environment would be good for me. But it actually made things worse. I joined a graffiti crew in Queens, and I'd sneak down the fire escape at three o'clock in the morning just to go bombing. Everyone at that time was pretty much down with a click or a group, and there were lots of them.
And then what happened? Did you stay in Queens?
No. I couldn't take Queens for long. I traveled to Manhattan and hit the club scene. Downtown — Soho and the Village — became my new home as I began working as a professional dancer. Hip Hop was — and still is — a big part of my life. I wouldn't have become a street artist or filmmaker if it wasn't for dancing.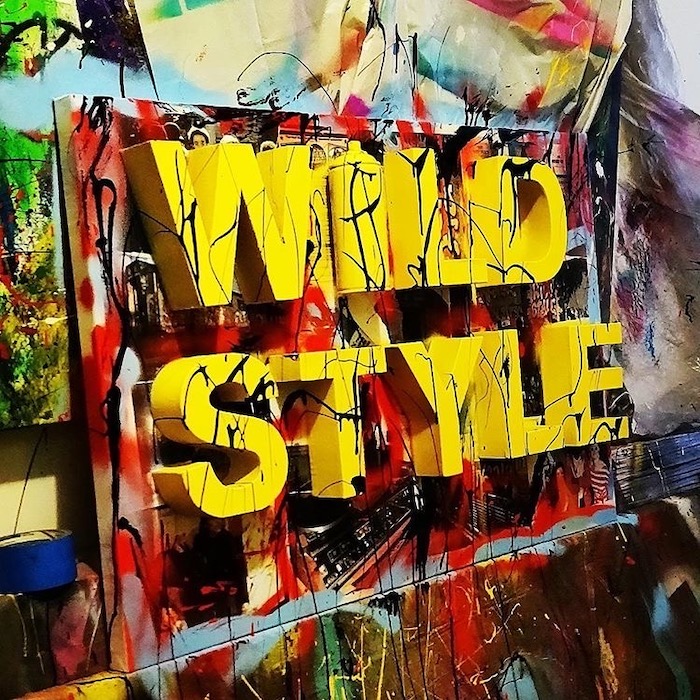 What led you into filmmaking?
I wanted to tap into something else. I didn't want to be a dancer for the rest of my life. A friend convinced me to do a short film based on a story I had shared with him. Reflection was my first short film. It was accepted into several festivals including the NY Film Festival. I directed and produced five short films in total. Life was going great until one day, in the midst of preparing for my first feature film documentary, I received word that a family member had passed away. I picked up the brush and began to paint as a form of therapy. That's when art took over my life.
When did you first come up with your particular logo "MAKE ART?"
Ten years ago — when I first stepped into the art scene. I wanted to get a message out there that would make people think. "MAKE ART" incorporates art, film, and dance. It also serves as a reminder for people to make art. It's simple, and I write it in a distinct way so people know that it's me. I sign all of my pieces with my name Savior Elmundo, "MAKE ART,"  and the year.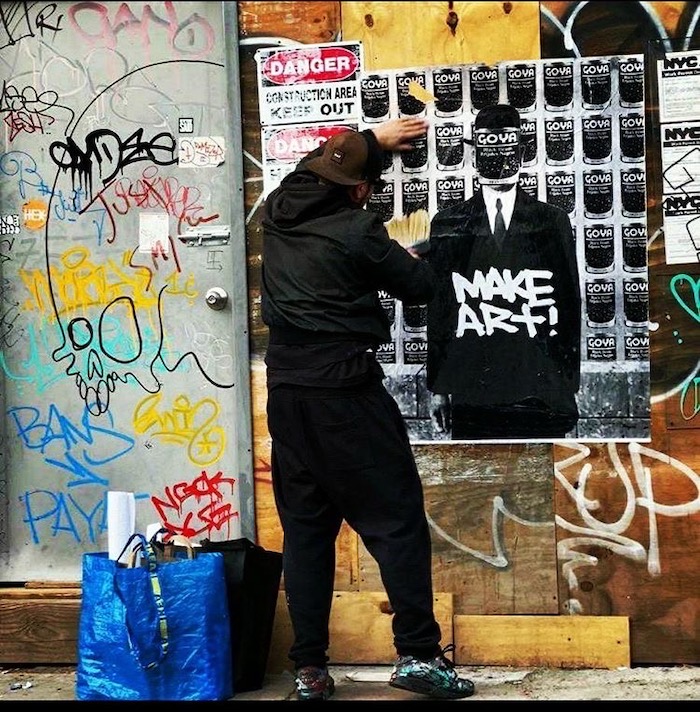 Did any particular artists influenced you?
Icons such as Andy Warhol, Dali, Picasso, Frida and Matisse. Studying their work has helped me come up with my own style and ideas. For example, in one of my designs Dali and Picasso face each other wearing boxing gloves with my tag "MAKE ART" in the middle. Another one of my creations was inspired by an image of the boxer Muhammed Ali holding a draft notice from the army. I inserted a graphic design image of my tag "MAKE ART" on the document.
I consider myself a mixed-media artist. I like working with different things and I love texture. I do a lot of message work, but, lately, I find myself gravitating more towards my 3D art work. I'm also working on a couple of other styles that I will be releasing some time in the near future.
Are you generally satisfied with your work when you're finished? 
I've destroyed so many pieces, but I've learned not to do that anymore. One day, I painted a canvas and uploaded a picture of it onto my website. Two days later, a client contacted me to buy it, but I didn't have it anymore. I had gone over it and created a different painting. That's when I learned that my work is not for me; it's for them.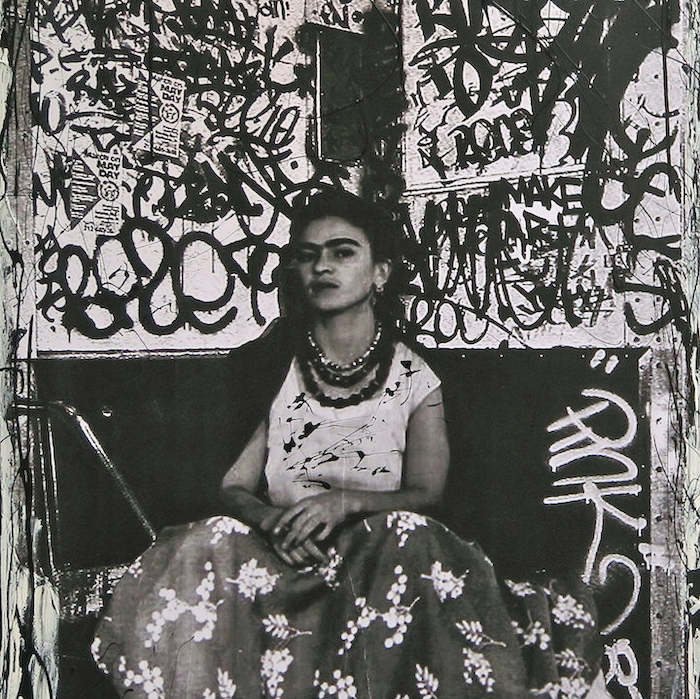 Your work has been showcased in dozens of exhibitions in a range of spaces. Do any particular ones stand out?
The 21st Precinct, curated by Robert Aloia, was one memorable show! Each artist was given one room in the 21st Precinct building on East 22nd Street to showcase their work. The building,  had three floors with about sixty rooms. I used an image from Rene Magritte's, Son of Man, one of my favorite paintings, and turned it into one of my own images. I designed a man with a Goya can — instead of an apple — on his face standing in front of a stack of Goya cans. I covered the entire wall with a black and white wheatpaste of this design. As a Latino, Goya is a big part of my culture.
Another particularly memorable exhibit was at the World Trace Center. For that I  did an installation using a door that I had found on the curb side as a tribute for 9/11  The door read "Always In Our Hearts 9/11" in 3D letters.
And my first solo show was in 2019. All of my work was displayed in 3D. The show was a reflection of the past thirty years of my life. The words displayed were key elements of my past. Since 2010, I've been in a total of 70 group shows.  So many that are memorable!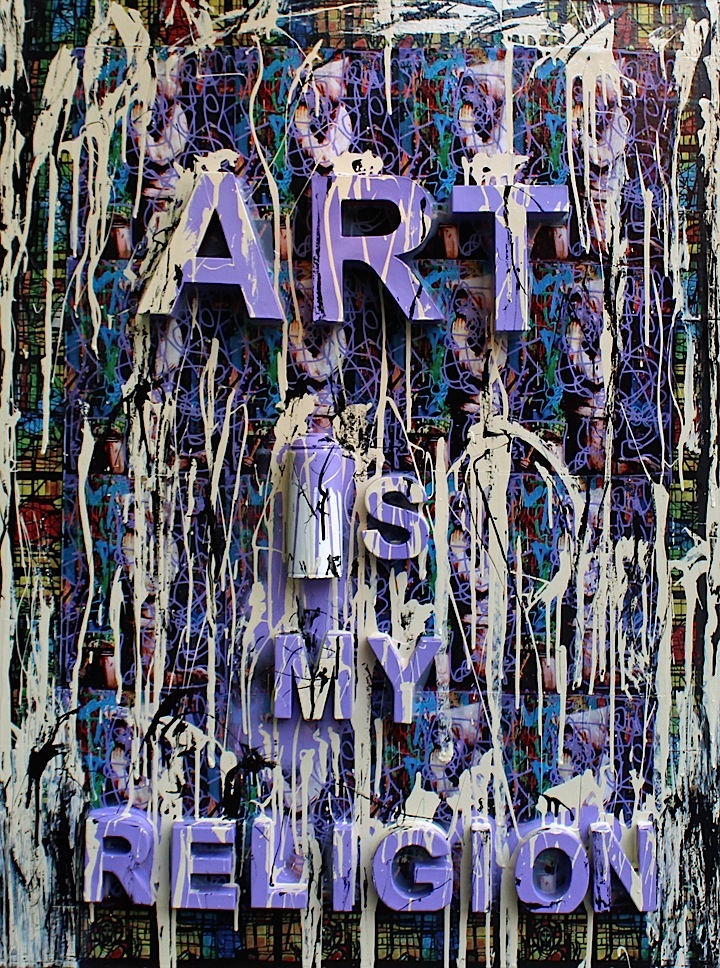 How did you come up with the concept for Collage NYC, the hugely popular weekly live art event at The Delancey?  
As soon as I started to make some money from selling art. I wanted to do something to give back.  I wanted to build a home where artists could come together to create freely and inspire each other. I imagined a place where people could have a good time after a long, stressful day. I also wanted to bring back the paint parties that Basquait and Keith Haring used to participate in back in the 80s. The vibes are super chill! You can watch the artists paint; you can dance, or you can just lounge at the bar and have a drink. This year marked our 10th anniversary.
Have you words of wisdom that you'd like to share with up-and-coming artists?
Pay your dues and know the rules. Learn the process and put in the work. Don't be late! Get your name out there. Learn how to talk about your art and how to sell yourself. Get out to every gallery in Soho and Chelsea on a Thursday night and just introduce yourself!  You have to hustle to get what you want. Also, it's very important to understand the history of art and respect it. Don't be afraid to take things to the next level. That's how I got my start as a curator.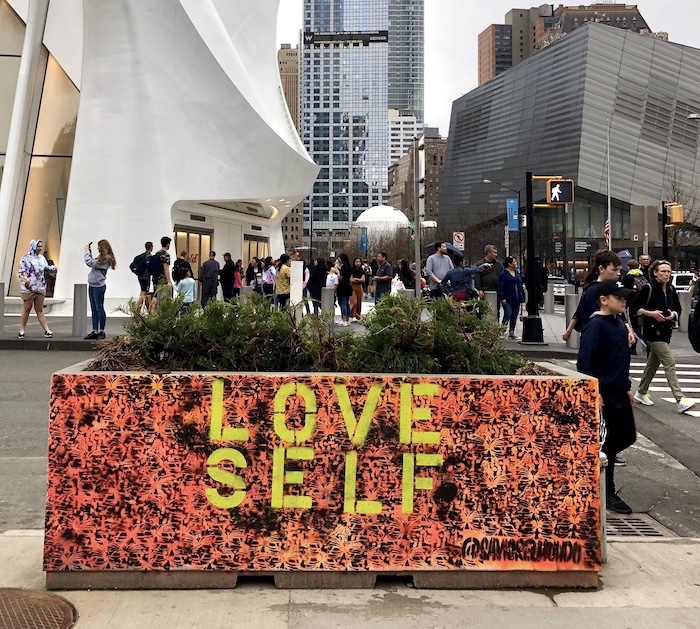 What's ahead?
A two-man show with my brother A.J. LaVilla. I'm really excited about it. I'm also working on a project with a corporate company that people will hear about. There are more solo shows in the pipeline and other creative ideas are brewing.
Good luck!
Interview conducted by Ana Candelaria and edited for conciseness by Lois Stavsky
Photo credits: 1 Ana Candelaria; 2 & 3 Courtesy of the artist; 4 Dani Reyes Mozeson; 5 Tara Murray & 6 Lois Stavsky